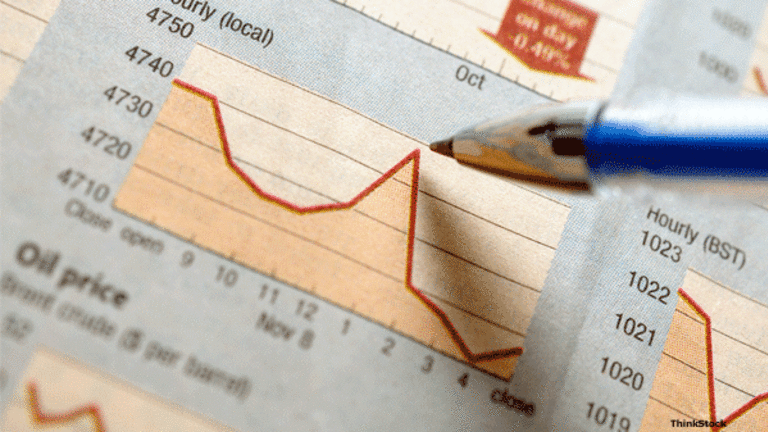 'Build America' ETF Has Escape Hatch
PowerShares' new ETF has a contingency plan that seeks to lessen any potential regulatory burdens ETFs are currently facing.
PowerShares' new ETF has a contingency plan that seeks to lessen any potential regulatory burdens ETFs are currently facing.
NEW YORK (
) -- PowerShares is planning to introduce a new ETF that will invest primarily in Build America Bonds.
While the new fund is certainly unique in its theme, it is the fund's contingency plan that should warrant investor attention. In an age of regulatory pressure and increasing competition, ETF contingency plans may become the new trend in a booming industry.
The
Securities and Exchange Commission
filing for the new fund states that the ETF will invest in securities that comprise the Merrill Lynch Build America Bond Index. Since the launch of the federal stimulus program, about $27 billion in direct pay, dollar-denominated Build America Bonds have been issued by municipalities. Tax treatment of the bonds varies depending on the issuing municipality.
Fixed-income products have become an
of the ETF industry, so it's no surprise that
Invesco
(IVZ) - Get Report
-owned PowerShares is looking for unique ways to break ground on new products.
In 2009, the two biggest asset-gathering funds for ETF giant iShares have been the
iShares Barclays TIPS ETF
(TIP) - Get Report
and the
iShares iBoxx Investment Grade Corporate Bond ETF
(LQD) - Get Report
.
The striking part of PowerShares' new ETF filing is the acknowledgement that the new ETF strategy will likely have a limited life span. Under the Federal Stimulus Act, Build America Bonds are set to be discontinued at the end of 2010. The prospectus for the new fund notes that unless the provision for these bonds is extended, availability of the bonds could become limited and liquidity could dry up quickly.
PowerShares had taken care to highlight the fast-approaching deadline for these bonds and formulate a contingency plan. In the absence of a Build America Bond Extension, PowerShares plans to change the ETF's strategy to invest in an index composed of taxable municipal securities.
While the upcoming uncertainty may be enough to deter many buy-and-hold investors, the contingency plan is a smart move for PowerShares. The flexibility that is built into this fund's strategy and prospectus could help the new ETF to dodge some of the problems facing current ETFs in the market.
When regulatory uncertainty pressed managers of the futures-based
United States Natural Gas ETF
(UNG) - Get Report
to halt share creation, an alternate strategy had to be enacted on the fly. As share creation stood at a standstill, and premiums soared,
UNG's managers devised alternate ways
for the ETF to track its underlying index, such as selling futures and buying swaps.
In July, ETF issuer Claymore gave new life to an unpopular ETF by dramatically overhauling its underlying strategy. After Claymore/Great Companies Large-Cap Growth Index ETF failed to attract sufficient investor interest, fund managers closed the fund while launching a new fund, the
Claymore/BNY Mellon International Small Cap LDRs ETF
(XGC)
, under the same symbol of the closed fund.
While this "contingency plan" may not have truly been "planned" out in advance, it was a great way for Claymore to dramatically alter a fund strategy rather than to kill the listing altogether.
The problem with making dramatic strategy changes on the fly is that they generally require shareholder approval. In the case of XGC, the investor interest was so low that most of the assets in the fund were likely seed money. It is pretty easy to poll shareholders when there is only a handful.
As the debate about regulatory overhaul heats up, however, it is no longer simply lack of investor interest that is killing ETFs. On Sept. 9,
Deutsche Bank
(DB) - Get Report
redeemed shares of the popular
PowerShares DB Crude Oil Double Long ETN
(DXO)
due to regulatory restrictions. Like UNG, the size of DXO made the fund vulnerable to potential position limits. Rather than overhauling the fund's strategy, DXO's managers decided to
Shuttering funds, restructuring strategies and copious proxy processes are events that ETF issuers want to avoid. The new filing from PowerShares shows an eagerness to dodge the problems that have plagued ETFs in the past. By building a strategy change into the new fund's prospectus, PowerShares is prepared if the Build America Funds are not extended.
iShares also appears to be taking steps to ensure greater flexibility for its fund managers in the future. As it completes its
BlackRock
(BLK) - Get Report
transition, iShares has sent proxies to fund holders to get approval for several changes. Among other changes, iShares is asking shareholders of certain funds to approve the change from a "fundamental policy" to a "non-fundamental policy."
While iShares and its new board do not "currently ... plan to make any modifications to the Funds' investment objectives," the new "non-fundamental policy" will allow "flexibility to respond to changing conditions in a manner that (iShares and its board) deem to be in the best interests of the Funds and their shareholders without the Funds incurring the cost of a proxy solicitation."
PowerShares' acknowledgement of a contingency plan in its new filing is an unusual step that may become the norm. As issuers respond to increased competition, regulatory uncertainty and new methodologies, they will likely continue to push for increased flexibility. Investors must continue to monitor the strategies employed by their ETF holdings, and keep an eye out for changes.
-- Written by Don Dion in Williamstown, Mass.
At the time of publication, Dion Money Management was long iShares Barclays TIPS.
Don Dion is president and founder of
, a fee-based investment advisory firm to affluent individuals, families and nonprofit organizations, where he is responsible for setting investment policy, creating custom portfolios and overseeing the performance of client accounts. Founded in 1996 and based in Williamstown, Mass., Dion Money Management manages assets for clients in 49 states and 11 countries. Dion is a licensed attorney in Massachusetts and Maine and has more than 25 years' experience working in the financial markets, having founded and run two publicly traded companies before establishing Dion Money Management.
Dion also is publisher of the Fidelity Independent Adviser family of newsletters, which provides to a broad range of investors his commentary on the financial markets, with a specific emphasis on mutual funds and exchange-traded funds. With more than 100,000 subscribers in the U.S. and 29 other countries, Fidelity Independent Adviser publishes six monthly newsletters and three weekly newsletters. Its flagship publication, Fidelity Independent Adviser, has been published monthly for 11 years and reaches 40,000 subscribers.