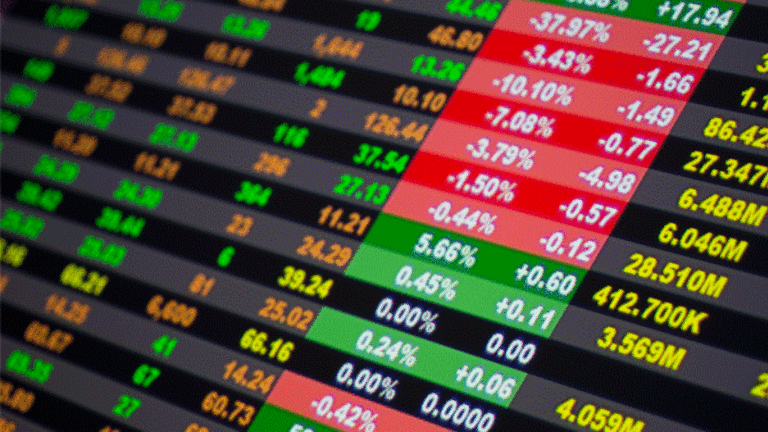 Buffett's Steadfast Belief in U.S. Recovery
Despite the market's weakness, the Oracle of Omaha has stood by his belief that U.S. is on the road to an economic recovery.
Despite the market's weakness, the Oracle of Omaha has stood by his belief that U.S. is on the road to an economic recovery.
NEW YORK (TheStreet) -- The market's recent stretch of strength has been a welcome relief.
However, debt issues facing Europe and uncertainty regarding the longevity of China's reign as an economic workhorse plague the confidence of investors and market analysts alike; both groups continue question the strength and longevity of our current economic recovery, opting to stick with the bear camp.
Although the bears appear to be far-outnumbering the bulls today, a collection of prominent analysts, market commentators and celebrity investors predict economic prosperity in the foreseeable future. One such proponent is the Oracle of Omaha himself, Warren Buffett.
In a recent interview with the Huffington Post and
Yahoo
(YHOO)
, the chairman of
Berkshire Hathaway
(BRK.A) - Get Report
touched on a vast range of topics including the economy and finance, unconditional love, and LeBron James.
Regarding the current state of the U.S. economy and his prospects for the future, the charismatic financier maintained cheerful optimism. In the interview, Buffett insisted that the government was pulling its weight, that confidence was returning, and that many businesses under his careful watch were outperforming and even hiring.
Two prominent Buffett holdings that reflect the Oracle's optimistic views are
Posco
(PKX) - Get Report
and
General Electric
(GE) - Get Report
.
On Wednesday, South Korean steelmaker Posco announced that it was planning to raise 2 trillion won ($1.6 billion) over the second half of this year in order to fund new investments and acquisitions. This comes after Asia's third largest steel maker saw its profit nearly triple in the second quarter of 2010.
Looking to the future, the steel company expects the global economic recovery to further spur demand for steel-related goods including automobiles.
General Electric is another notable company in
that is donning bullish horns. In a July 15
Bloomberg
article, CEO Jeff Immelt announced that the firm is planning to spend $20 billion over the next two years in an effort to further ramp up research and development. Immelt looks to introduce 30 additional products this year, and is striving for a similar goal in 2011.
Today, all eyes are on GE as it announces second- quarter earnings before the opening bell. In the report, investors will be closely watching to see whether or not the company's recent focus on R&D has been effective. Additionally, analysts will be interested in the impact of GE's recent efforts to reduce its Capital division, as well as plans to sell its majority stake in NBC Universal in order to focus more on industrial initiatives.
Although optimistic of the economy and his holdings, Buffett appears to be exercising a cautious approach to playing these markets. Looking at Berkshire Hathaway's current holdings, for instance, one notices that large, stable companies make up the lion's share of his portfolio. Top holdings include
Coca-Cola
(KO) - Get Report
,
Wells Fargo
(WFC) - Get Report
,
American Express
(AXP) - Get Report
,
Johnson & Johnson
(JNJ) - Get Report
and
Proctor & Gamble
(PG) - Get Report
.
I, like Buffett, stand by the belief that, although in store for some rough market shakeups, the U.S. and global economy remain steadfastly on the path to recovery.
Therefore, in order to best prepare for this type of market environment, I have urged ETF investors to structure their portfolios in a way that will internalize market strength while protecting against turmoil.
This means holding a good balance of defensive bond, currency and gold positions while simultaneously focusing on equity positions dedicated to dividend-paying companies.
Some of my favorite exchange-traded products which provide both price appreciation and consistent dividend payments include
J.P. Morgan Alerian MLP Index ETN
(AMJ) - Get Report
(AMJ) and
iShares Dividend Select Index Fund
(DVY) - Get Report
.
Do you see the U.S. and global economy on the road to recovery? If not, what factors are weighing on your outlook for the markets in the coming months? Feel free to leave a comment below.
-- Written by Don Dion in Williamstown, Mass.
At the time of publication, Dion Money Management owns iShares Dividend Select Index Fund.
Don Dion is president and founder of
, a fee-based investment advisory firm to affluent individuals, families and nonprofit organizations, where he is responsible for setting investment policy, creating custom portfolios and overseeing the performance of client accounts. Founded in 1996 and based in Williamstown, Mass., Dion Money Management manages assets for clients in 49 states and 11 countries. Dion is a licensed attorney in Massachusetts and Maine and has more than 25 years' experience working in the financial markets, having founded and run two publicly traded companies before establishing Dion Money Management.
Dion also is publisher of the Fidelity Independent Adviser family of newsletters, which provides to a broad range of investors his commentary on the financial markets, with a specific emphasis on mutual funds and exchange-traded funds. With more than 100,000 subscribers in the U.S. and 29 other countries, Fidelity Independent Adviser publishes six monthly newsletters and three weekly newsletters. Its flagship publication, Fidelity Independent Adviser, has been published monthly for 11 years and reaches 40,000 subscribers.