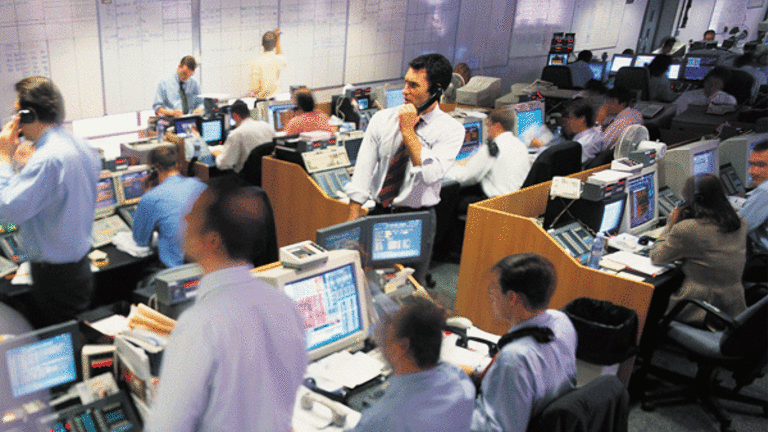 Blackrock's Big Push for ETF Transparency
Blackrock has created a classification system to separate products on the basis of transparency.
Blackrock has created a classification system to separate products on the basis of transparency.
NEW YORK (TheStreet) -- ETF industry leader Blackrock (BLK) - Get Report is on a mission. The goal: inject a hearty dose of transparency into the global ETF universe.
As indicated by the National Stock Exchange's fund flow reports at the start of each month, ETFs have taken off in a major way here in the United States. In the years following the initial launch of the first ETF,
SPDR S&P 500 ETF
(SPY) - Get Report
, the number of instruments available to U.S. investors has ballooned to over 1,000, and total assets have ascended above the $1 trillion mark. Around the world, the number of ETFs products has surpassed 2,000.
The majority of the products currently available are considered plain vanilla ETFs, boasting characteristics similar to SPY. However, the dramatic expansion of this industry has also ushered in a growing number of products that utilize increasingly complex techniques and assets in order to meet their desired goals.
In a recent report, Blackrock lays out its concerns regarding this latter class of instruments. The firm feels that in many cases these non-traditional products, though boasting the "ETF" name, provide limited transparency. Investors unfamiliar with unique attributes of these alternative instruments may be left vulnerable to additional risk. The firm presents and outlines a number of recommendations that they feel will help to resolve this issue.
Perhaps the most dramatic suggestion is the implementation of a sweeping global classification system. According to the report, this would essentially divide the universe of "exchange-traded products" into different classes, based on their structure and underlying holdings.
For example, while traditional products like SPY would continue to be considered ETFs, those that utilize leverage and inverse investing strategies, or are backed by swaps, could no longer carry the ETF label. For example, based on Blackrock's classification scheme a fund like the
Direxion Daily Financial Bull 3x Shares
(FAS) - Get Report
would be considered an ETI, or "exchange traded instrument."
As is already done in the United States, unsecured debt securities designed to track the performance of an index would be labeled as ETNs.
Finally,
iShares Gold Trust
(IAU) - Get Report
,
ETFS Physical Palladium Shares
(PALL) - Get Report
(PALL) and other physically backed commodity products would be labeled as exchange traded commodities. According to the requirements laid out by Blackrock, any commodity-focused ETF that is not physically-backed will not be considered an ETC.
Blackrock appears to have already taken steps to help investors distinguish between the types of products it offers. For instance, written in bold at the top of the IAU Website is the sentence, "The iShares Gold Trust is not a standard ETF."
Many fans and followers of ETFs --myself included -- have attempted to highlight the importance of maintaining ample transparency in this industry. It is my belief that transparency is one of the three most important tenets of these products; the other two being liquidity and low-cost.
However, Blackrock's recent efforts to increase disclosure have not been universally embraced be everyone. Last week Blackrock chief executive Larry Fink, drew the ire of Lyxor head Laurent Seyer after Fink criticized the level of disclosure associated with the European provider's line of synthetic ETFs.
According to a report from
Financial Times
, Fink explained that Lyxor and other sponsors offering similar products should explicitly state the counterparty risk associated with exchange-traded products backed by swaps and other derivatives.
Using Lyxor as an example, the Blackrock head stated, "
if you buy a Lyxor product, you're an unsecured creditor of SocGen." Seyer responded, insisting that Fink's statements were not only incorrect, but misleading. I will be watching this showdown closely to see how it unfolds.
The global ETF universe is expanding at a rapid pace. However, as indicated by Blackrock's recent push for transparency, at the same time it is also constantly evolving. Looking ahead, it will be interesting to see not only if other fund sponsors embrace the plan presented by the industry leader, but also if suggestions for additional categories such as one for exchange traded currency products, surface.
What are your feelings on Blackrock's recent initiative? Feel free to leave a comment in the space below.
Written by Don Dion in Williamstown, Mass.
Readers Also Like:
>>Turning Water Into Liquid Assets
>>'Last Days' of the Euro Are Upon Us
At the time of publication, Dion Money Management owned iShares Gold Trust.