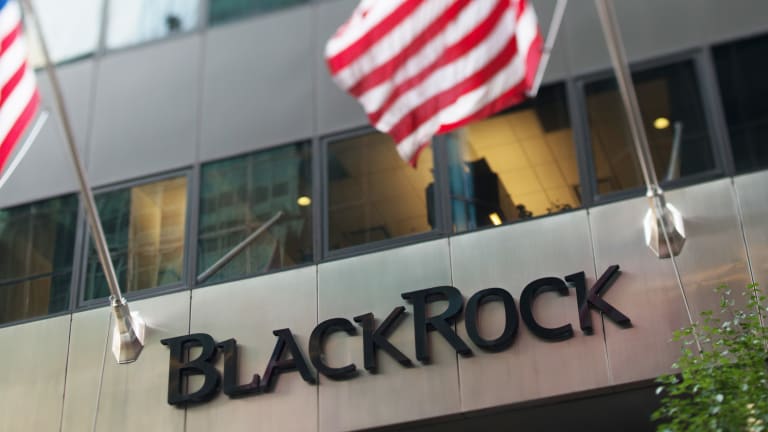 BlackRock Profit Doubles on ETF Frenzy and Gain From New Tax Law
Larry Fink, CEO of BlackRock, says client demand for exchange-traded funds is now driving the company's asset inflows.
BlackRock Inc. (BLK) - Get Report said fourth-quarter profit more than doubled, as the largest U.S. money manager benefited from runaway investor demand for its iShares exchange-traded funds and a $1.2 billion net gain due to the U.S. tax law passed in December.
Net income climbed to $2.3 billion from $851 million a year earlier, the New York-based company said in a statement. Excluding the benefit from the tax law and other one-time items, earnings per share were $6.24, exceeding analysts' average estimate of $6.02 in a FactSet survey.
BlackRock CEO Larry Fink has acknowledged that the firm's success is increasingly tied to its massive ETF business, which has thrived due to lower costs and ease of trading as rival mutual-fund companies that specialize in active stock-picking have suffered from waning investor demand. The ETF growth has helped push BlackRock's total assets under management to more than $6 billion -- more than double those at JPMorgan Chase & Co. (JPM) - Get Report , the largest U.S. bank.
"An increasingly diverse set of institutional and retail clients are using ETFs for asset allocation and asset generation," Fink said in the statement. 
The shares surged 3.1% to $554.31 as of 2:27 p.m. in New York. 
BlackRock's assets under management climbed to $6.3 trillion as of Dec. 31, up 22% from a year earlier. The iShares business netted $54.8 billion of investor inflows during the quarter, while the company's active stock-pickers brought in $2.19 billion.
ETFs can be traded on a stock exchange and generally track markets rather than trying to beat them. In turn, they usually charge lower fees than traditional mutual funds run by active stock-pickers.
Last year, assets invested in ETFs in the U.S. increased by 34% to a record $3.42 trillion, according to the London-based research firm ETFGI. The growth of $874 billion was more than double the previous record, set in 2016.
Over the past decade, actively managed stock funds have seen net outflows of $1.1 trillion, while index funds and ETFs have pulled in a net $1.4 trillion, according to the Investment Company Institute, the main lobbying group for money managers.
For BlackRock, the quarter was "predictably impressive," said Kyle Sanders, an analyst at brokerage Edward Jones in St. Louis. "A good market is always a nice tailwind, and once again they're just showing the ability to gather assets."
More of What's Trending on TheStreet: