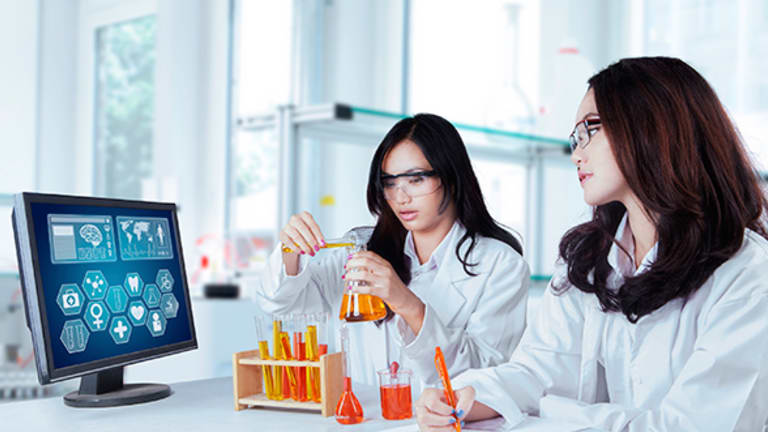 Last week, the Nasdaq Biotechnology Index (IBB) - Get iShares NASDAQ Biotechnology ETF Report , which has $7.6 billion in assets, broke through the $300 level for the first time in eight months, and with that mountain crested, could be on a glide path to $330 by the end of the year.
Additionally, on September 12, 2016, all recognized biotech ETFs reported positive performance results, giving the sector another "optics" boost and attracting more investors.
Driving sector performance are a recent series of mergers and acquisitions, including Horizon Pharma's (HZNP) - Get Horizon Therapeutics Public Limited Company Report purchase of Raptor Pharmaceutical Corp., and reported smaller acquisition deals by Gilead Sciences (GILD) - Get Gilead Sciences, Inc. (GILD) Report . Additionally, upward momentum by Republican presidential candidate Donald Trump, viewed by biotech industry insiders as more industry-friendly than Hillary Clinton, is also viewed as a positive by sector analysts.
Further solidifying the sector is strong performance by industry heavyweights like Amgen (AMGN) - Get Amgen Inc. Report and Celgene (CELG) - Get Celgene Corporation Report , all of which are highly prominent inclusions in the IBB ETF.

"We believe the large cap names in the sector are poised for a robust recovery in the second half, even as political fears persist through year end and beyond," notes Leerink Partners in a recent analyst note.

Other industry experts say biotech's were due for a bounce back after some rough sledding in 2015 and early 2016.

"Biotech stocks are beginning to rebound from one of the largest selloffs since the sector was formed in the early 1980s," notes Paul Yook, co-founder of Bioshares, which manages two biotech exchange traded funds.
Yook says much of the negativity was from election-year fears of massive overhauls to pharmaceutical pricing - something that is extremely difficult to implement in practice and unlikely to gather steam once a president is selected.
"Consequently, we believe biotech stocks are cheap and offer investors an excellent entry point," Yook adds. "In the 2008 election year, health care investors were terrified of the Obamacare health care reforms, and the Nasdaq Biotechnology Index had its first negative year after five up years. However the changes were modest with respect to drug companies and in fact arguably there were significant positives, including the expansion of the insured population."
As a result, biotech rebounded, trading up seven years in a row from 2009 to 2015, with the Nasdaq Biotechnology Index more than doubling the returns of the S&P 500.

"We see many similarities to this year's election dynamics," Yook notes. "Hillary has been a particularly vocal critic of specialty pharmaceutical companies like Valeant (VRX) , Mylan (MYL) - Get Mylan N.V. (MYL) Report and Turing, which are distinctly different business models than biotechnology companies, which invest heavily in research and development. As we move past 2017, we believe investors will begin to return to the biotech sector."
Yook says that investors who bypass biotechs in their portfolio selection process are missing the boat.
"The biotech sector has among the highest growth rates of any market segment," he says. "For example, the 36 stocks in the BioShares BBP Biotechnology Products ETF (BBP) - Get Virtus LifeSci Biotech Products ETF Report have median expected 2017 revenue growth of 18%, based on Bloomberg estimates, compared to 4.6% for the entire S&P 500."
If there are any sector risks to prioritize, some industry experts point to larger biotechnology companies, who particularly face more regulatory scrutiny.

"Investors face the potentially negative impact of regulatory measures, such as the Affordable Care Act, on the health care sector, along with heightened pricing scrutiny on drugs and health care products in general," says Kevin Mahn, chief investment officer at Hennion & Walsh. "I believe that these risks are primarily borne by large pharmaceutical companies."

Mahn says that large pharmaceutical companies also face the risk of falling off a "patent cliff" in the upcoming years as several of their larger revenue producing drugs are scheduled to come off patent and face generic competition. "To this end, in 2016 alone, drugs with pre-expiration values totaling a combined $56.4 billion are subject to this aforementioned patent cliff, according to S-Network Global Indexes, Inc.," he notes.
From Mahn's perspective, that scenario presents investment opportunities not only for manufacturers of generic drugs but also for biotechnology companies focused on innovation, as big pharmaceutical companies look to acquire these companies to help replace revenue lost to the patent cliff. "As opposed to the multi-pronged focus of large pharmaceutical companies, the primary focus of biotech companies is to develop new and innovative healthcare solutions," he says.
The biotech sector has historically been a hit or miss target for investors. Heading toward the end of the year, though, ETF investors have a bigger hit target than they've seen in a long time.