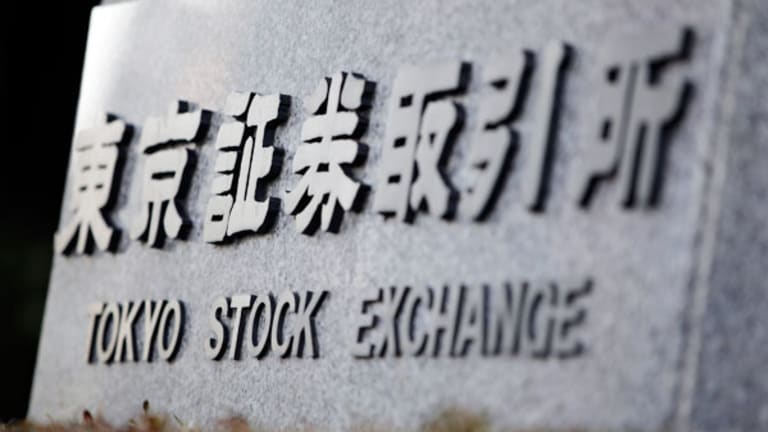 NEW YORK (TheStreet) -- Not many investors pay attention to the impact of currencies on their international funds. But that could be changing.
Last year one of the most popular ETFs was WisdomTree Japan Hedged Equity (DXJ) - Get WisdomTree Japan Hedged Equity Fund Report, which hedges away currency risk. The fund recorded $10 billion in inflows and now has total assets of $12 billion. What drew the cash was the chance to bet that the yen would weaken and boost Japanese stocks. Plenty of investors figured that the trade would work -- and they were right. By hedging away the currency exposure, the WisdomTree fund outdid conventional unhedged peers by more than 9%.
[Read: Be Skeptical of Austrian Economists' Warnings of Dollar Doom]
Only a few ETFs hedge currencies, but demand for the strategy is likely to increase. With interest rates rising in the U.S., the dollar seems poised to climb against many foreign currencies. That is good news for tourists who will be able to buy more souvenirs in Tokyo and Rio de Janeiro. But for international funds, the rising dollar presents a headwind. When foreign currencies decline, the value of overseas holdings drops for U.S. investors. If the yen sinks by 10%, the returns of a Japanese fund would be penalized by about that much. "A case can be made for hedging your entire international exposure," says Matt Hougan, executive vice president of IndexUniverse. "There is more opportunity for the dollar to rise against the euro than for the euro to rise against the dollar."
Investors can hedge with a growing number of funds, including WisdomTree Germany Hedged Equity (DXGE) - Get WisdomTree Germany Hedged Equity Fund Report and db X-trackers MSCI Emerging Markets Hedged Equity (DBEM) - Get Xtrackers MSCI Emerging Markets Hedged Equity ETF Report. The funds use currency forwards and other techniques to insure that returns aren't hurt by currency moves. Because they eliminate currency losses, hedged funds tend to be less volatile than their unhedged peers. Lately most of the hedged funds have enjoyed a clear edge. During the past year, db X-trackers MSCI EAFE Hedged Equity (DBEF) - Get Xtrackers MSCI EAFE Hedged Equity ETF Report, a hedged international fund, returned 22.8%, compared to 19.2% for the unhedged iShares MSCI EAFE (EFA) - Get iShares MSCI EAFE ETF Report.
[Read: Emerging Global Advisors Makes a Big Splash in Bond Funds]
But the hedged funds do come with downsides. If the dollar sinks, the value of foreign assets climbs for U.S. investors, and unhedged funds enjoy an edge. With Europe recovering in recent months, the euro has strengthened against the dollar, a move that left hedged funds lagging. During the past year, WisdomTree Europe Hedged Equity (HEDJ) - Get WisdomTree Europe Hedged Equity Fund Report returned 18.5%, compared to 21.6% for iShares Europe (IEV) - Get iShares Europe ETF Report, an unhedged fund. Whether or not they expect foreign currencies to rise, some financial advisers prefer unhedged portfolios because they provide diversification away from the dollar.

While there are reasons to believe that the dollar will strengthen against many currencies, the case for hedging the yen seems particularly strong, says Jeremy Schwartz, research director of WisdomTree. At a time when the Federal Reserve is tapering its stimulus, the Bank of Japan is maintaining a massive program to buy assets and hold down interest rates. "They are the most aggressive central bank in the world," says Schwartz.
With interest rates low, investors are shunning Japanese bonds and favoring issues from other countries with higher yields. The flow of currency away from Japan puts downward pressure on the yen. The central bank favors the weaker currency because it lowers the costs of Japanese exports, which boosts sales and stock prices.
[Read: Leveraged and Inverse ETFs: The Risk of Black Box Investments]
To take advantage of a weaker yen, WisdomTree designed its fund to tilt toward exporters. The portfolio excludes companies that obtain 80% of or more of their revenues from the domestic Japanese markets. "The top holdings in the fund are companies like Canon (CAJ) - Get Canon Inc. Sponsored ADR Report and Honda (HMC) - Get Honda Motor Co., Ltd. Sponsored ADR Report, which sell the majority of their products overseas," says Matt Hougan.
Recently the emphasis on exporters has caused a bit of a drag because the fund excluded some hot stocks, such as SoftBank (TOKYO:SFTBF), which operates dominant Internet portals in Japan. During the past year, the WisdomTree Japan fund returned 36.5%, compared to 44.8% for db X-trackers MSCI Japan Hedged Equity (DBJP) - Get Xtrackers MSCI Japan Hedged Equity ETF Report, which holds SoftBank. But if the yen keeps falling, exporters could lead the markets.
At the time of publication, the author held no positions in any of the stocks mentioned.
This article represents the opinion of a contributor and not necessarily that of TheStreet or its editorial staff.