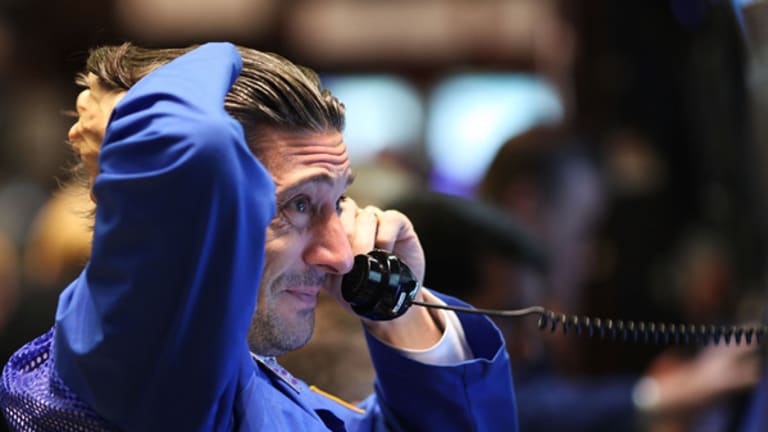 Bet the Farm With This Agriculture ETF
As world food demand grows, so should agribusiness profits. The Market Vectors Agribusiness Fund allows you to play this trend.
As world food demand grows, so should agribusiness profits. The Market Vectors Agribusiness Fund allows you to play this trend.
Agriculture stocks have outperformed physical agriculture commodity prices in 2009, a trend that has played out in the relative performance of Market Vectors Agribusiness Fund (MOO) - Get Report and PowerShares DB Agriculture Fund (DBA) - Get Report. Year to date, MOO, which tracks agribusiness stocks, has risen nearly 38%, while DBA, which tracks agricultural commodities, has logged a return of just 5.69%. The strength of MOO can be traced to its risk -- agriculture stocks are much more volatile than commodity prices. MOO could be worth the risk, however, if the strengthening global economy and weak dollar help to push agribusiness profits still higher.
MOO mimics the DAXglobal Agribusiness Index (DXAG), a modified market capitalization-weighted index designed to track the movements of stocks of the most important agribusiness companies. The most heavily weighted country in MOO is the U.S., which accounts for 45.3% of the portfolio, followed by Singapore and Canada, which each account for about 10%. MOO's 44 components operate in the following subsectors: agriproduct operations, livestock operations, agrichemicals, agricultural Equipment and ethanol/biodiesel. Of these, the two largest are agricultural chemicals and agriproduct operations, which account for 43.8% and 29.9% of holdings, respectively. Components include seed giant Monsanto (MON) and equipment supplier Deere (DE) - Get Report.
On June 11, Sterne Agee analyst Mark Connelly commenced coverage of the fertilizer sector and rated MOO's top component, Potash Corp. of Saskatchewan (MOO) - Get Report, a buy. POT, which makes up 8.61% of MOO, engages in the sale of fertilizers and related industrial and feed products in the U.S. Connelly says that while fertilizer sales may remain low through the fall, they will ramp up before the end of the year. He estimates that crop yields in the U.S. and Latin America could be low this year, tightening supply and boosting grain prices. In addition to POT, Connelly also began covering Mosaic (MOS) - Get Report, MOO's No. 3 component. He assigned it a neutral rating.
MOO's second largest holding, Syngenta (SYT) , develops and produces products that increase crop yields. On June 11 the company announced the purchase of Circle One, a company that markets a toxin-minimizing product for corn and peanut crops. "This new, sustainable technology can dramatically increase usable yield, protect growers' investments in crop production and may allow for the reintroduction of corn to parts of the southern U.S. where aflatoxin has prevented its cultivation for many years," said Valdemar Fischer, president of Syngenta, in a statement.
MOO is an exchange-traded fund to buy and hold while you stomach the short-term gyrations common to agribusiness stocks. It represents a "big picture" holding that bets on the success of big agribusiness companies as the world's population grows and emerging markets demand larger supplies of food, even as the amount of arable land remains finite. Although this thesis sounds good in theory, it may be hard for investors in MOO to keep their eyes off this top-heavy ETF in the short term. Although the ETF has plenty of liquidity, it isn't a fund for jumping in and out of. It's an ideal place to park a small portion of your portfolio. Remember that the world will always need the type of companies that make up MOO's holdings.
At the time of publication, Dion Money Management owned MOO.
Don Dion is the publisher of the Fidelity Independent Adviser family of newsletters, which provides to a broad range of investors his commentary on the financial markets, with a specific emphasis on mutual funds and exchange-traded funds. With more than 100,000 subscribers in the U.S. and 29 other countries, Fidelity Independent Adviser publishes six monthly newsletters and three weekly newsletters. Its flagship publication, Fidelity Independent Adviser, has been published monthly for 11 years and reaches 40,000 subscribers.
Dion is also president and founder of Dion Money Management, a fee-based investment advisory firm to affluent individuals, families and nonprofit organizations, where he is responsible for setting investment policy, creating custom portfolios and overseeing the performance of client accounts. Founded in 1996 and based in Williamstown, Mass., Dion Money Management manages assets for clients in 49 states and 11 countries. Dion is a licensed attorney in Massachusetts and Maine and has more than 25 years' experience working in the financial markets, having founded and run two publicly traded companies before establishing Dion Money Management.