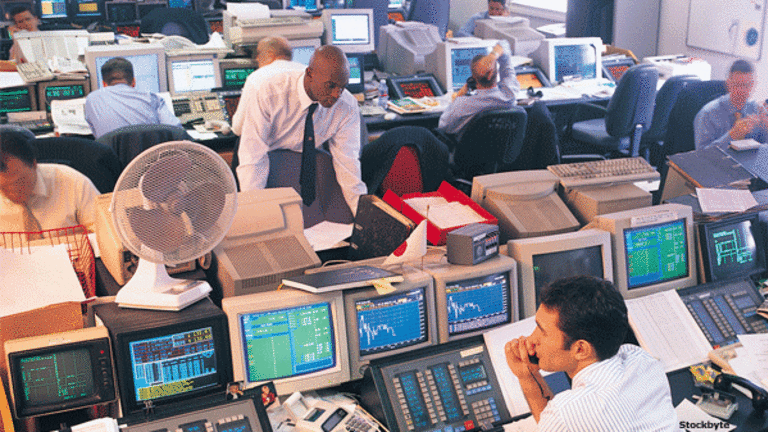 Bet on Natural Gas With a Water ETF
Investors looking to make an indirect bet on the future of natural gas should consider investing in ETFs that track companies that aim to protect the supply of fresh water.
NEW YORK (
) -- ETF investors looking for an unconventional proxy play on the growth of the natural gas industry may want to take a look at the various firms responsible for providing the U.S. and the rest of the world with potable drinking water.
For a while now I have promoted instruments like the
First Trust Revere-ISE Natural Gas Index ETF
(FCG) - Get Free Report
and the
JPMorgan Alerian MLP Index ETN
(AMJ) - Get Free Report
as the best ways to play the expanding U.S. natural gas industry.
Thanks to the advent and development of unconventional natural gas drilling techniques, analysts now estimate that the natural gas reserves in the U.S. could adequately supply the nation for a century.
>>Want More ETFs? Visit Our ETF Screener Page
However, despite the optimistic forecast for this fuel source, there remain a number of critics, many of whom are concerned over the detrimental effects natural gas production can have on the United States' water sources.
The hydraulic fracking method of natural gas extraction involves the pumping of water and chemicals deep underground in an effort to break up the underlying shale, allowing natural gas to escape.
Although many natural gas companies insist the depths these producers are drilling are far below levels where consumable water is extracted, many remain concerned about the long-term negative implications this process could have on water, which is essential for crops, livestock and citizens.
The ongoing debate between natural gas proponents and environmentalists highlights the important, albeit often overlooked, potable water industry. Because there is little chance that natural gas is going to go away any time soon, something is going to have to be done to ensure that we continue to have adequate access to drinkable water well into the future.
Fortunately, today there are a number of companies like
Nalco
( NLC),
Veolia
(VE)
and
Itron
(ITRI) - Get Free Report
that focus on preserving our water supply. Even
has a hand in this industry. According to the most recent
Berkshire Hathaway
(BRK.A) - Get Free Report
13-F filing, the Oracle of Omaha has amassed a significant position in Nalco.
ETF investors looking for access to this important industry have a number of plays to consider.
Today, four ETFs provide investors with pure-play exposure to companies both domestic and abroad that are working to ensure that the world's population has access to adequate sources of water.
Investors looking for exposure to U.S.-listed water companies should turn to the
First Trust ISE Water Index Fund
(FIW) - Get Free Report
or the
PowerShares Water Resources Portfolio
(PHO) - Get Free Report
. Both of these instruments boast an equal-weighted index. Both charge a 0.60% expense ratio, and FIW has outperformed in 2010. However, FIW's volume is on the low side, and most investors should stick with the more liquid PHO.
Investors desiring a more geographically diverse water portfolio should look to the
Claymore S&P Global Water Index ETF
(CGW) - Get Free Report
or the
PowerShares Global Water Resources Portfolio
(PIO) - Get Free Report
. Although the U.S. makes up the largest single geographic slice of both funds, these ETFs also boast exposure to companies hailing from countries such as Canada, Japan and Europe.
Because of their international exposure, these two instruments carry higher fees: 0.65% for CGW and 0.75% for PIO. This year, having access to international water players has not paid off. Both CGW and PIO have consistently underperformed their domestically focused cousins.
Ultimately, I would advise investors looking for a play on water to stick with the strong, liquid PHO.
-- Written by Don Dion in Williamstown, Mass.
At the time of publication, Dion had no positions in securities mentioned.
Don Dion is president and founder of
, a fee-based investment advisory firm to affluent individuals, families and nonprofit organizations, where he is responsible for setting investment policy, creating custom portfolios and overseeing the performance of client accounts. Founded in 1996 and based in Williamstown, Mass., Dion Money Management manages assets for clients in 49 states and 11 countries. Dion is a licensed attorney in Massachusetts and Maine and has more than 25 years' experience working in the financial markets, having founded and run two publicly traded companies before establishing Dion Money Management.
Dion also is publisher of the Fidelity Independent Adviser family of newsletters, which provides to a broad range of investors his commentary on the financial markets, with a specific emphasis on mutual funds and exchange-traded funds. With more than 100,000 subscribers in the U.S. and 29 other countries, Fidelity Independent Adviser publishes six monthly newsletters and three weekly newsletters. Its flagship publication, Fidelity Independent Adviser, has been published monthly for 11 years and reaches 40,000 subscribers.