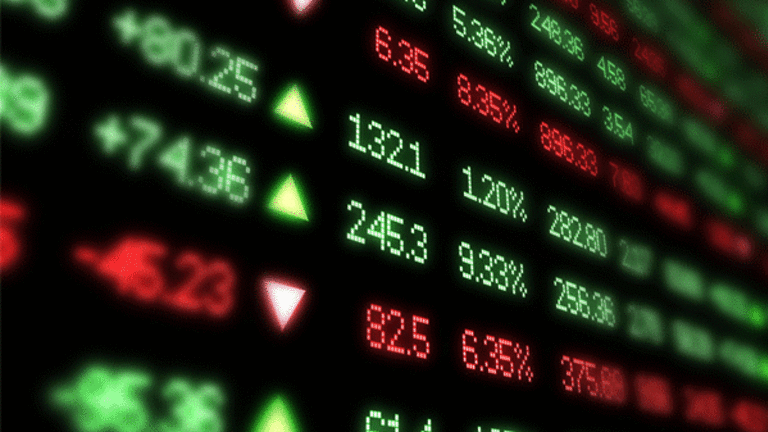 Best ETFs in First Quarter
The First Trust NYSE Arca Biotechnology Index Fund was the best performing ETF in the first quarter.
NEW YORK (TheStreet) -- Although the S&P 500 Index climbed 4.8% in the first quarter, it was beaten by the Nasdaq, which gained 5.6% and the Russell 2000, which advanced 8.6%. The quarter saw fears of a global slowdown from Chinese monetary tightening that sent stocks down globally and sovereign debt concerns that mainly damaged the euro.
Here's my list of the top performing ETFs in the first quarter.
First Trust NYSE Arca Biotechnology Index Fund
(FBT) - Get First Trust NYSE Arca Biotechnology Index Fund Report
+29.9%
The biotechnology sector was able to dodge the confusion that held back some of the other health care sector ETFs as Washington finally made up its mind on reform. In the first quarter of 2010, FBT's increase was driven by successful drug trials and acquisitions. It was the best performing non-leveraged ETF so far this year.
I had been advocating that investors interested in health care should look to the biotechnology sector as a way to avoid headwinds from Washington. This appears to have been sound advice as shares of companies working on what is considered the future of health care have risen sharply.
SPDR KBW Bank ETF
(KBE) - Get SPDR S&P Bank ETF Report
+21.9%
The large institutions of the financial sector are now under the gaze of lawmakers who are trying to come up with a consensus on financial reform. Thus far the failure of any bill to gain traction helped the large banks perform well.
Additionally, regional banks, to which KBE has significant exposure, are not included in the plans that lawmakers have to revamp the financial system and may even receive some support from the government.
If Treasury Secretary Timothy Geithner has his way, smaller banks will have access to a $30 billion government fund in case they have trouble with commercial loan defaults.
SPDR KBW Insurance
(KIE) - Get SPDR S&P Insurance ETF Report
+18.9%
While the regional bank sub-sector saw the largest gains within the broad financial industry in the first quarter, insurance companies also managed to fly under the Wall Street bashing government's radar. KIE was able to pick up some of the strongest gains. Top-holding
Genworth Financial
(GNW) - Get Genworth Financial, Inc. Class A Report
saw a particularly massive lift, rising nearly 70% since the start of 2010.
PowerShares Dynamic Leisure & Entertainment
(PEJ) - Get Invesco Dynamic Leisure & Entertainment ETF Report
+17.3%
Consumers came back in the first quarter and didn't let up their spending. One area seeing a nice advance was restaurant stocks. The 10% advance in No. 2 holding
Yum! Brands
(YUM) - Get Yum! Brands, Inc. Report
set the pace, but it was holdings such as Ruby Tuesday, which gained 50%, that lifted the fund. Also strong were holdings such as
HSN
(HSNI)
, which owns Home Shopping Network, among other retail businesses, which enjoyed a 50% advance in the first quarter.
SPDR S&P Retail ETF
(XRT) - Get SPDR S&P Retail ETF Report
+16%
The outperformance of retail companies has surprised many who had been predicting that sales would be slow to recover due to high unemployment. I have liked XRT among the many retail ETFs because it is represents a very balanced play on the sector.
It looks as though retail is set to continue to be a strong sector going forward as well, after the Consumer Confidence Index reported stronger-than-expected results for March. This should mean further gains for XRT, as consumers continue to hit the stores at a pace that is faster than what many perceived to be possible given the country's unemployment rate.
iShares Dow Jones Aerospace and Defense Index Fund
(ITA) - Get iShares U.S. Aerospace & Defense ETF Report
+13.4%
Amid the throes of the recession, tightening wallets made terms like "stay-cation" famous. However, now that economies are returning to strength and consumers have become willing to spend once more, companies responsible for commercial air travel have felt the spoils. Meanwhile, with two wars to fight, defense spending hasn't seen any serious cutbacks.
In the second half of March, No. 2 holding
Boeing
(BA) - Get Boeing Company Report
provided plenty of optimism for the aerospace industry, announcing that it expects 2010 to be a year of recovery with 2011 being the year airlines return to profitability.
Claymore/Delta Global Shipping
(SEA) - Get U.S. Global Sea to Sky Cargo ETF Report
+13.2%
The shipping sector has also benefited from better consumption in America as it has boosted world trade and the need for shipping companies. Also, shippers have reported that there is strong demand for space on ships that are carrying exports from the United States, meaning that business is strong for shippers going to and from the world's largest economy.
The growth in world trade has allowed shippers to put ships back into circulation that had been standing by during the recession, raising returns on the costly investments that have been made in shipping equipment and fuel.
This shipping trend will likely continue as companies and businesses around the world become more comfortable with making new purchases in light of the improved economic outlook.
iShares Dow Jones U.S. Home Construction Index Fund
(ITB) - Get iShares U.S. Home Construction ETF Report
+12.9%
ITB had a strong first quarter in 2010, but it could under pressure in the second quarter as a number of new and continuing challenges weigh on the U.S. housing market. Among these tests include the April expiration of the homebuilder tax credit, the end of Federal Reserve support for mortgages and ongoing unemployment.
Market Vectors Indonesia ETF
undefined
+12.6%
IDX has enjoyed the most impressive standout performance of all single nation ETFs in the first quarter of 2010. From a macro-perspective, Indonesia has been on a tear. Already this year, S&P upgraded the country's foreign-currency sovereign debt rating, while the Indonesian central bank raised its 2010 growth forecast from 5.2% to 5.6% and its 2011 GDP growth estimate from 6.0% to 6.5%.
Going forward, the largest Southeast Asian economy is taking new steps in hopes of increasing foreign investment. This week, the nation's investment coordination agency announced deregulatory action that will allow foreign investors to buy property as well as change the cap previously set on foreign stakes in various industries including health care, education and agriculture.
Indonesia has received a strong amount of press throughout the first quarter of 2010 with President Obama postponing his trip to the nation on two separate occasions. Now that the visit is scheduled for June, investors can expect this country to remain in the limelight well into the second quarter.
Rydex S&P 500 Pure Value ETF
(RPV) - Get Invesco S&P 500 Pure Value ETF Report
+12.3%
In the first quarter, value was king and RPV was one of the best ways to play the style. Though RPV's broad exposure to a diverse basket of companies helped it secure a top spot within the ETF universe, this fund was aided considerably by its heavy exposure to retailers and regional banks, which had impressive gains during this period.
-- Written by Don Dion in Williamstown, Mass.
At the time of publication, Dion was not long any of the equities mentioned.
Don Dion is president and founder of
, a fee-based investment advisory firm to affluent individuals, families and nonprofit organizations, where he is responsible for setting investment policy, creating custom portfolios and overseeing the performance of client accounts. Founded in 1996 and based in Williamstown, Mass., Dion Money Management manages assets for clients in 49 states and 11 countries. Dion is a licensed attorney in Massachusetts and Maine and has more than 25 years' experience working in the financial markets, having founded and run two publicly traded companies before establishing Dion Money Management.
Dion also is publisher of the Fidelity Independent Adviser family of newsletters, which provides to a broad range of investors his commentary on the financial markets, with a specific emphasis on mutual funds and exchange-traded funds. With more than 100,000 subscribers in the U.S. and 29 other countries, Fidelity Independent Adviser publishes six monthly newsletters and three weekly newsletters. Its flagship publication, Fidelity Independent Adviser, has been published monthly for 11 years and reaches 40,000 subscribers.