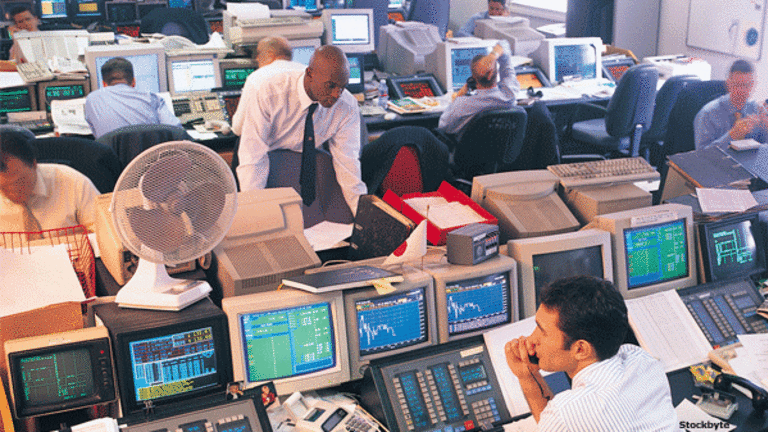 Barely Legal ETFs Bring Triple the Returns for China Bears
Even after being tagged by the SEC as too risky, there's been little slowdown in exchange-traded funds that use derivative contracts to triple investors' returns.
These exchange-traded funds are so risky that they should be banned, according to the Securities and Exchange Commission.
And yet, because of a lag time in the regulatory crackdown, people are still trading them -- and reaping annualized gains equivalent to more than 2,700%.
They're known as leveraged ETFs, and they promise multiples of the returns available from ordinary funds. In January, 19 of the 20 top-performing U.S. ETFs were leveraged or "inverse" products -- a type of fund that produces gains when the target stock or index falls. Many of them were both leveraged and inverse.
For example, take Direxion's $71 million Daily FTSE China Bear 3x ETF (YANG) - Get Direxion Daily FTSE China Bear 3X Shares Report , which promises gains when Chinese stocks fall, at triple the rate. The fund returned 35% in January amid mounting concerns about a slowdown in that country's economy and a devaluation of the yuan. At that pace, investors would get 27 times their money back after a year. By contrast, the Standard & Poor's 500 lost 5.1% last month.
The SEC's December proposal to limit leveraged and inverse ETFs has done little to stunt their growth or usage. The funds use mostly unregulated trading contracts called derivatives to multiply returns, and SEC Chair Mary Jo White said at the time that such structures could prove too risky for individual investors who don't understand them. The ETFs also face higher risks of a liquidity crunch in stressed markets, she said.
Still, under SEC procedures requiring a 90-day window for investors and companies to review the proposal, the agency is unlikely to issue a final rule until at least March 28.
"Imagine, you've got a leaky pipe and there's nothing you can do about it," said James Angel, an associate professor of finance at Georgetown University's business school. "That must be how some people at the SEC are looking at this. They see this problem, but they can't fix it immediately."
With the reprieve until later this year, leveraged ETFs remain one of the industry's fastest-growing segments. While total U.S. ETF assets climbed by 6.4% in 2015, leveraged ETFs grew 65%, according to consultant ETFGI. In January, they grew by another 19% to $40.3 billion.
According to Morningstar, Direxion's Daily S&P Biotech Bear 3X (LABD) - Get Direxion Daily S&P Biotech Bear 3X Shares Report fund was the biggest gainer among all U.S. ETFs in January, rising 157%, followed by the ProShares UltraPro Short Nasdaq Biotech ETF (ZBIO) - Get ProShares UltraPro Short Nasdaq Biotechnology Report, which rallied 108%. Both funds are designed to profit when biotechnology-company shares lose.
Other big winners in January included the ProShares UltraPro Short Financial Select Sector (FINZ) - Get ProShares UltraPro Short Financial Select Sector Report, which produces triple the gains when bank stocks like JPMorgan Chase, Bank of America, Citigroup and Goldman Sachs drop. There's also the VelocityShares 3x Inverse Crude Oil (DWTI) exchange-traded note, which profits when petroleum prices plunge.
"We continue to see trading activity in all of our 3x products," said Sylvia Jablonski, managing director at New York-based Direxion. "We remain very committed and active in that space."
Under the SEC's proposed rule, ETFs would have to limit their asset "exposure" -- a figure that includes the added investing power provided through derivatives -- to no more than 1.5 times the amount of invested assets.
BlackRock, the biggest sponsor of ETFs, doesn't offer leveraged ETFs because of the risks. In May 2014, BlackRock Chief Executive Officer Larry Fink said such funds contain "structural problems that could blow up the whole industry."
ProShares, based in Bethesda, Md., said in a statement in December that it's examining the SEC's rule to determine if there would be any impact on its triple-leverage and triple-inverse funds. The firm is confident that its double-leverage funds would be allowed under the proposal.
In the meantime, the process could take a long time, and the proposal could always change, ProShares noted.
"Until a rule is implemented, there will be no change to our operations," ProShares said. A spokesman declined to comment further.
Of course, triple-leverage ETFs were among the biggest losers in January as well: The VelocityShares 3x Long Crude Oil exchange-traded note (UWTI) , which promises triple the returns of petroleum prices, slid 38% in January as futures for the commodity sank below $30 a barrel.
"Leverage is a two-edged sword," said Georgetown's Angel. "Sometimes it helps and sometimes it hurts."