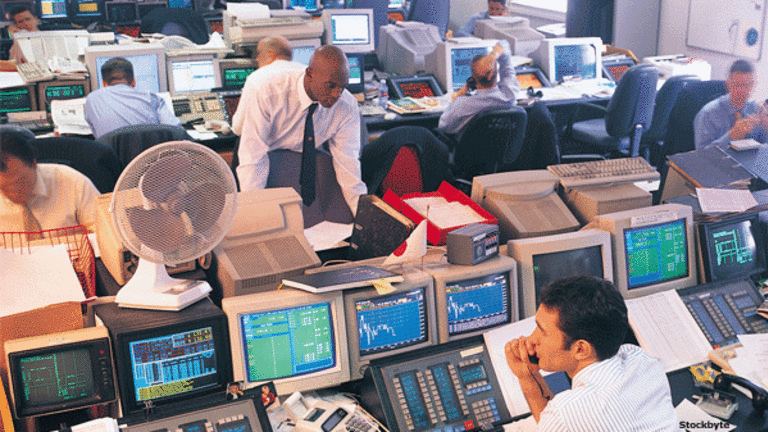 Bank on the Regionals
The recent pullback in this subsector has created an attractive entry point for long positions.
Editor's note: This piece originally ran earlier today on our newest Premium service, ETF Profits. Click here for a 14-day trial to this exciting product!
The past few days of weakness could be the beginning of a larger correction. Only time will tell if that's the case. For now, however, the selling appears to be an event-related shakeout courtesy of the toppling of some Middle East dictatorships. If the current weakness turns out to be just a shakeout (as opposed to a larger correction), then there could be some nice opportunities in store.
When panic sets in, people tend to sell first and ask questions later. Investors must then ask: was the selling reasonable? Were the stocks sold even impacted by the event that started the frenzy in the first place? After the dust settles and traders start looking for opportunities, the sectors with underlying demand should surface and show the strongest recoveries.
Regional banks might be one such group. Banks in general may be good candidates, and we could find reason to buy the money center banks as well. For now, however, we'll stick to banks that do not have international exposure (and therefore are theoretically insulated from overseas events). We aren't exactly sure why unrest in the Middle East would have triggered selling in these stocks. With no direct exposure to the Middle East, there's no reason for these stocks to be impacted by the unrest in that region.
The indirect impact of rising oil process could, at some point, slow the recovery. That, in turn, could impact the ability of these banks to lend or for borrowers to pay back loans. But it's a bit premature to worry about that scenario. Even if that was the rationale behind the selloff of these stocks, the reasoning seems to be based more on suspicion or fear than fact or probability.
As a group, regional bank stocks had been doing well in recent months, showing some strong advances. Many have reestablished their advances after a few months of consolidating price action. These rallies became somewhat extended as there were no intervening pullbacks. Until now. The broad-market selloff, which has impacted just about every stock and sector over the last three days, has finally provided an opportunity to establish long exposure in the regional banking sector with a reasonable risk-reward entry point.
An ETF that directly invests in the regional banking stocks is the
Regional Bank HOLDRs
(RKH)
. This fund spent the early fall of 2010 going through a basing process after seeing a sharp decline during the summer months. Since that basing process was resolved to the upside in November, RKH has rallied about 20%. That rally occurred without any significant pullback as the ETF managed to trade above its very-short-term 20-day moving average during that period.
RKH just hit recovery highs five trading days ago. The selling pressure brought on by the Middle East unrest led to the first intermediate-term corrective decline in the fund, taking it back to the 50-day moving average. Interestingly, this pullback has been relatively orderly, and volume -- a proxy for buying and selling -- has remained relatively light. This suggests that there was little selling pressure through the recent weakness.
The flipside is that the decline occurred due to an absence of buyers rather than an increase in sellers. This is why we view the pullback as corrective in nature and not something more significant.
With RKH having pulled back to support in the $85 to 86 range, investors now have an opportunity to establish long positions that offer low risk high potential rewards. We would suggest buying RKH at current levels. The first upside recovery level would be around $90. A move through this level would suggest further strength towards the previous reaction high near $92. Depending on the strength of that recovery and the volume characteristics accompany it, there could be further potential to the $95 area.
The stop level is very close, limiting risk. A move below $85 would suggest that selling pressure is intensifying and raises the risk of a deeper pullback towards the $80 to $82 level. We would sell long exposure on a break of the $85 level.
At the time of publication, John Hughes and Scott Maragioglio held no positions in the stocks mentioned. Hughes and Maragioglio co-founded Epiphany Equity Research, which has developed and utilizes proprietary tools to identify and track liquidity changes in the market indices and sectors. Hughes advises numerous asset managers, hedge funds and institutions managing in excess of $30 billion. Maragioglio is a member of the market technicians association (MTA) as well as The American Association of Professional Technical Analysts (AAPTA) and holds a Chartered Market Technician (CMT) designation. Maragioglio has also served on the board of directors of the AAPTA.