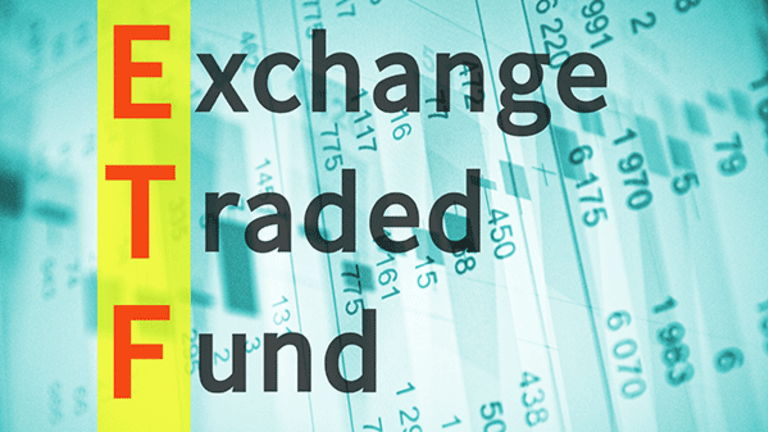 Bank ETFs Are Poised for Growth, Buoyed by Trump and Rising Interest Rates
Higher loan charges and a steepened yield curve could pump up banking ETFs -- but which funds offer the best path to profits?
Bank exchange-traded funds are on a month-long upswing after the U.S. presidential election in November.
Investors, sensing a banking industry-friendly occupant in the White House come Jan. 20, 2017, have sent financial ETFs soaring. Take the Financial Select Sector SPDR (XLF) - Get Financial Select Sector SPDR Report , which holds industry heavyweights like Action Alerts PLUS holding Wells Fargo (WFC) - Get Wells Fargo & Company Report , JPMorgan Chase (JPM) - Get JPMorgan Chase & Co. Report and Bank of America (BAC) - Get Bank of America Corp Report . The $13 billion fund has moved from under $20 per share on Nov. 5 to $23 per share a month later.
Add to the mix Vanguard Financials ETF (VFH) - Get Vanguard Financials ETF Report , which saw its share price rise from $50 to $58 in the same time frame.
Overall, banking equities as a group surged by 19% in November, as investors viewed a Donald Trump presidency as a boon to the banking sector, with high hopes of industry-wide deregulation engineered by a Trump administration, along with higher interest rates rolling down the pike from the Federal Reserve.
"Analysts should begin to move their models higher in the next two or three weeks to account for higher interest rates and potentially less regulation," says Keefe, Bruyette & Woods, in a new research post.
The November run-up brings welcome news to a banking industry that can use it.
"It has certainly been a good couple of weeks for financial stocks," says Eric Bush, CFA of markets and portfolio management at Gavekal Capital. "But the good times still haven't been good enough to bring bank stocks out of last place among 24 developed market industry groups."
Bush states that, on an equal-weighted, U.S. dollar basis, "developed market bank stocks have declined by 6.23% over the past year compared to the average developed market stock, which is 5.27% higher."
But now, the anticipation of continued higher interest rates and less regulation have led to a huge rally in bank stocks, says Frederic Slade, a senior investment strategist at Pentegra Retirement Services, in White Plains, N.Y.
"Since the end of October, the Dow Jones U.S. Banks Total Stock Market Index is up 21.0%, and the SPDR S&P Bank ETF (KBE) - Get SPDR S&P Bank ETF Report is up 21.3%," Slade says. "The yield on the 10-year U.S. Treasury Note has risen 60 basis points since the end of October, and the Federal Reserve is expected to raise short-term interest rates both this month and in 2017."
Slade says that interest rate increases generally benefit banks, as their net interest margins (income on loans less income credited on deposits) are likely to increase. "One additional indicator to watch are mortgage rates, which have begun to increase from recent lows," he adds. "If significantly higher mortgage rates reduce mortgage lending and refinancing volumes, some of the margin benefit may decrease."
In addition, potential bank deregulation is currently structured in the form of the Financial Choice Act (FCA), which was passed by the House Financial Services Committee in September, Slade notes. But on that front, he does issue a note of caution.
"Unwinding the Dodd-Frank regulations is complex and is by no means assured, he adds. "Restructure of the Consumer Financial Protection Board, in particular, is likely to be contentious. However, banks and bank stocks could benefit from reduced compliance costs and greater freedom to lend and invest their assets."
With opportunity apparently knocking for bank ETF investors, which funds deserve investors' unbridled attention?
"U.S. ETF investors have several good choices for accessing the banking industry, depending on how broad or narrow a slice is desired," says Elisabeth Kashner, director of ETF Research at FactSet.
Kashner cites a broad-based fund like VFH, "which definitely features large slugs" of JPMorgan Chase, Wells Fargo, Citigroup, and Bank of America, but devotes only about 50% of its portfolio to banking services. "VFH rounds out its portfolio with exposure to other industries such as insurance and investment banking," Kashner notes.
Or, kick some tires on iShares US Financial Services ETF (IYG) - Get iShares US Financial Services ETF Report , which holds credit card giants Visa, MasterCard, and American, Kashner adds.
Kashner also cites two specialized ETFs, iShares US Broker-Dealers & Securities Exchanges ETF (IAI) - Get iShares U.S. Broker-Dealers & Securities Exchanges ETF Report and iShares US Regional Banks ETF (IAT) - Get iShares U.S. Regional Banks ETF Report , both of which offer access to the banking industry. "IAI is heavily concentrated in investment banks like Goldman Sachs and Morgan Stanley, but also has over 29% of its portfolio in exchanges such as the CME Group and ICE," she says. "IAT is 100% focused on banks, but spurns the giants for regional banks like U.S. Bancorp and PNC financial."
Either way, bank ETFs look to be gathering momentum into 2017, with both the political and economic winds seemingly at their backs. Opportunity-minded fund investors may want to go along for the ride.