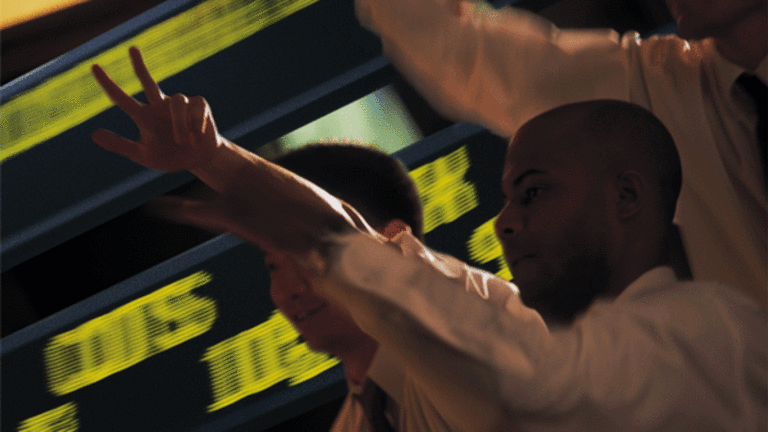 Avoiding Zombie ETFs
The growth of the ETF industry is spawning low-liquidity funds with little trading volume and unacceptably large spreads.
NEW YORK (
) -- The expansion of the ETF industry could create a haven for "zombie" or low-liquidity ETFs.
Much has been made this past week about the occurrence of these zombie funds, and the tax that they exact on investors. This is a
that I have covered exhaustively but that is important to return to frequently as more ETFs hit the market.
For every high-liquidity fund like the
SDPR S&P 500
(SPY) - Get SPDR S&P 500 ETF Trust Report
and
PowerShares QQQ
(QQQQ)
that changes hands millions of times a day, there are many low-liquidity funds with little trading volume and unacceptably large spreads.
The ETF's spread, the difference between the bid and ask, should be reflective of the liquidity of the underlying stocks. ETFs like the
SPDR Financial
(XLF) - Get Financial Select Sector SPDR Fund Report
contain a portfolio of large liquid companies that are easy to hedge. The ease of this arbitrage should theoretically encourage
to keep the spread between the bid and the ask to a minimum.
The problem is that in a free market, you can't force people to trade your fund. No matter how well intentioned an ETF is, how exotic, how sensible, how well-constructed, you can't force viability. As they say, you can lead a horse to water.
ETF issuers are encouraged by the structure of ETFs to produce a suite of products in a single stroke and hope that some of the ideas stick. ETFs are premier once again, but in the heyday of launches, ETF issuers would launch as many as 10 products in a single day, knowing that the popularity of a few products could sustain a whole line.
The truth of the matter is that ETF issuers like to create, not redeem. When ETFs are launched, a primary market maker will exchange underlying securities for shares of the ETF. The ETF will be priced based on the value of the underlying securities plus a cash component. In essence, it only takes two people -- the issuer and the market maker -- plus a willing exchange, to launch a new product. Doesn't that sound easier than equities?
ETF issuers try to chase investor demand to grow their product line. Being a first mover in this business is a big deal, and investors will notice that some of the older ETF funds are still the most popular. As the new biggest investing idea takes shape, ETF issuers rush to develop products to match the trend. So while ETF launches reflect investor demand, they are often slightly behind the curve.
Right now, ETF products are extremely popular, and current and potential issuers are filing like crazy to get their products on the market. Currently, more than 500 ETFs are slated for release. As companies like
Schwab
(SCHW) - Get Charles Schwab Corporation Report
and
Pimco
join the ETF race, it will undoubtedly inspire more asset managers to launch their own lines.
What's the problem with this glut? ETF issuers will overshoot and produce more products than are sustainable. In 2008, nearly 50 ETFs
because of lack of investor interest, tying up investor funds as they were wound down.
Illiquidity taxes ETF investors. The problem will never be on the buy side, a fact conveniently overlooked by many issuers who promise liquidity. Because ETFs want to get bigger, market makers feel encouraged to create new shares at 50,000 or 100,000 a pop. The problem occurs when the individual ETF investor wants to turn around and sell 100 or 500 of these shares in the open market.
Even investors who were able to get their money's worth on the buy side may have difficulty selling these shares later on. Redemption, the sound of assets sucking out of a fund, also only happens at 50,000 or 100,000 share-units.
Creation and redemption happen daily in large liquid funds. In illiquid funds, creation will happen at the fund's inception, and then perhaps stop entirely. Low trading volume reduces the potential for arbitrage, and market makers will compensate for this weakness by widening their spreads. Investors then have to buy and sell funds at premiums and discounts.
The new generation of ETFs, hedge fund-like and life-cycle like, are aimed at the buy-and-hold investor. By definition, these investors will not trade in and out of these products throughout the trading day. This could cause a liquidity drought in even the most conservative product.
ETFs are different from mutual funds in that they have low fees and trade throughout the day on exchanges. A high spread in an ETF can be as bad as a high fee, and if you can't find anyone to trade with, what's the point of being able to buy and sell during the day? Investors tempted to buy a low-liquidity ETF may be better off in a mutual fund after all.
-- Written by Don Dion in Williamstown, Mass.
At the time of publication, Dion owned PowerShares QQQ.
Don Dion is president and founder of
, a fee-based investment advisory firm to affluent individuals, families and nonprofit organizations, where he is responsible for setting investment policy, creating custom portfolios and overseeing the performance of client accounts. Founded in 1996 and based in Williamstown, Mass., Dion Money Management manages assets for clients in 49 states and 11 countries. Dion is a licensed attorney in Massachusetts and Maine and has more than 25 years' experience working in the financial markets, having founded and run two publicly traded companies before establishing Dion Money Management.
Dion also is publisher of the Fidelity Independent Adviser family of newsletters, which provides to a broad range of investors his commentary on the financial markets, with a specific emphasis on mutual funds and exchange-traded funds. With more than 100,000 subscribers in the U.S. and 29 other countries, Fidelity Independent Adviser publishes six monthly newsletters and three weekly newsletters. Its flagship publication, Fidelity Independent Adviser, has been published monthly for 11 years and reaches 40,000 subscribers.