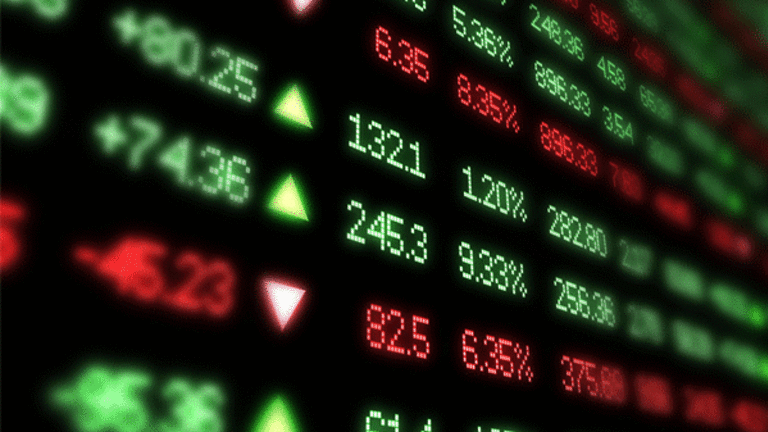 Asia ETFs Poised for Europe Credit Crunch Easing
Asia ETFs that are heavily weighted to financials could be attractive if credit conditions ease in Europe.
Asia ETFs that are heavily weighted to financials could be attractive if credit conditions ease in Europe.
The following commentary comes from an independent investor or market observer as part of TheStreet's guest contributor program, which is separate from the company's news coverage.
NEW YORK (
) -- LIBOR (London Inter-Bank Offered Rate) is the interest rate that fellow European banks will charge other banks. Put another way, it is the rate at which a financial institution in the region can borrow money.
In order for banks to operate, they are consistently lending out and/or borrowing. If they cannot exchange with one another, required reserve levels could be deemed "inadequate" or investors could sour on the health of the company. A bank that cannot get access to funds from any source could find itself being taken over by a respective government, perhaps to prevent widespread withdrawals that might cripple the entity.
Why am I bringing up LIBOR trends today when S&P downgraded the sovereign debt of France? For one thing, inspite of the market's gloom-n-doom reaction, the event is not a surprise. The agency gave a 45-day warning on
15 European nations on 12/5 , and there's been very little in the way of actual debt-reducing, decision-making since that day.
More importantly, the biggest reason for addressing LIBOR is that the widely tracked "3-month" has been steadily easing for nearly a week, six trading days to be precise.
Normally, this might not mean a whole lot. However, since Aug. 1, 2011, LIBOR (3-Month) has drifted lower on only one or two occasions. In fact, it journeyed from 0.255% on Aug. 1, 2011 all the way up to 0.582% by Jan. 5, 2012. As of Jan. 14, it has eased to 0.567%.
On its face, 0.582% and 0.567% may not seem like high annualized rates for a 3-month period. However, LIBOR is typically a few tenths of a percentage point more than the Fed Funds overnight rate, currently at 0.00%-0.25%. It follows that anything above 0.45% represents something ominously familiar to the 2008 toxic mortgage credit crunch and subsequent market collapse.
I documented and discussed LIBOR trends throughout 2011. For example, in September's
Currency ETFs Forecast More Trouble In The Works , I wrote, "3-Month LIBOR rates climbed above a long-term moving average in mid-August ... and they just keep climbing. In fact, it is 40% more expensive for European banks to borrow from one another than it was on the 4th of July." (Note: At 0.582% in the first week of January 2012, it hit 128% more expensive!)
Of course, if the six-day move of falling rates becomes a longer term trend, one may be able to set aside worries about the extension of credit coming to a standstill. Moreover, the shares of corporations in the financial sector around the world could see relief rallies.
I am not declaring myself bullish on financial companies. I still believe it is sensible to underweight developed world banks. That said, should the European credit crunch ease, I would be more eager to acquire Asian ETFs that have large financial weightings.
For the last six months, terrific economies with exceptionally solid financial institutions have been held hostage... deemed guilty by association. Indeed, if the credit crunch in Europe continues easing, I'd have a lot more interest in Asia country funds like
iShares MSCI Singapore
(EWS) - Get Report
and
iShares MSCI Malaysia
(EWM) - Get Report
.
Disclosure Statement: ETF Expert is a website that makes the world of ETFs easier to understand. Gary Gordon, Pacific Park Financial and/or its clients may hold positions in ETFs, mutual funds and investment assets mentioned. The commentary does not constitute individualized investment advice. The opinions offered are not personalized recommendations to buy, sell or hold securities. At times, issuers of exchange-traded products compensate Pacific Park Financial or its subsidiaries for advertising at the ETF Expert website. ETF Expert content is created independently of any advertising relationships. You may review additional ETF Expert at the site.