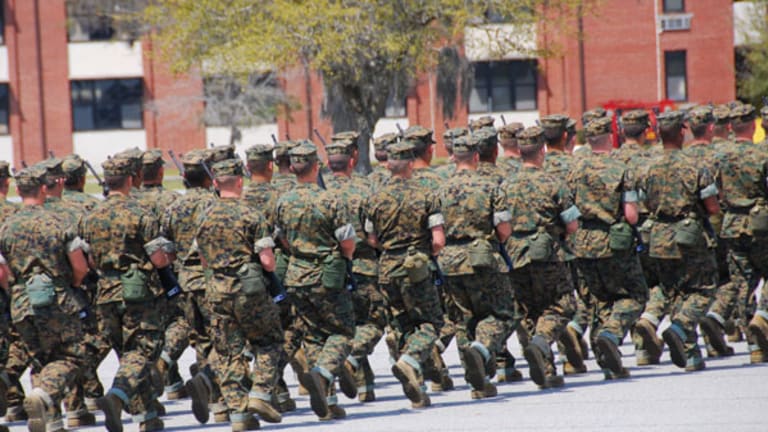 As Syria Escalates, Look to Defense ETFs
Here are three exchange-traded funds that track the defense industry.
NEW YORK (TheStreet) -- Secretary of State John Kerry did not mince words Monday in the wake of a chemical attack by the Syrian government upon its own people.
He called the attack a moral obscenity and said the U.S. will respond to it.
After taking a few minutes to digest Kerry's comments, the stock market sold off in the last 50 minutes of the day.
An escalation of military activity will draw investment attention to defense industry stocks on the logic that increased military spending in the face of war or other military action would be a positive for the related companies.
There are three defense-related ETFs, all of which are very similar, for investors looking to own an industry that has a fundamental chance of going up during a military conflict.
The iShares fund is by far the largest, with $151 million in assets, followed by the PowerShares fund, with by $67 million, and XAR, with $20 million. The SPDR fund was the third to market, launching in late 2011.
All three ETFs own mostly the same companies but with different weightings.
Names like
United Technologies
(UTX) - Get Free Report
and
Boeing
(BA) - Get Free Report
feature in all three ETFs as more diversified companies, along with more specialized defense contractors such as
Northrup Grumman
(NOC) - Get Free Report
and
Lockheed Martin
(LMT) - Get Free Report
.
The weighting methodologies in PPA and XAR are very similar. PPA's largest holdings have 6% weights while XAR's largest holdings range from 4% to 5%. ITA's largest holding is UTX, with a 9% weight, followed by BA at 8%, so the iShares fund is exposed to slightly more individual stock risk. Not surprisingly, ITA also has fewer holdings than the other two.
None of the funds will be a source of dividend yield, because all three have payouts that are less than 2%, which is less than the
.
The yields of the funds are low because they all have plenty of exposure to small-cap stocks that pay no dividends. Investors wanting a little yield from this space could take a closer look at larger individual stocks. LMT yields 3.67%,
Raytheon
(RTN) - Get Free Report
yields 2.86% and NOC yields 2.58%.
Year to date, all three funds are up more than the S&P 500, which has returned 18%, and
Industrial Select Sector SPDR
(XLI) - Get Free Report
, which has returned 20%.
PPA is up 24% in 2013, ITA is up 26% and XAR has pulled ahead with a 33% rally. The reason for XAR's outperformance appears to be its holding in ammunition maker
Alliant Tech Systems
(ATK)
, which currently has a 5% weight, much larger than in the other funds. ATK is up 63% for the year. Any sort of meaningful decline for ATK would likely cause XAR to lag the other funds.
From the top down, defense stocks are part of the industrial sector.
Industrial stocks tend to fair worse than the broad market during bear markets and economic downturns. PPA and ITA went down a little more than the
SPDR S&P 500
(SPY) - Get Free Report
during the last bear market.
If rising interest rates hasten an end to the bull market and Syria ends up being not as bad as it now seems, then defense stocks will likely lag the market.
At the time of publication, Nusbaum had no positions in securities mentioned.
This article is commentary by an independent contributor, separate from TheStreet's regular news coverage.
This contributor reads:
On Twitter, this contributor follows: