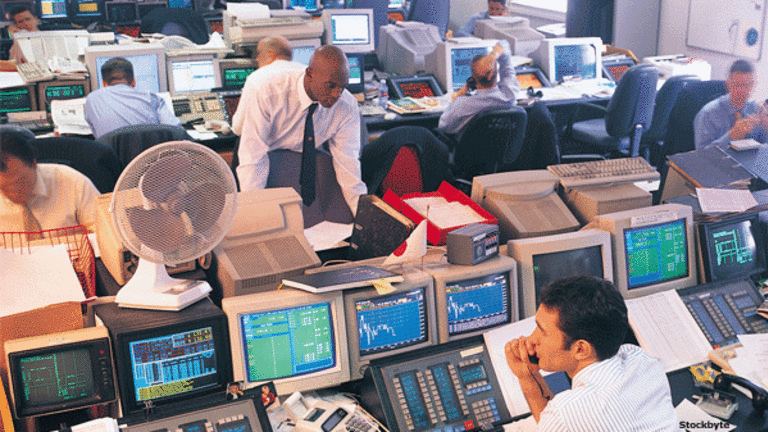 Applying Buffett's Wisdom in ETF Investing
Buffett's classific emphasis on solid companies that he understands can be put to good use by long-term ETF investors.
Buffett's classific emphasis on solid companies that he understands can be put to good use by long-term ETF investors.
NEW YORK (TheStreet) -- Although Warren Buffett has never officially sat down to pen an official autobiography, droves of the Nebraska native's fans and followers already know and take the investor's pearls of wisdom to heart in their own investing endeavors. Although Buffett's success has largely resulted from his skills as a stock investor, ETF investors can still use his lessons to their advantage.
When it comes to planning an investing strategy, Warren Buffett is famous for his interest in "boring" industries. Rather than diving into the latest fast-moving tech company or trying his luck with other risky firms and financial products, the
Berkshire Hathaway
(BRK.A) - Get Report
chairman has opted to invest in firms that boast easy-to-understand business plans.
This strategy proved particularly beneficial when, at the start of the new millennium, the investor was able to avoid getting caught up in frenzy that ultimately led to the bursting of the dot-com bubble.
Long-term ETF investors can benefit from taking Buffett's preference for "boring" to heart when constructing their own portfolios. As the universe of exchange traded products has expanded, we have seen the emergence of increasingly complex instruments.
While it may be tempting to take advantage of products designed to track unique benchmarks or provide leveraged and inverse exposure to popular indices, as we have witnessed over the years, oftentimes these products leave investors open to excessive amounts of risk.
Products like the
iPath S&P 500 VIX Short Term Futures ETN
(VXX) - Get Report
and the
Direxion Financial Bull 3X Shares
(FAX) - Get Report
can be exciting to watch from day to day. However, these funds should only be utilized by aggressive and experienced short-term traders.
Although the investing public has expressed doubts in regard to some of the companies on which Buffett has opted to place his bets in recent years, the investor does not typically share these concerns. This is largely due to the fact that Buffett focuses his attention on investments that he considers to be sure things.
Whether it is going all in with Burlington Northern Santa Fe Railroad, or saving
Goldman Sachs
(GS) - Get Report
during the financial crisis, Warren Buffett is confident that profits will result from his deals.
>>View Warren Buffett's Portfolio
ETF investors can inject a small element of certainty into their portfolios by exposing themselves to bonds and dividend-paying equities. The consistent pay outs seen from income-focused funds like
iShares Dow Jones Select Dividend Index Fund
(DVY) - Get Report
will ensure some welcomed comfort.
Perhaps Buffett's most famous lesson is also his top investing rule: "Don't lose money." While it is impossible to construct a portfolio completely devoid of risk, ETF investors can take a number of steps to ensure that, even in the direst of investing environments, any losses will be largely contained.
Protecting against market upheaval requires the ability to construct a hardy line of defense. Even during periods of economic euphoria, I encourage investors to set aside a small portion of their portfolios to defensive ETFs like the
iShares Gold Trust
(IAU) - Get Report
. During market trials, the protection of assets like gold will help to mitigate losses.
Diversification is another important element to consider when creating an all-weather portfolio. A proper long-term investment portfolio combines exposure not only to stocks and bonds, but also commodities and currencies. By casting a wide net, investors will be better suited to handle any market conditions.
While the average retail investor may not be able to mimic billionaire Buffett exactly, by internalizing some of his well-known investing principles, it is possible to construct a well-balanced and stable long-term portfolio that would likely make the investor proud.
Written by Don Dion in Williamstown, Mass.
RELATED ARTICLES:
Readers Also Like:
The Best-Performing Stocks Under $5 in 2011
>>David Tepper Sitting on Cash
At the time of publication, Dion Money Management owned iShares Gold Trust and iShares Dow Jones Select Dividend Index Fund.