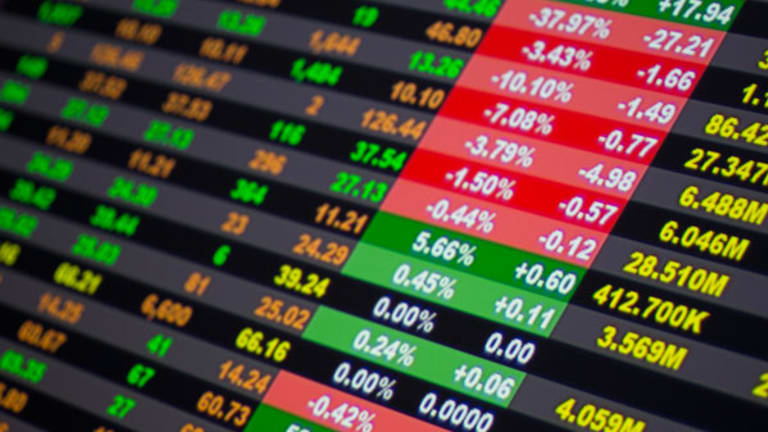 An ETF Strategy That Delivers Rich Yields
Investors hungry for higher yields may want to consider ETFs that invest in closed-end funds.
NEW YORK ( TheStreet ) -- To reach yield-starved investors, exchange-traded fund companies have introduced portfolios that invest in closed-end funds -- funds that have a fixed number of shares and trade like a stock.
One of the highest yielding ETFs is YieldShares High Income (YYY) - Get Amplify High Income ETF Report, which yields 8.8% and has stakes in 30 closed-end funds. PowerShares CEF Income Composite (PCEF) - Get Invesco CEF Income Composite ETF Report yields 7.6%, while Market Vectors CEF Municipal Income (XMPT) - Get VanEck Vectors CEF Municipal Income ETF Report delivers a tax-free yield of 6%.
Though the yields are tempting, keep in mind that closed-end funds can be volatile. During market downturns, closed-end funds have often lost more than traditional mutual funds.
Because they deliver rich yields, closed-end funds have long been favorites of income investors. Like mutual funds, closed-end funds hold portfolios of stocks or bonds. But closed-end funds can trade at discounts or premiums to the value of the assets in their portfolios.
In contrast, mutual funds always trade for their net asset values. In recent years, closed-end funds have traded at average discounts of 4%. So investors have been able to purchase $1 of assets for 96 cents. The discounts boost the yields that investors can get from closed-ends.
Many closed-end funds increase their yields by using leverage. A typical fund might assemble a portfolio of $100 million in bonds. Then the portfolio manager would borrow $30 million against the assets and buy more bonds. That way the fund would collect income from $1.30 worth of assets for each $1 invested. While leverage increases gains in rallies, it can also magnify losses in downturns.
Leverage provides an important boost to closed-end municipal funds, says Jim Colby, senior municipal strategist of Market Vectors. Colby says that many of the municipal funds hold long-term BBB-rated bonds, which yield 5%. The closed-end funds can enhance the yield by a percentage point or more because of discounts and leverage.
For someone in the top tax bracket, the 6% tax-free yield of the Market Vectors ETF is comparable to a taxable bond that yields more than 9%. "The yields of closed-end municipals are extremely attractive compared to Treasuries or other taxable bonds," Colby says.
The PowerShares ETF holds a diversified basket of income funds, including many closed-ends that trade for discounts of more than 5%. The approach delivered healthy results in 2013, returning 4.8%, compared with a loss of 2% for the Barclays Capital U.S. Aggregate bond index.
The PowerShares ETF stayed in the black by holding a broad mix that includes option-income stock funds as well as high-yield and investment-grade bond funds. PowerShares chose the different categories of holdings because they do not necessarily move in lockstep. During periods or rising rates, the investment-grade bonds may sink, but the stock and high-yield funds can rise.
With interest rates rising last year, many investment-grade funds suffered losses. But high-yield funds, which are rated below investment grade, stayed in the black. That occurred because the economy grew steadily. With corporate earnings improving, the risk of default declined, and investors bid up prices of shaky bonds.
The option-income stock funds also made money last year. The option-income funds start by assembling portfolios of stocks. Then they sell call options against the stocks. In a typical transaction, a stock holder sells a trader the right to buy the shares at a fixed price in the future.
Consider options on PepsiCo (PEP) - Get PepsiCo, Inc. Report, a stock that recently traded for $79.71. A closed-end fund could charge a trader $6.75 for the right to buy PepsiCo a month from now for $72.50. By selling the option, the fund collects cash. If the stock stagnates or falls, the fund keeps the cash. But if the stock rises, the fund may have to deliver the stock to the option buyer.
Using the option strategy, the closed-end fund can deliver a rich yield. But in a rising market, the fund must give up highflying stocks and miss the upside. Last year the option selling produced modest gains. As a result, the PowerShares fund outperformed bonds but lagged stocks.
YieldShares High Income ETF holds a mix of closed-end funds that includes bond and option-income portfolios. The ETF starts by screening through 600 funds, eliminating small portfolios and those that rarely trade.
Then YieldShares uses a screening process that emphasizes funds with high yields and big discounts. The closed-end funds in the portfolio have an average discount of 5.9%.
YieldShares aims to focus on unloved funds that can rebound. "If you buy funds with larger-than-average discounts, you have a chance to obtain capital appreciation," says Christian Magoon, CEO of YieldShares.
In recent months, the YieldShares strategy has succeeded. With discounts on many funds narrowing, the fund has delivered steady returns.
At the time of publication, the author had no position in any of the securities mentioned.
This article represents the opinion of a contributor and not necessarily that of TheStreet or its editorial staff.
Stan Luxenberg is a freelance writer specializing in mutual funds and investing. He was executive editor of Individual Investor magazine.