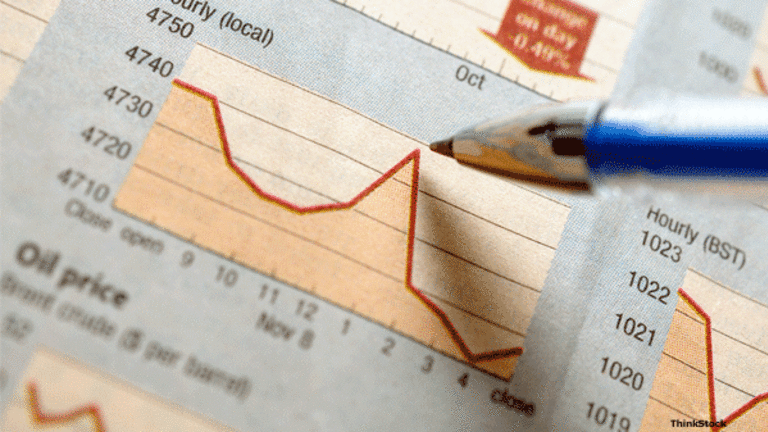 A Steadier Way to Hold Commodities
By staying broadly diversified, these ETFs limit losses.
NEW YORK ( Thestreet ) -- Commodity prices have been sinking.
So far this year,
iShares Silver
(SLV) - Get Free Report
has lost 22.8%, while
Teucrium Wheat
(WEAT) - Get Free Report
has dropped 12.1%. Wary investors have been dumping some commodities ETFs.
SPDR Gold Shares
(GLD) - Get Free Report
alone has recorded outflows of $10 billion this year, according to IndexUniverse.com.
Can commodities bounce back soon? Maybe not. Oil and gold have declined partly because of sluggish demand from China and other emerging markets. Unless the global economy improves, prices could remain soft.
But there are still good reasons to consider holding commodities ETFs. Commodities can provide diversification, sometimes rising when stocks are falling. A sudden event -- such as war in the Mideast -- could push up oil prices and send commodity funds through the roof.
It can also make sense to own commodities for protection against inflation. In periods of rising prices, commodities have often outdone other assets. For the moment, inflation remains subdued. But economists worry that money printing by the
could push up prices eventually.
>>Also see: Apple Could Kick Stock Market in the Core >>
To add commodities to your portfolio, consider broad-basket ETFs.
Those hold a mix of different commodities. Morningstar analyst Abby Woodham recommends
PowerShares DB Commodity Index
(DBC) - Get Free Report
. Despite the sinking markets of recent months, PowerShares has reported inflows of $355 million this year.
Part of what has attracted cash is the fund's unusually broad diversification. While many broad-basket ETFs emphasize energy, PowerShares holds sizable stakes in a variety of commodities, including silver, zinc, and sugar. "The diversification makes the fund less volatile," says Morningstar's Woodham.
The holdings outside energy have cushioned the PowerShares fund this year. While most kinds of commodities have fallen, agricultural products such as soybeans have suffered only small declines. For the year, the PowerShares fund has lost 6.7%.
Tracking a Deutsche Bank diversified index, the PowerShares portfolio has 55% of assets in energy, 22% in metals, and 22% in agriculture products. The approach is different from the strategy of
iShares S&P GSCI Commodity
(GSG) - Get Free Report
, a competing broad-based ETF that has 70% of assets in energy.
The S&P GSCI benchmark has a big energy stake because each commodity is weighted according to its total production. Because of its massive world production figures, oil accounts for 48% of assets in the index, while gold is 3.1%. In contrast, the Deutsche Bank index used by PowerShares has 25% in oil and 8% in gold.
The Deutsch Bank weightings are derived by a system that uses a combination of production and total trading activity in the futures markets. Even though not much gold is produced, precious metals have a bigger weighting in the benchmark because they are responsible for considerable trading.
Among the most broadly diversified funds is
GreenHaven Continuous Commodity Index
(GCC) - Get Free Report
. Instead of emphasizing some sectors, GreenHaven gives equal weight to each of 17 different commodities. Under this scheme, cocoa has as much impact as crude oil.
Lately, the equal-weight approach has been working. This year, GreenHaven has lost -5.9%, ranking as the top-returning broad-basket commodity ETF. During the past five years, the fund has lost 4.7% annually, compared to an annualized loss of 13.8% for energy-heavy iShares S&P GSCI.
Spencer Bogart, an ETF analyst for IndexUniverse, recommends the Greenhaven fund for investors seeking a diversified approach. But he argues that there are legitimate reasons for investors to prefer an energy-heavy fund. "If you spend a lot of money on energy, then you may want to hedge your exposure by holding a fund that will go up when oil prices rise," he says.
>>Also see: Morici: Anti-Growth Policies Slowing U.S. Economy Again >>
Some investors were disillusioned with commodities funds because of their poor showing during the financial crisis. In the turmoil of 2008, the
dropped 37%, and the S&P GSCI ETF did even worse, losing 45.8%. Critics said that commodities funds no longer provided the kind of diversification that they offered in the past.
Since the financial crisis, commodities have begun showing lower correlations with stocks. So there is good reason to expect that broad-based ETFs can provide important diversification in future markets.
This article was written by an independent contributor, separate from TheStreet's regular news coverage.
Stan Luxenberg is a freelance writer specializing in mutual funds and investing. He was executive editor of Individual Investor magazine.