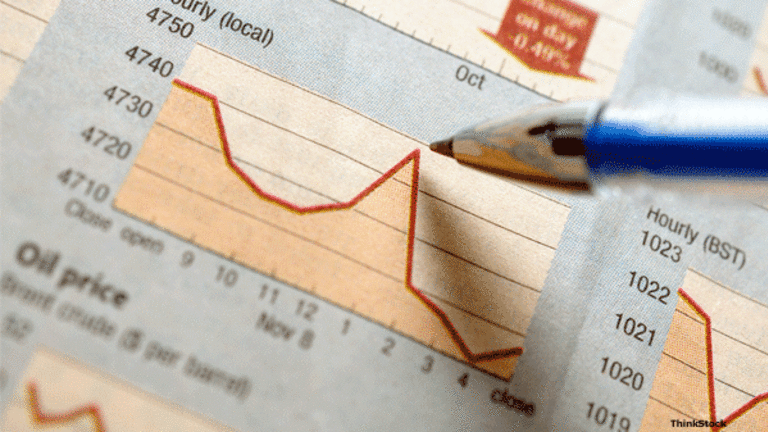 A Panacea for Leveraged ETF Woes?
Direxion's change in tracking strategy for mutual funds could be a viable solution for leverage fund frustration.
Direxion's change in tracking strategy for mutual funds could be a viable solution for leverage fund frustration.
Direxion, creator of the enormously popular Daily Financial Bull 3X (FAS) - Get Report and Daily Financial Bear 3X (FAZ) - Get Report, is making changes to its mutual funds that may cast a shadow on its ETF business.
In a supplement to the mutual fund prospectus of 17 leveraged mutual funds, Direxion has announced it will be changing its tracking strategy from a daily to monthly time frame. In addition to extending the index timeframe, Direxion will also be lowering the leverage for some of the funds to 200% from the current 250%.
As leveraged ETFs come under attack from both regulators and individual investors, the primary complaint has been the tracking error of the double-down or triple-down funds. While these funds track their underlying indices on a daily basis, over the longer term compounding can erode the funds.
The controversy surrounding the daily tracking of leveraged ETFs prompted regulator FINRA to issue a notice back in June:
"while such products may be useful in some sophisticated trading strategies, they are highly complex financial instruments that are typically designed to achieve their stated objectives on a daily basis. Due to the effects of compounding, their performance over longer periods of time can differ significantly from their stated daily objective. Therefore, inverse and leveraged ETFs that are reset daily typically are unsuitable for retail investors who plan to hold them for longer than one trading session, particularly in volatile markets."
Following the FINRA release, several large brokerage houses including
Ameriprise
(AMP) - Get Report
and
UBS
(UBS) - Get Report
halted the sale of leveraged products to investors.
One possible solution to the leveraged fund frustration would be to extend the tracking time frame of the underlying index. Since daily tracking funds are not suitable for average buy-and-hold investors, ETF issuers could create longer term contracts that seek to match returns on a monthly or even multi-month basis.
The buy-and-hold investment industry, championed by mavens like Warren Buffett, is a trillion-dollar business that ETF issuers have not ignored. Earlier this year
Charles Schwab
(SCHW) - Get Report
announced that it would be issuing its own proprietary line of ETFs that mimic traditional buy-and-hold mutual fund strategies. Other issuers have launched life-cycle ETFs and hedge-fund strategy ETFs.
By altering the tracking goals of leveraged ETFs like Direxion is modifying its mutual funds, fund issuers could breathe new life into an endangered group. Monthly leveraged ETFs may be branded as "safer" than their daily tracking peers.
At the very least, Direxion's latest move is indicative of fundamental changes in the investing community. Direxion's ETF business has trumped the interest in its mutual funds. By changing funds like its
S&P 500 Bull 2.5X Fund
to the
Direxion Monthly S&P 500 Bull 2X Fund
, Direxion will be giving up some of the less popular mutual fund offerings.
Representatives from Direxion note that there are no changes currently planned for its popular line of ETFs. Sticking to the daily investment philosophy for ETFs makes sense to Direxion for now. Why fix something that's still attracting buyers?
The controversy surrounding nontraditional ETFs, like leveraged funds, however, is far from over. As leveraged ETF lawsuits roll in, regulators like FINRA may begin to respond with something stronger than a warning. Embattled
ProShares
, famous for leveraged ETFs, saw a $1,551 million outflow during August. As the debate heats up, issuers may have to change course.
At the time of publication, Dion had no positions in the funds mentioned.
Don Dion is president and founder of
, a fee-based investment advisory firm to affluent individuals, families and nonprofit organizations, where he is responsible for setting investment policy, creating custom portfolios and overseeing the performance of client accounts. Founded in 1996 and based in Williamstown, Mass., Dion Money Management manages assets for clients in 49 states and 11 countries. Dion is a licensed attorney in Massachusetts and Maine and has more than 25 years' experience working in the financial markets, having founded and run two publicly traded companies before establishing Dion Money Management.
Dion also is publisher of the Fidelity Independent Adviser family of newsletters, which provides to a broad range of investors his commentary on the financial markets, with a specific emphasis on mutual funds and exchange-traded funds. With more than 100,000 subscribers in the U.S. and 29 other countries, Fidelity Independent Adviser publishes six monthly newsletters and three weekly newsletters. Its flagship publication, Fidelity Independent Adviser, has been published monthly for 11 years and reaches 40,000 subscribers.