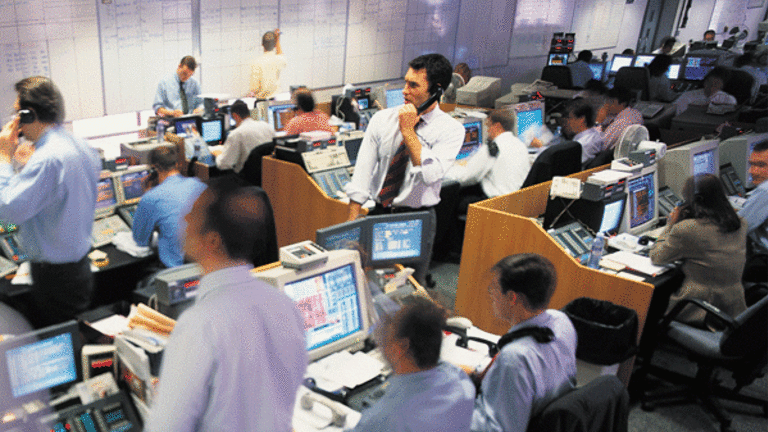 A New Way to Play Lumber
Claymore has come out with the first ETF that offers a pure play on this commodity.
The long-awaited, by me anyway, Claymore/Clear Global Timber Index ETF (CUT) - Get Invesco MSCI Global Timber ETF Report is finally up and running.
This is the first exchange-traded fund that offers a pure play on lumber -- or at least logging companies. And lumber is another commodity with a low correlation to U.S. equities. Jack Meyer, the former CEO of the Harvard Management Company, and Julian Robertson, of Tiger Management fame, have both been noted as timberland investors
The chart below shows how lumber can potentially insulate a portfolio from the ups and downs of the stock market. The correlation with
S&P 500
is not always as low as it is on this chart, but timber prices do often move in the opposite direction of stocks.
It remains to be seen how good of a proxy CUT is for lumber, however. The chart shows the price of lumber to be down about 11% year to date, while back-tested results indicate that CUT would be up 16% year to date, assuming it had been trading all year.
According to Claymore, the backtest for CUT has had a 0.66 correlation to the S&P 500. You don't need to be a mathematician to see that the actual commodity has a much lower correlation than the fund's back-test. So it's important to reiterate that buying CUT it is not the same thing as buying lumber futures or timberland in New Zealand.
CUT is global; 26% of the fund's holding are U.S. stocks, 13% Canadian, 11% Japanese, and 9% each in Finland, Brazil and Sweden; after that, country weightings get much smaller.
I spoke to Andrew Corn of ClearIndexes, the designer of the index that CUT tracks, and he put it very succinctly: The country weightings are driven by where the trees are, for the most part. By comparison, lumber indices from S&P and Dow Jones weight their holdings according to their market cap.
An additional benefit of buying CUT, as opposed to any of the U.S.-listed timber companies, is that it provides access to public companies listed on foreign markets.
For now, there are no ETFs tracking the Dow Jones or S&P timber indices, at least in the U.S. However,
Barclays
(BCS) - Get Barclays Plc Report
does have a fund trading in London that tracks the S&P index, and it seem like a good bet that it will roll out a similar product here in the future.
You've probably heard of some of the companies in CUT, such as
Weyerhaeuser
(WY) - Get Weyerhaeuser Company Report
,
Plum Creek Timber
(PCL)
and
Rayonier
(RYN) - Get Rayonier Inc. Report
. Some of the foreign companies in the fund, such as
Sappi
(SPP)
from South Africa,
UPM Kymmene
( UPM) and
Stora Enso
( SEO), both from Finland, and
Aracruz Celulose
(ARA) - Get American Renal Associates Holdings, Inc. Report
from Brazil, are also considered bellwether names in their home countries.
Low Correlation
Lumber futures vs the S&P 500
Source: tradingcharts.com
The dividend yield, which isn't listed in any of CUT's marketing materials, is going to be a little less than I would have expected. According to Claymore, the index yield was 1.67% as of Sept. 30. This would put the yield of the fund at 1.02%, after accounting for the expense ratio.
That's pretty low for this sector. Many of the stocks in the fund yield considerably more. So you are faced with a tradeoff: Buy the fund and take less risk, or buy an individual stock, like Weyerhaeuser, and collect a 3.4% yield with more risk.
Timber exposure slots into the materials sector in a diversified portfolio, and obviously CUT is more of a foreign holding. I believe it will offer low-beta diversification.
However, at this point I wonder if the fund's back-tested outperformance is attributable the outperformance of the materials sector and the overall performance of foreign markets during the time studied.
As I have previously disclosed, I own Plum Creek, and I own it for all the reasons that Claymore has created this fund. While I think lumber companies are a fine segment to invest in it is important to reiterate that owning CUT or any of its component stocks is unlikely to have the same impact on a portfolio as owning timberland or lumber futures.
At the time of publication, one of Nusbaum's clients was long PCL, although positions may change at any time.
Roger Nusbaum is a portfolio manager with Your Source Financial of Phoenix, and the author of Random Roger's Big Picture Blog. Under no circumstances does the information in this column represent a recommendation to buy or sell stocks. Nusbaum appreciates your feedback;
to send him an email.