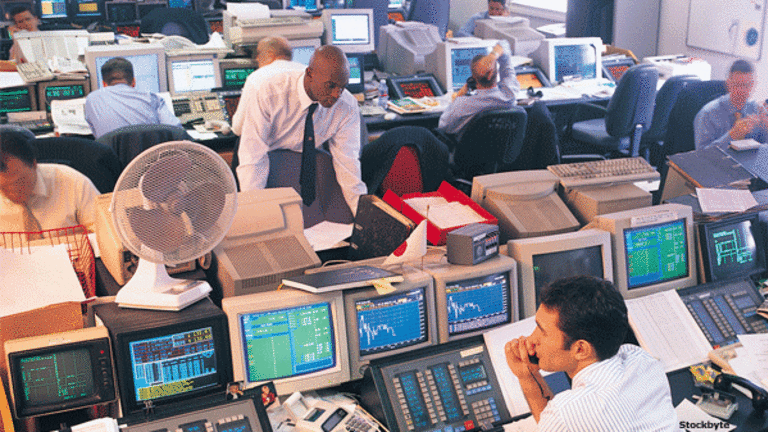 A New Short Treasury ETF Coming
ProShares is set to come out with an inverse ETF with a more cautious, leveraged approach.
NEW YORK (TheStreet) -- Despite a growing controversy over the use of leveraged ETFs, ProShares has launched another inverse exchange-traded fund designed to short longer-term Treasuries.
The
ProShares Short 20+ Year Treasury
(TBF) - Get Proshares Short 20+ Year Treasury Report
is set to track the
Barclays Capital U.S. 20+ Year Treasury Bond Index
, an underlying index used for successful traditional funds.
Investors may be temped to believe that a "single" inverse Treasury fund like TBF would be less risky than other types of leveraged funds. The recent shakedown in the leveraged ETF business has taught investors otherwise. TBF, like other leveraged fund strategies, is a daily tracking ETF that is appropriate for sophisticated investors.
TBF will join four other ETFs in shorting longer-term Treasuries. ProShares currently offers
UltraShort 7-10 Year Treasury
(PST) - Get ProShares UltraShort 7-10 Year Treasury Report
and the
UltraShort 20+ Year Treasury
(TBT) - Get ProShares UltraShort 20+ Year Treasury Report
funds. Both PST and TBT offer 200% short exposure versus the milder 100% short exposure set to be offered by TBF.
Rival leveraged fund issuer Direxion also offers a set of short Treasury funds. The
Daily 10-Year Treasury Bear 3x Shares
(TYO) - Get Direxion Daily 7-10 Year Treasury Bear 3x Shares Report
and the
Daily 30-Year Treasury Bear 3x Shares
(TMV) - Get Direxion Daily 20+ Year Treasury Bear 3x Shares Report
offer even greater leverage than the ProShares strategies. TYO and TMV offer investors 300% short exposure to their underlying indexes.
ETFs do not necessarily have the qualities of the securities that they track. While the market for treasuries is typically highly liquid, there is no guarantee that TBF will garner enough investor attention to offer ample liquidity. It is likely that the leveraged used by TBF will also make this fund more volatile than the Treasuries it tracks.
Leveraged ETFs use instruments like futures and swaps to synthetically achieve their objectives. Rather than simply owning a basket of stocks or bonds, like many traditional ETFs, these funds amplify their indexes with derivatives. This results in complex strategies that are inappropriate for many retail investors.
TBF's strategy isn't based on shorting the 20+ year Treasury bond index, as the name of the ETF might suggest, but on owning instruments that provide a return that would be "like" shorting the index. This important difference impacts the risk and fees involved in investing in these non-traditional strategies.
While traditional and non-traditional ETFs might share the same underlying index, risks and fees can be dramatically different. The
Barclays 20+ Year Treasury Bond Fund
(TLT) - Get iShares 20+ Year Treasury Bond ETF Report
utilizes the same index that TBF will offer the inverse of. TLT owns a basket of 20+ year Treasuries and charges a 0.15% fee. TBF will own a mix of underlying investments and will charge a 0.95% fee. It is not simply a difference of being "long" or being "short."
Fees for leveraged ETFs are higher than traditional funds, no matter how many times you are doubling down. Both the 200% short existing ProShares Treasuries funds and Direxion's two 300% short Treasuries funds have fees of 0.95%. Traditional funds like TLT,
Barclays 1-3 Year Treasury Bond Fund
(SHY) - Get iShares 1-3 Year Treasury Bond ETF Report
and
Vanguard Total Bond Market
(BND) - Get Vanguard Total Bond Market ETF Report
) offer expense ratios of 0.15% and 0.14%.
ProShares' new Treasuries offering reflects two popular trends in the ETF industry. First, the fixed income ETF market is rapidly expanding. The two biggest asset gatherers so far in 2009 for ETF giant iShares are
Barclays TIPS Bond Fund
(TIP) - Get iShares TIPS Bond ETF Report
and
iBoxx $ Investment Grade Corporate Bond Fund
(LQD) - Get iShares iBoxx $ Investment Grade Corporate Bond ETF Report
.
The second development in the ETF marketplace has been the scrutiny of leveraged ETFs. After experiencing a rapid rise in popularity, leveraged funds have come under fire for their sales practices and strategies that make them unsuitable for many investors.
As leveraged ETFs grew in popularity, the amount of leverage that they offered increased dramatically. ProShares was a first-mover in the leveraged funds business, beginning with "single" 100% leveraged funds. Recent funds from rival Direxion now offer 300% leverage.
Leveraged ETFs are currently causing quite a stir among investors. Firms like
UBS
(UBS) - Get UBS Group AG Report
and
Ameriprise
(AMP) - Get Ameriprise Financial, Inc. Report
are now refusing to sell the funds.
As the scrutiny intensifies, funds that offer greater leverage may be targeted more than "single" leveraged funds. By offering a "single" leveraged fund like TBF that utilizes a non-exotic index like the Barclays Capital U.S. 20+ Year Treasury Bond Index, ProShares seems to be erring on the side of caution.
-- Written by Don Dion in Williamstown, Mass.
Follow TheStreet.com on
and become a fan on
At the time of publication, Dion Money Management owns Barclays TIPS Bond Fund and Barclays 1-3 Year Treasury Bond Fund.
Don Dion is president and founder of
, a fee-based investment advisory firm to affluent individuals, families and nonprofit organizations, where he is responsible for setting investment policy, creating custom portfolios and overseeing the performance of client accounts. Founded in 1996 and based in Williamstown, Mass., Dion Money Management manages assets for clients in 49 states and 11 countries. Dion is a licensed attorney in Massachusetts and Maine and has more than 25 years' experience working in the financial markets, having founded and run two publicly traded companies before establishing Dion Money Management.
Dion also is publisher of the Fidelity Independent Adviser family of newsletters, which provides to a broad range of investors his commentary on the financial markets, with a specific emphasis on mutual funds and exchange-traded funds. With more than 100,000 subscribers in the U.S. and 29 other countries, Fidelity Independent Adviser publishes six monthly newsletters and three weekly newsletters. Its flagship publication, Fidelity Independent Adviser, has been published monthly for 11 years and reaches 40,000 subscribers.