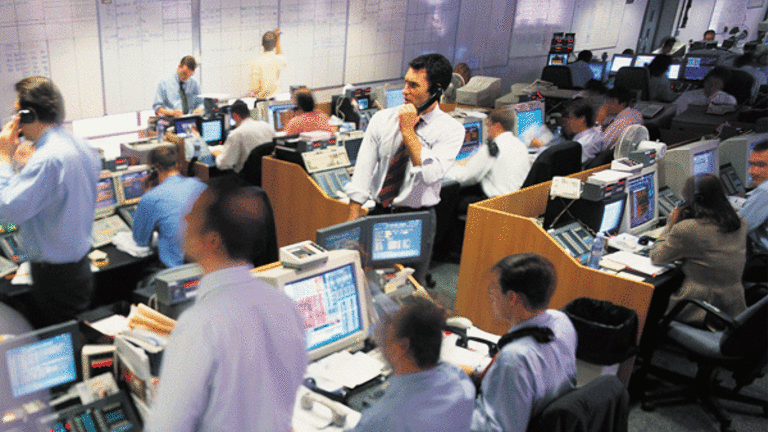 A Look at Affordable Health Care ETFs
The simplest exposure is the broadest exposure through exchange-traded funds.
NEW YORK (TheStreet) -- The health care sector has been ground zero in the ongoing ideological battle that shut down the U.S. government this month. Regardless of anyone's politics, the health care sector will become an increasingly important part of the market as global demographics provide a positive catalyst while domestic politics create a negative catalyst or at the very least create uncertainty.
The more than 70 million baby boomers are, of course, moving into retirement which provides the expectation of needing more medical attention. Other economically developed countries also have aging populations and while emerging markets tend to have younger populations, increased economic prosperity in those countries should mean more demand for advanced health care options.
Investors who agree on a future of increased importance for the sector but who do not want to get blindsided by picking "losers" in how the industry evolves under the Affordable Care Act can of course consider exchange traded funds as a solution.
Index Universe tracks 24 funds in the sector excluding levered and inverse funds. The simplest exposure is the broadest exposure through a fund like the
Health Care Select Sector SPDR
(XLV) - Get Health Care Select Sector SPDR Fund Report
or the
Vanguard Health Care ETF
(VHT) - Get Vanguard Health Care ETF Report
.
Funds like Health Care Select Sector SPDR and Vanguard Health Care ETF are emotionally easy to own because they are dominated by familiar mega cap stocks like
Johnson & Johnson
(JNJ) - Get Johnson & Johnson (JNJ) Report
and
Pfizer
(PFE) - Get Pfizer Inc. Report
. But they also have decent exposure to the growth potential of biotechnology. These are market cap weighted fund so biotech giants like
Gilead
(GILD) - Get Gilead Sciences, Inc. (GILD) Report
and
Amgen
(AMGN) - Get Amgen Inc. Report
are well represented in the fund. Biotech makes up close to 20% of both funds.
Of course for anyone wanting to narrowly focus on biotech there are several funds including the
iShares Nasdaq Biotechnology ETF
(IBB) - Get iShares NASDAQ Biotechnology ETF Report
and
SPDR S&P Biotech ETF
(XBI) - Get SPDR S&P BIOTECH ETF Report
. From the 2009 low biotech has outperformed the broader sector funds and that is likely to continue as the current Fed induced melt up looks poised to keep rolling on.
Health Care Select Sector SPDR, Vanguard Health Care ETF and iShares Nasdaq Biotechnology ETF have a combined $13 billion in assets out of the $24 billion invested in the sector but those three miss out on two important groups of funds.
Missing from the big three is foreign exposure. The largest ETF with foreign exposure is the
iShares Global Healthcare ETF
(IXJ) - Get iShares Global Healthcare ETF Report
with $907 million in assets. The United States is the largest country in the fund at 61% with Switzerland and the United Kingdom also featuring prominently. iShares Global Healthcare ETF offers access to companies that includes
Novartis
(NVS) - Get Novartis AG Sponsored ADR Report
and
Glaxosmithkline
(GSK) - Get GlaxoSmithKline plc Sponsored ADR Report
which are not in the domestic funds.
In the five years leading up to the 2007 peak iShares Global Healthcare ETF outperformed Health Care Select Sector SPDR by 11 percentage points. The last few years have favored domestic exposure but when foreign rotates back into favor again then iShares Global Healthcare ETF should be the better hold.
The other often overlooked segment is the various rules based sector funds like the
PowerShares Dynamic Healthcare
(PTH) - Get Invesco DWA Healthcare Momentum ETF Report
which is constructed based on price momentum, earnings momentum and other qualitative factors, the
First Trust Health Care Alphadex
(FXH) - Get First Trust Health Care AlphaDEX Fund Report
which built with proprietary growth and value factors or the
Guggenheim S&P Equal Weight Health Care
(RYH) - Get Invesco S&P 500 Equal Weight Health Care ETF Report
.
Since the 2009 low PowerShares Dynamic Healthcare is up 190%, FXH is up 257% and Guggenheim S&P Equal Weight Health Care is up 198% compared to 134% for Health Care Select Sector SPDR. In past articles I've discussed the need for ETF investors, like stock investors, to do their homework which includes funds like these that are a little off the beaten path but have very long track records of outperformance.
There is one serious gap in all of the above mentioned ETFs which is their yields are typically less than the 2% of the
S&P 500
. To capture any meaningful yield an investor will need to consider individual stocks. Yield in the sector comes mostly from the mega cap names like Johnson & Johnson, Pfizer, Novartis and GlaxoSmithKline which yield 2.89%, 3.16% 3.22%, and 4.65% respectively.
A portfolio that includes a pairing of one of the rules based funds with a higher yielding mega cap stock will not be duplicative because the higher yielding mega caps don't feature prominently in the rules based funds.
At the time of publication the author held no positions in any of the stocks mentioned.
This article is commentary by an independent contributor, separate from TheStreet's regular news coverage.