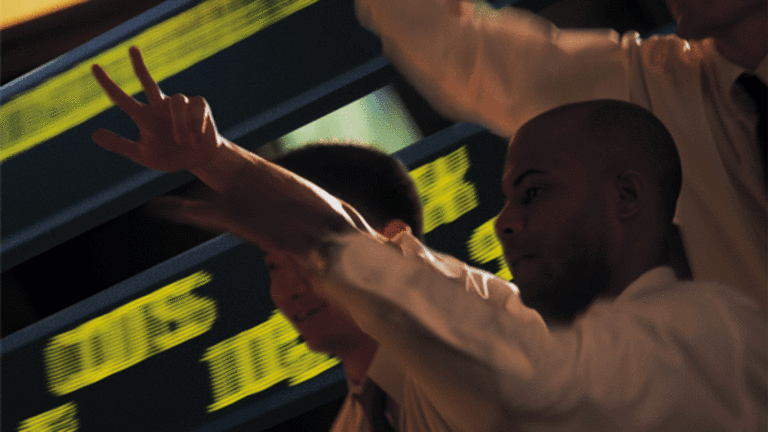 A Fund That Avoids Big Bailout Banks
PowerShares offering holds many REITs and small-caps.
NEW YORK (TheStreet) -- ETF investors looking for a financial fund that avoids big bailout stocks such as Citigroup (C) - Get Citigroup Inc. Report and Bank of America (BAC) - Get Bank of America Corporation Report have few choices.
But there are some, including the
PowerShares S&P Small-Cap Financials Portfolio
(PSCF) - Get Invesco S&P SmallCap Financials ETF Report
. The fund comprises financial sector stocks from the S&P 600 Small Cap Index.
PowerShares S&P Small-Cap Financials is reasonably well-diversified with 105 holdings, the largest of which is
Kilroy Realty
(KRC) - Get Kilroy Realty Corporation Report
, with only a 3.24% weighting. That the largest holding is a REIT brings up an important point: PowerShares S&P Small-Cap Financials Portfolio is not a small-cap bank fund. About a third of the fund is in REITs, with smaller weightings to insurance companies, investment managers and, of course, small-cap banks. The fund's expense ratio is 0.29%.
Financial companies like REITs and small banks often pay large dividends but that has not been the case for this fund. The trailing dividends have been inconsistent -- in the past 12 months they add up to $0.49, which works out to 1.62% based on current fund prices. Of course, the nature of ETF dividends is such that future dividends could be different than past payouts.
The reason to consider using this fund would be if its performance can differentiate itself from the mega-cap stocks individually or the
Financial Sector SPDR
(XLF) - Get Financial Select Sector SPDR Fund Report
. Since PowerShares S&P Small-Cap Financials Portfolio's inception in April 2010, it is up 16% versus a decline of 4% for Financial Sector SPDR. So far in 2012, PSCF is up 11% while XLF is up 21%. Although 2 1/2 years is not a long timeframe, PSCF is proving to be trading differently than XLF, which is the point of this article -- finding financial sector exposure that doesn't look like the largest TARP recipient banks.
The future for the largest U.S. banks is murky, given that they are the target of the Dodd-Frank legislation and continue to face new obstacles such as accusations that some manipulated the London Interbank Offered Rate (LIBOR).
First Trust has a fund that offers promise in the same regard as PSCF, with the
Nasdaq ABA Community Bank Index Fund
(QABA) - Get First Trust NASDAQ ABA Community Bank Index Fund Report
, but since its inception, that fund has correlated very closely to XLF.
Funds like XLF will be unattractive for anyone thinking along the same lines about domestic large banks. This leaves a small-cap alternative like PSCF and foreign funds as possible financial sector choices.
The writer holds no positions in the securities mentioned.
This contributor reads:
On Twitter, this contributor follows: