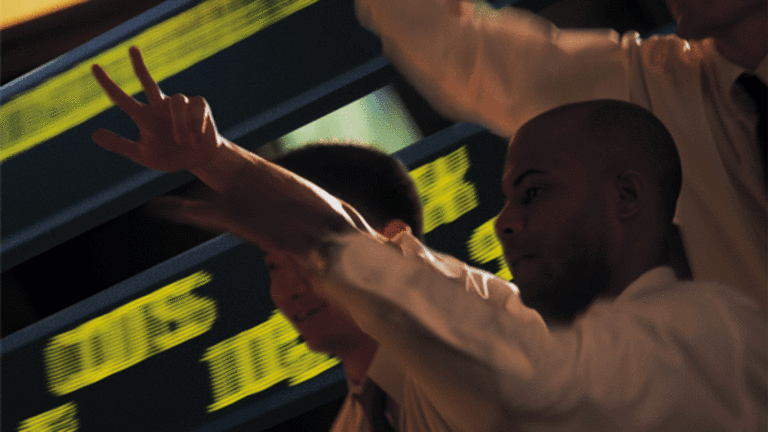 A Case for Shorting the Financials
This sector appears to be at the beginning stages of a new downtrend.
This sector appears to be at the beginning stages of a new downtrend.
Editor's note: This piece originally ran earlier today on our newest Premium service, ETF Profits. Click here for a 14-day trial to this exciting product!
They say that money makes the world go round. But if the firms that lend and invest money are having difficulties, what does that mean for the other sectors of the market? The function of the financial sector is to efficiently supply capital to aid the real economy. This sector is a tool to help the firms that make the real tools.
Using the
Financial Select Sector SPDR
(XLF) - Get Report
as a benchmark, the sector appears to be starting a downtrend. Yesterday, the ETF fell below its 50-day moving average. Over the past few weeks, it has established a price pattern of lower highs and lower lows. This could be a bad omen for financials and, subsequently, the rest of the market.
It is well documented that the economy's troubles over the last few years stemmed from overleveraged financial firms. Most of the money spent on the global bailout went to this sector. Governments have printed trillions of dollars in an effort to shore up the balance sheets of banks, brokerages and insurance companies.
With many financial institutions on the mend, it appears that the bailouts were largely successful. That said, the sector has yet to even come close to approaching the peak values set back in 2007. A downturn now could knock the struggling economic recovery off its tracks.
Financials are currently being supported by the
Fed's
$600 billion quantitative easing (QE) program. This program allows banks to sell bonds to the Fed at a profit and thus creates liquidity. This program is set to expire in June. Meantime, markets, as they do, may be starting to discount the end of the free-flowing money.
Bill Gross, co-CEO of PIMCO, recently wrote: "A successful handoff from public to private credit creation has yet to be accomplished, and it is that handoff that ultimately will determine the outlook for real growth." Gross added that the end of the Fed's Treasury-buying program in June may not bode well for the U.S. economy. There could be "dramatic consequences in the reverse direction," he said. If the economy cannot manage after the expected end of the Fed's Treasury purchases on June 30, "then the QEs will have been a colossal flop," Gross Concluded.
Of the top 10 holdings in XLF, only
Berkshire Hathaway
(BKA.A)
has a current price pattern that is in an uptrend (including through this morning's big market rally). The remaining nine top holdings represent around 46% of XLF's total weighting. The fund itself has been down five of the last seven trading days, with the down days having significantly higher volume than the up days -- another sign of distribution for XLF.
There are a few ways to profit from a potential downturn in financials. It all depends on how aggressive you want to be. More conservative investors should use the
ProShares Short Financials
(SEF) - Get Report
. At the time of publication, this fund was trading at around $34.85. If it clears resistance at $35.60, it should go to $38 and then potentially to $40 per share. Place a stop at $33.95 for this trade, which boasts a handsome three-to-one risk-to-reward ratio.
More aggressive traders could invest in the
ProShares UltraShort Financials
(SKF) - Get Report
. The main difference is leverage, as SKF returns twice the inverse of the daily performance of the Dow Jones U.S. Financial Index. This morning, SKF was trading at $56.41. If yesterday's high of $56.94 is taken out, then $67.60 is a target for SKF, followed by $77. Place a stop at $53.85, risking only 5% from current levels.
Traders looking for even more of a pop can use the 300% daily inverse leveraged
Direxion Daily Financial Bear 3X Shares
(FAZ) - Get Report
. Be careful with this one. FAZ was trading this morning at $39.33. Yesterday's high of $41.99 coincides with the 50-day moving average. Should FAZ clear that level, it would have a price target of $46.45 and then $52. Use a stop at $37 for FAZ.
At the time of publication, Slusiewicz held no positions in the stocks mentioned.
Jerry Slusiewicz has over two decades of professional investment experience. He has worked with individuals and institutions to manage monies for both short and long-term investment horizons. This extensive experience through various stock and bond market cycles enables him to offer a unique blend of professional investment counsel and personal service.