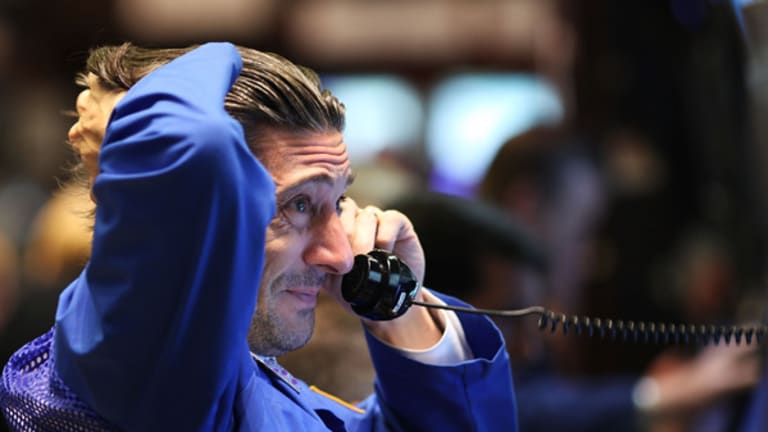 A Better Way to Bet on Growth Stocks
Focusing on a limited number of holdings, pure-style funds outdo their conventional rivals.
NEW YORK (TheStreet) -- Growth stocks have been outdoing value lately, and plenty of financial advisors think the trend will continue. With the economy sluggish, investors will gravitate to companies with reliable earnings, advisors argue. If you want to emphasize growth, you can buy an ETF like SPDR S&P 500 Growth (SPYG) - Get SPDR Portfolio S&P 500 Growth ETF Report or Vanguard Growth (VUG) - Get Vanguard Growth ETF Report
For even more juice in a growth rally, consider a pure fund like
Guggenheim S&P 500 Pure Growth
(RPG) - Get Invesco S&P 500 Pure Growth ETF Report
or
iShares Morningstar Large Growth
(JKE) - Get iShares Morningstar Growth ETF Report
. "If you decide to bet on growth--and you have a lot of conviction--then pure funds are the way to go," says Matt Hougan, president of ETF analytics for IndexUniverse.com.
Pure funds provide a concentrated dose of an asset class. That can boost returns when the sector rallies. During the rebound of 2009, the Guggenheim pure ETF rose 50.1%, while the conventional SPDR S&P 500 Growth returned 37.1%. Whether or not they lead over the short-term, the pure funds can make sound choices for investors who are looking to emphasize a sector or diversify a portfolio.
Besides pure growth funds, companies have also introduced pure value ETFs. Those tend to outperform when value stocks lead the markets. Choices include
PowerShares Fundamental Pure Large Value
(PXLV)
and
Guggenheim S&P Smallcap 600 Pure Value
(RZV) - Get Invesco S&P SmallCap 600 Pure Value ETF Report
. When small value funds soared in 2010, the Guggenheim pure fund returned 28.6%, compared to
24.7% for iShares S&P SmallCap 600 Value
(IJS) - Get iShares S&P Small-Cap 600 Value ETF Report
, a conventional fund.
Some of the pure funds have recorded sound long-term track records. During the past five years, Guggenheim S&P 500 Pure Growth returned 4.1%, compared to 2.7% for the conventional SPDR growth fund. But pure funds tend to trail conventional peers when their sector is out of favor. If value leads for the next five years, then the pure growth funds could be laggards.
10 Bank Stocks You Need to Watch During Earnings Season >>
Pure funds can deliver extra juice because of their unusual construction. To build growth and value portfolios, conventional funds divide the universe roughly in half. Stocks with faster earnings or higher prices go in the growth basket, while lower-priced shares go into value. But some stocks have a mix of growth and value traits. These blend stocks can be placed in both growth and value funds. The blend group includes such familiar names as
Exxon Mobil
(XOM) - Get Exxon Mobil Corporation Report
and
Microsoft
(MSFT) - Get Microsoft Corporation Report
, which are in both
SPDR S&P 500 Growth and SPDR S&P 500 Value
(SPYV) - Get SPDR Portfolio S&P 500 Value ETF Report
.
The blend stocks can hold back a growth fund when the sector is rallying. To avoid the drag, pure funds eliminate blend stocks entirely. So all the holdings in pure growth funds have clear growth characteristics. As a result, the pure growth portfolios tend to have higher prices. The price-earnings ratio for the pure iShares Morningstar Large Growth is 17.6, compared to a figure of 15.8 for the conventional SPDR S&P 500 Growth. Besides being more expensive, the pure growth funds tend to have higher earnings growth and more volatility. Pure value funds have lower P/Es than conventional competitors.
Investors to Ford Analysts: Drop Dead >>
Some pure funds are also different because of how they weight holdings. Conventional funds weight stocks in their portfolios according to market capitalization. So stocks with bigger market values have heavier weightings. As result the top holdings in SPDR S&P 500 Growth include such giants as
International Business Machines
(IBM) - Get International Business Machines Corporation Report
,
Johnson & Johnson
(JNJ) - Get Johnson & Johnson Report
and
Coca-Cola
(KO) - Get Coca-Cola Company (The) Report
. Instead of weighting by market cap, the Guggenheim pure growth funds give the greatest weight to stocks with the strongest growth characteristics. So the top holdings include companies with rapid earnings growth, such as biotech star
Alexion Pharmaceuticals
(ALXN) - Get Alexion Pharmaceuticals, Inc. Report
and online travel site
Priceline.com
(PCLN)
. Such stocks can surge in growth rallies, but they can also sink hard. When stocks dropped in the third quarter of 2011, Guggenheim Pure S&P 500 Growth fell 16.8%, compared to a decline of 11.0% for SPDR S&P 500 Growth.
Because they emphasize stocks with the most extreme growth or value characteristics, the pure funds often give heavy weightings to certain sectors. With financials remaining depressed,
Guggenheim S&P 500 Pure Value
(RPV) - Get Invesco S&P 500 Pure Value ETF Report
has 37.1% of assets in the sector, while
SPDR S&P 500 Value
(SPYV) - Get SPDR Portfolio S&P 500 Value ETF Report
only has 24.1% in financials. For the pure funds, the big sector weightings can boost returns during the times when value stocks soar.
Stan Luxenberg is a freelance writer specializing in mutual funds and investing. He was executive editor of Individual Investor magazine.