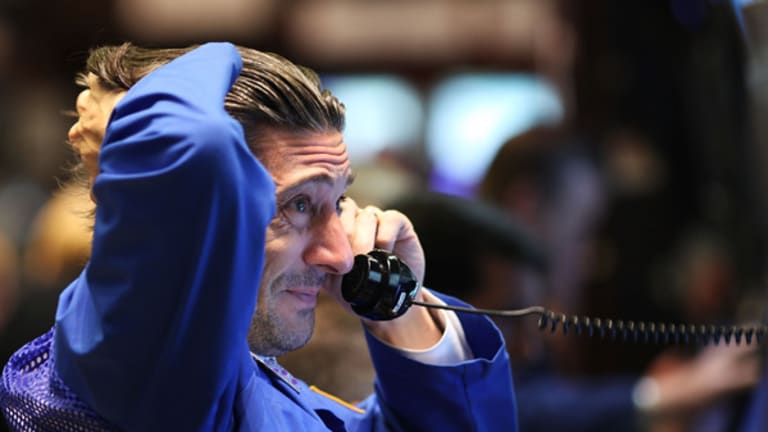 7 Resource ETFs for Coming Profit Squeeze
These ETFs are well positioned to deal with the profit squeeze companies face from rising producer prices.
The following commentary comes from an independent investor or market observer as part of TheStreet's guest contributor program, which is separate from the company's news coverage. The opinions expressed are those of the author and do not represent the views of TheStreet or its management.
NEW YORK (
ETF Expert) -- Broad-based U.S. benchmarks need to pull back not because every adviser would like to buy the dip, but because a health-restoring correction would provide the impetus for a genuine leg higher.
Right now, the rally in U.S. equities smells like fund manager desperation. 401k dollars are pouring back into domestic stock mutual funds, forcing managers to put money to work and compelling them to keep pace with passive indexes. (Needless to say, performance chasing rarely works out well for any party.)
What does work well? Looking to benefit from high probability outcomes.
For instance, producer prices (PPI) in January rose at the fastest pace in two years (3.6% annual). With current consumer prices only rising at 1.5% annually, producers that hold off raising prices will see profit margins diminish. And since investor willingness to buy shares is eventually connected to corporate earnings, companies will be forced to choose between passing on their input costs to consumers or risk repercussions from profit erosion.
Granted,
Whirlpool
(WHR) - Get Whirlpool Corporation (WHR) Report
is raising prices because steel costs more.
Hanes
(HBI) - Get Hanesbrands Inc. (HBI) Report
intends to do the same due to the surge in cotton.
And
Kellogg
(K) - Get Kellogg Company (K) Report
plans to increase cereal pricing due the cost of grains. Nevertheless, counting on certain companies to demonstrate effective pricing power is not the way I intend to benefit. (Besides, the more companies pass on costs, the more likely it is that the
Fed
will need to tighten monetary policy to contain the increase in consumer price jumps.)
In my mind, then, the highest probability outcome is a "profit squeeze" for producers. However, these wholesalers or manufacturers still require the
resources to make their goods
. It follows that companies providing the grains to Kellogg, the metals to Whirlpool and the cotton to Hanes are in an enviable position. The same holds true for the timber providers, oil and gas explorers as well as the coal miners.
Indeed, as remarkable as the
S&P 500
has been over the previous 3 months, these ETFs may be more impressive:
Right now, Mr. Market doesn't seem to be phased by the high probability of a profit squeeze. In fact, increasing inflationary pressures, harsh unemployment realities and a variety of geo-political uncertainties have done precious little to dissuade buyers of U.S. stocks. You might even call them unstoppable.
Unstoppable? Maybe like a runaway inflation train. And if that's the case, we might need Denzel Washington's help to slow the locomotive down.
You can listen to the ETF Expert Radio Show
"LIVE", via podcast or on your iPod
. You can review more ETF Expert features
here
.
Disclosure Statement: ETF Expert is a website that makes the world of ETFs easier to understand. Gary Gordon, Pacific Park Financial and/or its clients may hold positions in ETFs, mutual funds and investment assets mentioned. The commentary does not constitute individualized investment advice. The opinions offered are not personalized recommendations to buy, sell or hold securities. At times, issuers of exchange-traded products compensate Pacific Park Financial or its subsidiaries for advertising at the ETF Expert website. ETF Expert content is created independently of any advertising relationships. You may review additional ETF Expert at the site.