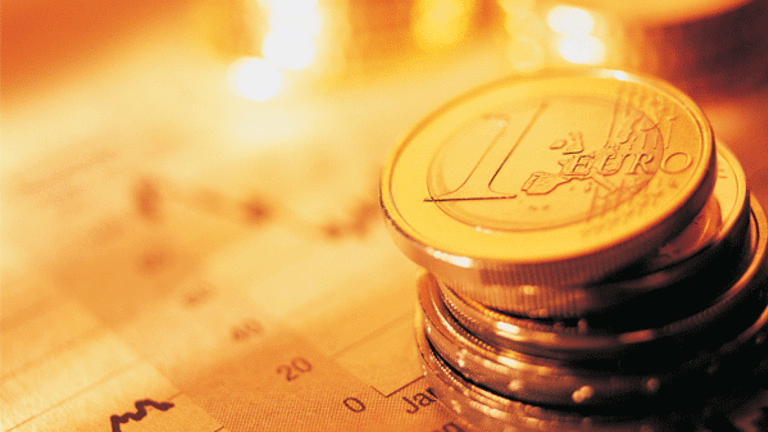 7 ETFs to Watch This Week
ETF investors will be closely following this week the earnings of Apple and Goldman Sachs.
ETF investors will be closely following this week the earnings of Apple and Goldman Sachs.
NEW YORK (TheStreet) -- ETF investors will be closely watching the earnings this week of such heavyweights as Apple (AAPL) - Get Report and Goldman Sachs (GS) - Get Report.
PowerSharesQQQ (QQQQ)
Apple
(AAPL) - Get Report
reports earnings on Tuesday and as in the first quarter, and it comes in the wake of a pop in
Intel
(INTC) - Get Report
post earnings and a drop in
Google
(GOOG) - Get Report
after its report. In April, Apple beat consensus estimates by 36% and shares were up 10% over the course of a few days.
Apple comes into this earnings report slightly beaten down by reception problems with its new iPhone 4. This won't show up in earnings for the previous quarter, but it could impact the company's outlook. In terms of last quarter, investors will be focused on iPhone and iPad sales.
As a short term play, I would become increasingly bullish if shares are weak ahead of earnings. QQQQ has almost 19% of assets in Apple and it is the best fund for an Apple- led tech rally this week.
iShares Dow Jones U.S. Broker-Dealer Index Fund
(IAI) - Get Report
Goldman Sachs
(GS) - Get Report
set off a nearly two-month rally in the summer of 2009 after the company reported strong earnings and analyst Meredith Whitney went from bearish to bullish on the firm's prospects. But the question remains: Can the company do it again?
Goldman received good news late Thursday when the SEC announced a $550 million settlement with the bank, ending a pending civil fraud lawsuit. News of the deal lifted the company's stock and the rest of the market on Thursday, while GS shares continued to rally on Friday despite a broad market sell-off.
Earnings estimates have tumbled in the past month, down more than 50%. Analysts are now looking for just over $2 per share in earnings. The company's shares are back to late April levels, but shares need to rally more than 20% to erase losses incurred since the announcement of the suit. There's plenty of room for upside here, but they'll have to deliver with their earnings.
iShares U.S. Dow Jones U.S. Pharmaceutical Index Fund
(IHE) - Get Report
This is a big earnings week for pharmaceuticals.
Johnson & Johnson
(JNJ) - Get Report
,
Abbott Labs
(ABT) - Get Report
,
Bristol-Myers
(BMY) - Get Report
and
Eli Lilly
(LLY) - Get Report
all report this week.
Pharma outperformed over the past month; while the S&P 500 Index fell more than 8% from the middle of June until late June, drug makers only slid roughly 5%. From that June bottom until today, the broader market has closed the performance gap, but it still lags pharma.
The companies in IHE generally have much lower price-to-earnings ratios than the rest of the market and they sport higher yields. This sector has outperformed over the past couple of years by taking smaller losses on the downside, rather than seeing a stronger upside.
While I don't foresee a big earnings week from these companies, this sector is well positioned to outperform from a valuation standpoint, if they do happen to surprise.
SPDR KBW Regional Banking ETF
(KRE) - Get Report
Banking stocks took it on the chin last week.
JP Morgan's
(JPM) - Get Report
results failed to inspire confidence and
Bank of America
(BAC) - Get Report
and
Citigroup
(C) - Get Report
disappointed investors.
BAC also warned that the financial reform bill could dent revenue by billions and the lost revenues could impair the value of the goodwill on its balance sheet, which would then lead to write downs.
The regional banks have been moving lower with the rest of the commercial banking sector. This week, they get the chance to tell their side of the story, with several firms reporting earnings.
Among the more well-known names are
Zions Bancorp
(ZION) - Get Report
,
Marshall & Ilsley
(MI)
,
Comerica
(CMA) - Get Report
,
Hudson City Bancorp
(HCBK)
,
M&T Bank
(MBT) - Get Report
,
BB&T
(BBT) - Get Report
,
Fifth Third
(FITB) - Get Report
,
Huntington Bancshares
(HBAN) - Get Report
,
PNC Financial Services
(PNC) - Get Report
and
SunTrust
(STI) - Get Report
.
If they can generate any positive separation from the big banks with earnings reports and forecasts, this could be a good week for regional banks. In terms of ETF plays, KRE doesn't actually own many of the above banks, but there are plenty more banks reporting this week.
If you want exposure to the above names
, iShares Dow Jones U.S. Regional Banks
(IAT) - Get Report
offers the most direct exposure to the larger regional banks. SPDR KBW Bank has some of the above names plus about one third of assets in the big banks such as Citigroup and JP Morgan. Consider this fund if you expect a broad financial rebound next week, but want regional banking exposure.
First Trust: Dow Jones Internet
(FDN) - Get Report
Google
(GOOG) - Get Report
disappointed investors last week and pulled FDN lower. This week,
Amazon
(AMZN) - Get Report
,
eBay
(EBAY) - Get Report
and
Yahoo!
(YHOO)
report.
As I wrote on Friday in my
, "FDN is a strong pick as consumers tighten their purse strings and turn to the Internet for the cheapest deals on retail items, plane tickets and just about anything else you can think of. I continue to believe that the Internet will be the hub for the modern American shopper, and that the trend of comparison shopping online will continue to grow."
Although we've seen weak retail sales, I expect Amazon will have seen stronger numbers due to consumers migrating to the Internet. The selling in Google was a bit overdone on Friday and I expect a bounce this week, which, combined with decent earnings from Amazon, should provide FDN a chance for growth this week.
iShares: Dow Jones U.S. Telecom
(IYZ) - Get Report
AT&T
(T) - Get Report
reports on Thursday and
Verizon
(VZ) - Get Report
reports on Friday.
The competition between Verizon and AT&T has become a big story that parallels the battle between Google and Apple. AT&T is the exclusive wireless provider for the iPhone, while Verizon has focused its attention, in part by necessity, on the phones running Google's Android software. The manufacturers of the phones include
Motorola
(MOT)
, Samsung and HTC.
At first, everyone thought AT&T had scored a major coup when it landed the deal with Apple, but several years later, in the midst of a new smartphone launch cycle, it appears Verizon is gaining steam. Verizon has gained traction in the market since the Android phones are now on par with the iPhone in terms of consumer satisfaction, while the newest iPhone 4 has been marred by reception problems.
Currencyshares Euro Trust
(FXE) - Get Report
Is the euro rally over? Many technical analysts expected a rally to the $1.31 area and it nearly hit that level last week during a weeklong rally. FXE gained 2.4% for the week.
There will be a lot of attention paid to the euro if it continues to rally this week, since it will take it above many technical levels and invite more bullish sentiment for the currency and the European markets. This would also be good news for global stock markets.
On Friday, the Europeans will release the results of stress tests performed on their banks. With information about the results already starting to leak, I don't expect a big move from this report and my hunch is that investors will either sell the news, if the euro rallies during this week, or buy the news, if the euro slides during the week.
-- Written by Don Dion in Williamstown, Mass.
Readers Also Like:
>>10 Worst-Performing S&P 500 Stocks of 2010
At the time of publication, Dion Money Management was long PowerShares QQQQ, First Trust: Dow Jones Internet.
Don Dion is president and founder of
, a fee-based investment advisory firm to affluent individuals, families and nonprofit organizations, where he is responsible for setting investment policy, creating custom portfolios and overseeing the performance of client accounts. Founded in 1996 and based in Williamstown, Mass., Dion Money Management manages assets for clients in 49 states and 11 countries. Dion is a licensed attorney in Massachusetts and Maine and has more than 25 years' experience working in the financial markets, having founded and run two publicly traded companies before establishing Dion Money Management.
Dion also is publisher of the Fidelity Independent Adviser family of newsletters, which provides to a broad range of investors his commentary on the financial markets, with a specific emphasis on mutual funds and exchange-traded funds. With more than 100,000 subscribers in the U.S. and 29 other countries, Fidelity Independent Adviser publishes six monthly newsletters and three weekly newsletters. Its flagship publication, Fidelity Independent Adviser, has been published monthly for 11 years and reaches 40,000 subscribers.