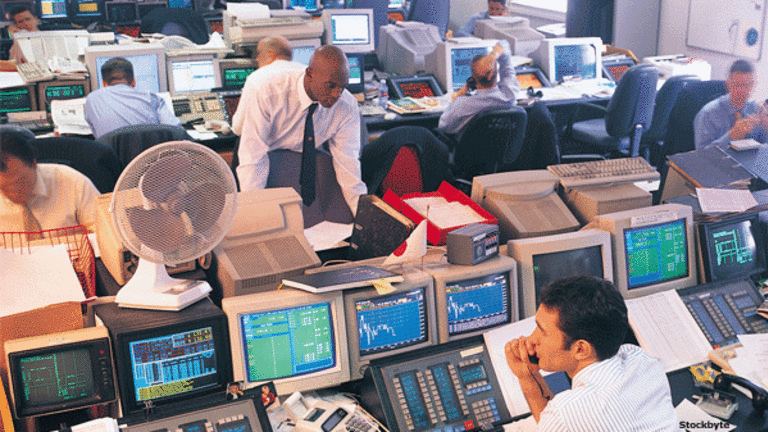 5 ETFs to Watch This Week
The PowerShares QQQ could get a boost this week when Oracle and Adobe report their earnings.
NEW YORK (TheStreet) -- Here are five ETFs to watch this week.
PowerShares QQQ
(QQQ) - Get PowerShares QQQ Trust Ser 1 Report
Apple
(AAPL) - Get Apple Inc. Report
was talk of the town for another week as analysts, market commentators, and consumers anxiously awaited the arrival of the company's new iPad. The market appears confident that this product will be another big hit and, in response, shares of the Cupertino, California-based titan surged as high as $600.
Representing nearly 20% of QQQ's portfolio, Apple's performance weighs heavily on the fund's day-to-day action.
They represent only a minor slice of QQQ's portfolio compared to Apple, but
Adobe
(ADBE) - Get Adobe Inc. Report
and
Oracle
(ORCL) - Get Oracle Corporation Report
are also worth watching this week. The software giants will step up to the earnings plate on Monday and Tuesday respectively.
Investors looking for heavier exposure to the pair should turn to the
iShares S&P North American Technology-Software Index Fund
(IGV) - Get iShares Expanded Tech-Software Sector ETF Report
.
United States Oil Fund
(USO) - Get United States Oil Fund LP Report
Recent government data indicates inflation remains in check. However, consumers who have visited the pump recently would likely beg to differ. With rising fuel prices threatening to curtail the economic recovery, Washington has begun to take notice.
Apple's New iPad: Let the Orders Roll In
Last week, President Obama and U.K. Prime Minister, David Cameron discussed the possibility of tapping into emergency oil reserves. Although the news from the meeting pushed crude prices lower, no solid decisions were reached and it's difficult to determine where energy prices will head next.
iShares Barclays 7-10 Year Treasury Bond Fund
(IEF) - Get iShares 7-10 Year Treasury Bond ETF Report
U.S. Treasuries tumbled last week as increasingly confident investors ventured out of safe havens in search of risky assets. The pain could be felt across the maturity spectrum with IEF, the
iShares Barclays 1-3 Year Treasury Bond Fund
(SHY) - Get iShares 1-3 Year Treasury Bond ETF Report
and the
iShares Barclays 20+ Year Treasury Bond Fund
(TLT) - Get iShares 20+ Year Treasury Bond ETF Report
all suffering notable losses.
U.S. debt could tumble further as investors attempt to position their portfolios for strength. However, investors should exercise caution, given the speed and magnitude of the tumble. It will be interesting to see if a rebound is in the cards.
SPDR S&P Homebuilder ETF
(XHB) - Get SPDR S&P Homebuilders ETF Report
First-Quarter Earnings Season Will Test Rally
Next week's economic calendar is packed with housing-related data points. Housing starts, existing home sales, and new home sales are among the reports that will influence the action seen from XHB and the
iShares Dow Jones U.S. Home Construction Index Fund
(ITB) - Get iShares U.S. Home Construction ETF Report
. While I remain hesitant about this corner of the real estate sector, it is difficult to ignore the recent strength here: Over the past two weeks, both funds have managed to push to 2012 highs.
iShares Dow Jones Transportation Average Index Fund
(IYT) - Get iShares US Transportation ETF Report
9 Oil, Gold Stocks That Rise on Bad News
Although economic conditions appear to be enjoying some solid signs of improvement, the laggard action seen from the transports has remained a concerning smudge on the early year rally. Late last week, however, the industry saw a spark and IYT pushed back towards 2012 highs. High fuel costs continue to pose a risk for the firms underlying this product, but it's encouraging to see some stirrings of life here.
--
Written by Don Dion in Williamstown, Mass.
At the time of publication, Dion Money Management owned PowerShares QQQ.