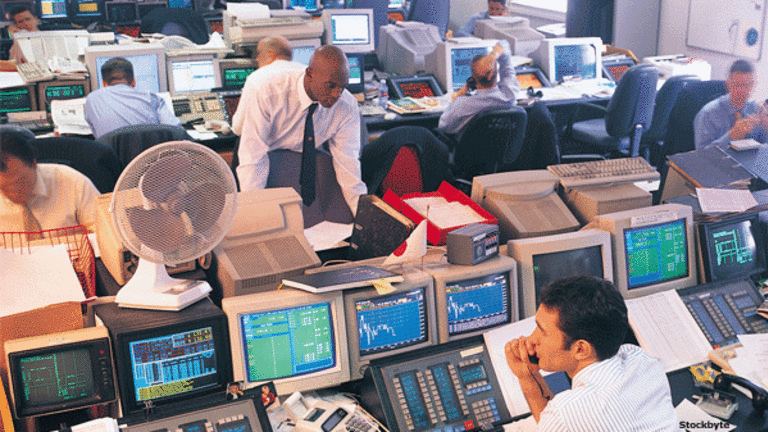 5 ETFs to Watch This Week
ETF investors looking to follow the developments taking place at Apple should have their sights set on QQQ.
NEW YORK (
) -- Here are five ETFs to watch this week.
PowerShares QQQ (QQQ)
News that Steve Jobs was stepping down from his CEO post at
Apple
(AAPL)
sent shockwaves across the media realm last week. Interestingly, however, the initial impact Jobs' exit has had on Apple's stock price has been largely negligible; on Thursday, immediately following the news, shares of AAPL closed down less than 1%.
Today begins Apple's first full week in the post-Jobs era. Looking ahead it will be interesting to see how newly-appointed CEO, Tim Cook handles the captain chair. This is not the first time Cook has been placed in charge, however. On the contrary, as I pointed out late last week,
Jobs had turned to the former COO on a number of occasions over the past few years.
ETF investors looking to follow the developments taking place at Apple should have their sights set on QQQ. The tech giant is listed as the fund's number one holding, accounting for nearly 15% of its total assets.
SPDR Gold Shares (GLD)
After months of climbing higher on the back of persistent market uncertainty, the physically-backed gold ETF, GLD took a breather. Prior to the sell-off, however, the fund marked a landmark achievement. At the start of the week, the fund managed to surpass
SDPR S&P 500 ETF
(SPY)
for a short time to become the
world's largest exchange-traded product.
The past week's selloff may be unsettling to some. However, as I've explained on a number of occasions, gold ETFs like
GLD and iShares Gold Trust
(IAU)
should not be viewed as short-term trades. Rather, these funds are best
utilized as long-term portfolio staples . During periods of economic duress, their defensive nature will provide welcomed relief.
iShares MSCI Canada Index Fund (EWC)
Although the bulk of earnings season is behind us, there are still a number of firms on tap to report their quarterly performance numbers and provide insight into the months ahead. Found among this week's list are a number of Canadian banks including
Toronto-Dominion
(TD)
,
Bank of Nova Scotia
(BNS)
, and
Canadian Imperial Bank of Commerce
(CM)
.
All three of these firms can be found among EWC's top 15 holdings.
Amid the weeks of economic turmoil, Canada's markets have witnessed stand out strength. This, in turn, has helped EWC gain ground in both our short and long term momentum rankings.
Market Vectors Solar ETF (KWT)
LDK Solar
(LDK)
and
Meyer Berger Technology
(WFR)
will announce their respective earnings and outlooks this week, providing investors with insight into the state of the solar energy sector. The two firms account for nearly 15% of KWT's total portfolio.
Although earnings news could make KWT interesting to watch, I would encourage conservative investors to stick to the sidelines here. The alternative energy sector has come under heavy pressure in recent weeks as developed nations around the globe work to rein in debt. KWT has been hit particularly hard. Year to date, the fund is off 30%.
iShares Dow Jones U.S. Financial Services Index Fund (IYG)
Warren Buffett, who stepped in for
Goldman Sachs
(GS)
and
General Electric
(GE)
in the depths of the financial crisis, came to the rescue again late last week. On Thursday, the billionaire investor offered
Bank of America
(BAC)
a blessing in the form of a $5 billion investment , injecting some welcomed confidence into the battered financial industry.
Looking to the days ahead, it will be interesting to see how this market sector fares as initial reactions subside and investors regain awareness of the economic turmoil facing many regions of the globe.
The
Berkshire Hathaway
(BRK.A)
leader has seen success with his other crisis-era investments. However, I still urge investors to use caution when venturing into this sector.
Readers Also Like:
>>
>>
At the time of publication, Dion Money Management owned QQQ, IAU and EWC.