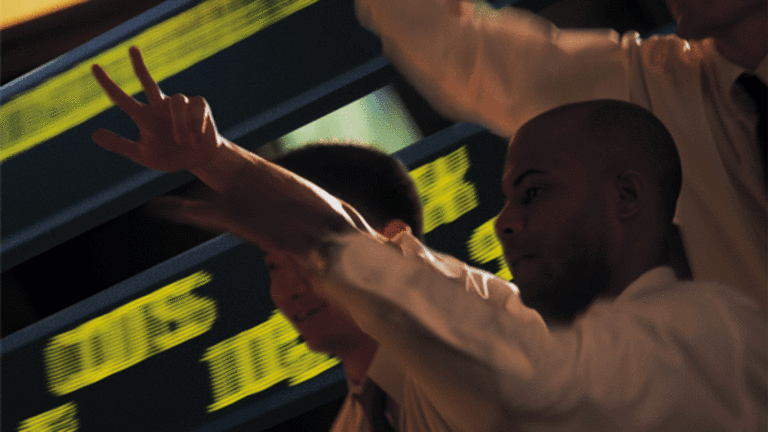 5 ETFs to Watch This Week
The iShares MSCI Japan Index Fund and the Market Vectors Nuclear Energy+Uranium ETF are among the exchange-traded funds to watch this week.
NEW YORK (TheStreet) -- Here are five exchange-traded funds to watch this week.
iShares MSCI Japan Index Fund
(EWJ) - Get Report
The Japanese marketplace will remain in the spotlight this week as the nation's recovery efforts head into their second week and commentators continue to sort out the winners and losers of the event.
Although it remains well off of its prequake levels, the iShares MSCI Japan Index Fund saw a nice jump at the end of the week. A portion of this rally could be attributed to the yen, which witnessed a steep rise throughout much of last week as investors sought protection.
Fearing that a strong yen could threaten strength of the nation's economy, Japan has begun to intervene in hopes of slowing the currency's appreciation. The effects could be seen on Friday, when
CurrencyShares Japanese Yen Trust
(FXY) - Get Report
took a steep dip.
Investors holding EWJ will want to maintain a close watch on how this currency intervention plays out.
Meanwhile, investors looking for a way to gain access to the Japanese equity markets and avoid the effects of currency fluctuations can turn to the
WisdomTree Japanese Hedged Equity ETF
(DXJ) - Get Report
.
Market Vectors Nuclear Energy+Uranium ETF
(NLR) - Get Report
The Japanese earthquake has ignited nuclear fears across the world, leading many to question the future of this alternative energy source.
In light of Japan's struggles to contain the damage at the Fukushima Dai-ichi plant, other nations around the globe have begun to question their own nuclear industries. Last week, German Chancellor, Angela Merkel announced the halt of seven of the nation's nuclear plants.
With sentiment soured towards this industry, funds such as NLR and the
Global X Uranium ETF
(URA) - Get Report
will likely continue to behave in an uncertain manner in the days ahead.
SPDR KBW Bank ETF
(KBE) - Get Report
International events have dominated headlines in recent weeks as Japan takes steps to recover from a devastating earthquake and tsunami, and as political turmoil continues to plague North Africa and the Middle East.
Stateside, however, there are stories investors will want to keep an eye on as well.
For instance, the financial industry could prove to be an exciting sector in the near future. On Friday, investors anxiously awaited word that the
Federal Reserve
would lift some restrictions imposed on banks during 2008. Reducing oversight will allow healing banks such as
Wells Fargo
(WFC) - Get Report
and
U.S. Bancorp
(USB) - Get Report
to boost dividends.
Although investors can use a variety of funds to gain exposure to the financial industry, KBE is particularly well-suited to track the industry's broad recovery given its well-diversified exposure to both Wall Street kings and smaller regional institutions.
SPDR S&P Homebuilders ETF
(XHB) - Get Report
Investors will be treated to another battery of real estate-related economic data points this week. Among the most closely watched will be new-home sales on Wednesday. (On Monday morning, the National Association of Realtors said existing-home sales dropped 9.6% in February to a far worse-than-expected seasonally adjusted annual rate of 4.88 million units.)
The XHB and the
iShares Dow Jones U.S. Home Construction Index Fund
(ITB) - Get Report
continue to be tricky funds to follow from a long-term perspective given the persistent headwinds facing the residential real estate market. Investors looking to try their luck with these funds should keep exposure small and focused.
iShares FTSE China 25 Index Fund
(FXI) - Get Report
FXI's index is designed to target a collection of China's most influential publicly traded companies. This week, six firms hailing from the fund's underlying index will step up to the earnings plate and report their respective performances.
Slated names include
CNOOC
(CEO) - Get Report
,
China Life Insurance
(LFC) - Get Report
,
China Petroleum & Chemical
(SNP) - Get Report
,
China Telecom
(CHA) - Get Report
,
Bank of China
, and
China Coal Energy
. Together, these holdings account for close to 30% of the fund's total portfolio.
At the time of publication, Dion owned no shares of securities mentioned.