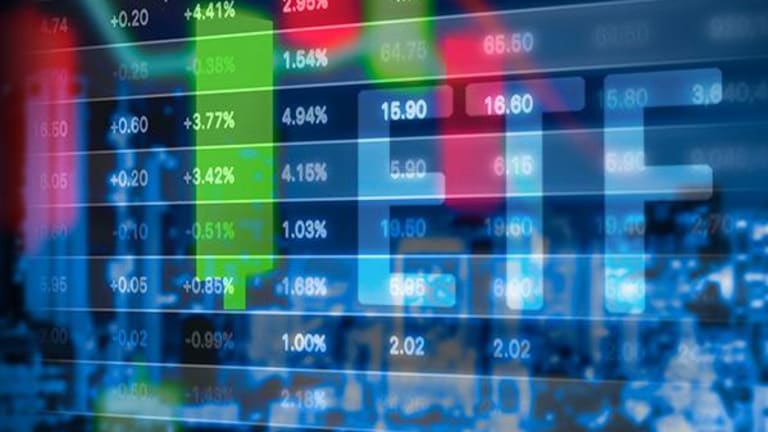 5 Big ETF Market Trends for 2017
Exchange-traded funds are in for a ride in 2017. Here's where investors should focus their energy.
The global exchange-traded fund market is valued at $3 trillion in 2016, according to ETF.com. In a market that size, there is no shortage of moving parts, and investors would do well to take a thorough look at ETFs, especially as Donald Trump storms into Washington, D.C. in January.
Kicking a few tires on their funds is a process ETF investors should be doing, anyway. But the new Trump regime, plus significant volatility in the financial markets due to oil price uncertainties, angst in the European Union and a rising rate environment in large economies like the U.S. and the U.K., make checking your ETFs a big priority at year-end.
To help out, TheStreet sought the help of several financial market experts and asked them what's in store for the ETF market in 2017. In their minds, here are the big issues in play for ETFs as next year beckons.
Thinning the herd -- Tim Clift, chief investment strategist at Envestnet/PMC, says that 50 ETFs closed down this year, due to overcrowding in the space and too many options available to investors. He believes this trend will continue in 2017. "The increase in closures is an indication of a growing but maturing industry on a larger base of funds," says Clift. "Also, funds that were late to the game and haven't gained traction are being closed, even as ETF assets were up 15% year-to-date through the first week of December." A good chunk of the fund closings come from the commodities and Japan sectors, Clift adds.
Looking for a boost? Think "inflation" -- Clift says he expects to see increased interest in inflation-minded ETFs, as interest rates rise and inflation picks up steam in 2017. "Smart Beta ETFs that focus on academically supported factors such as value, quality, momentum, dividend yield and low size should thrive," he says. "These strategies are seen as alternatives to traditional cap-weighted indices and a number of large established active asset managers have launched new products into this area of investing too," he says. "Impact and environmentally friendly ETF's should also see increased asset flows as women and Millennials continue to control more assets and both groups tend to have a preference for their investment being aligned with their beliefs."
Higher rates a big factor -- Rod Jones, managing director and North American head of business at STOXX in New York, says ETFs related to interest rates should experience extra volatility. "Higher interest rates tend to reduce the profitability of companies -- with the exception of the banking sector -- as companies' costs to finance operations increase and as consumers are less willing to spend, as the opportunity of saving becomes more attractive," he says. "For the banking sector, however, increased rates tends to go hand in hand with an increase in profitability, as they can lend money out at higher rates." Jones also sees an increase in attractiveness in the banking sector "should the Trump administration take steps to repeal parts of Dodd-Frank or otherwise reduce regulations on the sector."
ETF fees sliding downward -- Nathan Geraci, president of the ETF Store in Kansas City, Mo., says that ETF fees are falling, and falling hard. "Several prominent ETFs will lower expense ratios to zero, in a continued race to the bottom on ETF costs," he says. Geraci says that regardless of whether the DOL fiduciary rule is fully implemented in April, the shift to lower cost investments is the "mother of all trends" in investing right now. "The first major ETF provider willing to make the leap to zero management fees will make an enormous splash in an increasingly cost-competitive environment," he notes. "ETF providers can still generate revenue on zero cost ETFs from securities lending and they are prepared to run loss leaders to bring investors in the door for higher cost products and services."
DOL rule may not survive, but ETF benefit, anyway -- Phil Bak, CEO of ACSI Funds and former head of ETF listings at the New York Stock Exchange, says the U.S. Department of Labor fiduciary rule will either be killed or substantially scaled back under a Trump administration. "But many investment firms will implement it anyway for best practices," he says. "This will further accelerate the flow of assets from hedge funds and expensive mutual funds into ETFs. In addition, alpha-seeking ETFs will rival cap-weighted ETFs by inflows, as they are better suited to capture this new audience.:
2017 should be a big year for ETF's, with more money rolling in, and more economic, political and financial factors pushing the industry into the spotlight.
"The ETF industry experienced significant growth in 2016, and we expect this growth to continue through 2017 and beyond," says Eric Ervin, CEO of Reality Shares, a research firm and ETF provider focused exclusively on dividend growth investing. Ervin points out that the mutual fund industry has experienced $130 billion in outflows this year, while the ETF industry has attracted $173 billion in total inflows. "We believe investors will continue to abandon mutual funds in favor of ETFs at a record pace in 2017, especially in light of the new DOL rules."
That growth should catch the eye of more investors, and more financial advisors looking for a new home for their clients' cash. Time will tell if the ETF sector raises its game, and rewards fund investors, who appear to be betting big on exchange traded funds in 2017.