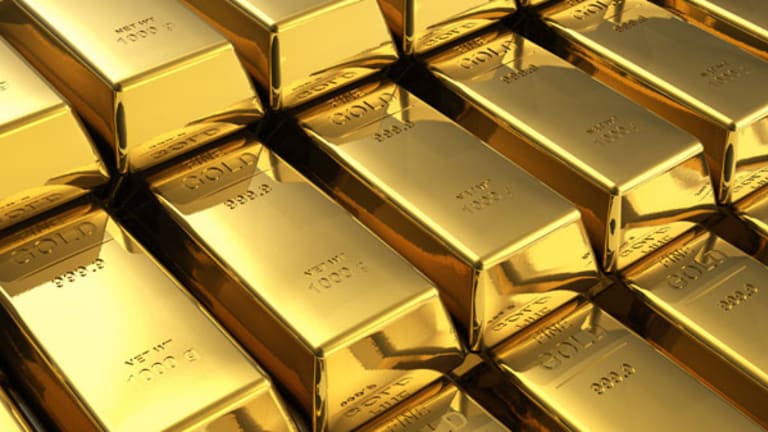 Publish date:
4 Precious Metals Trades to Make Now
Investors are fleeing to safer assets, especially precious metals. Here are the four best gold and silver plays.
Investors are fleeing to safer assets, especially precious metals. Here are the four best gold and silver plays.
President Trump's travel ban on seven Muslim-majority countries, his verbal assaults against not only China but also European allies, the tit-for-tat acrimony on Capitol Hill... it all adds up to the return of fear on Wall Street.
Below are four defensive trades that make sense now. They'll protect your portfolio, but they also offer significant upside.
The VIX, an index regarded by traders as the "fear gauge," rose again on Tuesday after spiking Monday. It climbed 6% Tuesday to 12.58, which is up from 10 late last week. It relinquished some of that increase in Wednesday trading. 
The S&P 500 was roughly flat on Wednesday after falling four straight days. The decline earlier in the week came as investors reeled from the steady bombardment of unsettling news, as well as poor fourth-quarter earnings results from bellwether companies such as UPS. The delivery giant's stock on Tuesday suffered its worst one-day selloff in two years, following weak operating results from e-commerce competition and dropped more than 3% on Wednesday.
Not surprisingly, amidst the recent political volatility, one investment class has been on an upswing: the traditional portfolio hedges of gold and silver. In the Trump Era, expect a mania for gold and silver to take hold among increasingly shell-shocked investors.
Here are four precious metals trades that make sense now, for protection as well as gains:
TheSPDR Gold Shares ETF (GLD) - Get Report
SPDR Gold Shares jumped 1.39% on Tuesday, as investors accelerated their flight to the yellow metal, and fell slightly on Wednesday. It is the largest gold exchange-traded fund backed by physical holdings of bullion. Year to date, SPDR Gold Shares has generated a total return of 8%. Net assets: $30.63 billion. Expense ratio: 0.40%.
TheiShares Silver Trust ETF (SLV) - Get Report
iShares Silver Trust rose 2.46% on Tuesday and dropped slightly in Wednesday trading. Year to date, iShares Silver Trust has generated a total return of about 14.5%. Net assets: $5.89 billion. Expense ratio: 0.50%.
Buying these benchmark ETFs provides a simple, cost-effective way to invest in gold and silver. They're a convenient method of obtaining exposure to the underlying commodities, without holding gold and silver. These ETFs are liquid and trade like stocks, whereas acquiring and storing physical metals can be an expensive hassle.
Goldcorp (GG)
This high-quality gold miner soared 2.41% on Tuesday and fell slightly on Wednesday. Year to date, Goldcorp has risen 19%, compared to 1.80% for the S&P 500. With low production costs and expanding operations, Goldcorp is among the best-positioned miners to profit from the stampede to gold.
Silver Wheaton (SLW)
Silver Wheaton jumped 4.24% Tuesday and rose again slightly on Wednesday. Instead of producing silver like a miner, Silver Wheaton is a "silver streaming" outfit that makes an upfront payment to miners in return for the right to buy a fixed percentage of production. The company makes incremental payments as it receives the silver, a set-up that reduces risk for Silver Wheaton. Year to date, the stock has risen 14.5%.
---
The next panic is about to start. The fact is, Trump's shocking election as president has turned the investment world upside down. If you're looking for new (and safe) growth opportunities in these uncertain times, we've found a genius trader who turned $50,000 into $5 million by using his proprietary trading method. He's guaranteeing you $67,548 per year in profitable trades if you follow his simple step-by-step process. Click here now for all the details.
John Persinos is an analyst with Investing Daily. At the time of publication, he owned shares of the SPDR Gold Shares ETF.