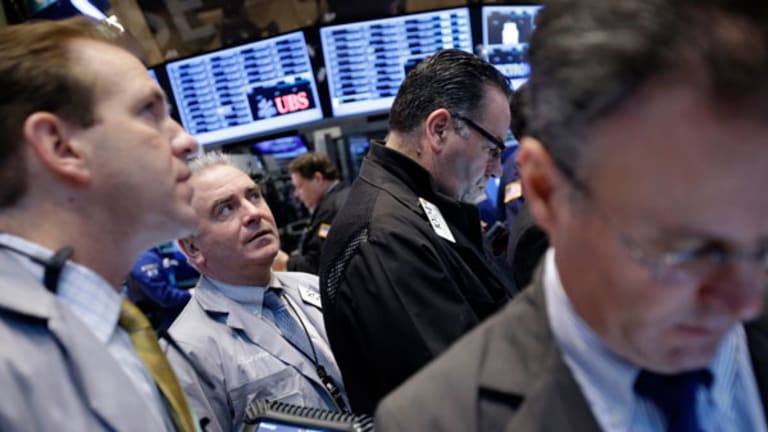 NEW YORK (FMD Capital Management) -- With nearly everyone's eyes on the government shutdown and looming debt ceiling deadline, the bond market has been making some subtle moves over the last four weeks.
The September announcement by the
Federal Reserve
that it is full-steam ahead on the asset purchase programs caused a snapback rally in nearly every fixed-income sector. Prior to that event, interest rates had been on a meteoric rise that rivaled any such bond market volatility since the mid-1990s.
That caused many income investors to shun their beloved bond exchange-traded funds and mutual funds in favor of cash, dividend-paying stocks or other short-term instruments. However, we are starting to see a semblance of order return to bonds that should be evaluated in the context of whether or not this is a short-term gift to be sold or an intermediate-term opportunity to be captured.
The answer is not as easy as pointing to one or the other. Each sector of the bond market offers its own unique opportunities and risks that ripple beneath the surface like a shadowy predator. By analyzing areas of strength and weakness, we can determine what segments offer the best value given the amount of interest rate, credit and other risks.
1. High Yield Continues Its Hot Streak:
One area of the bond market that has been on fire this year is short-duration high-yield bonds that have continued to crank out substantial income with low volatility. One of my favorite ETFs to access this space is via the
Pimco 0-5 Year High Yield Bond ETF
(HYS) - Get PIMCO 0-5 Year High Yield Corporate Bond Index ETF Report
, which is currently trading near its 52-week highs. The current yield on this ETF is 4.39%.
The advantage of choosing shorter-duration high-yield is that you are further insulated from interest rate risk in the event that we see another move higher in bond yields. The greater danger to this sector is a stumble in the economy, which would deteriorate the credit fundamentals of the companies that issue high-yield bonds.
That is why I am avoiding longer-duration securities such as the
iShares High Yield Corporate Bond ETF
(HYG) - Get iShares iBoxx $ High Yield Corporate Bond ETF Report
. Right now, the benefit of a slightly higher yield just does not match the risk of a more substantial price decline in the event that this sector falls out of favor.
2. Mortgage Bonds on the Move:
One of the areas of the market that was first to begin warning us of potential danger on the horizon back in May were mortgage-backed securities. The
iShares MBS ETF
(MBB) - Get iShares MBS ETF Report
is one of the larger proxies for this market with over $5 billion in total assets. The bonds held within this portfolio (along with Treasuries) are some of the very securities that the Fed has been buying to keep interest rates artificially low.
Courtesy of StockCharts.com
Since the September decision by the Fed not to taper these asset purchases, MBB has been off to the races and is now trading very close to its long-term 200-day moving average. If this fund can climb above that technical level, it may set the stage for a larger comeback in mortgage securities that would lure additional money back into this space.
I typically prefer to play this sector through the expertise of an active manager such as the
Doubleline Total Return Fund
(DBLTX) - Get DoubleLine Total Return Bond I Report
. I have found the expertise in research, security selection, and
to be well worth the slightly higher management fee.
3. Municipals and Emerging Markets Snapback:
Two of the most beaten-down sectors of the bond market this year have been municipals and emerging markets, which offer their own unique benefits and perils. Municipal bonds garnered negative headlines this year on the back of a bankruptcy filing by the city of Detroit. That combined with the headwind of rising interest rates set this sector back significantly. Emerging market bonds were largely dumped due to the severe underperformance of both equities and currencies in underdeveloped overseas markets.
However, oftentimes the biggest decliners are the ones that snap back the hardest. Consider that the
iShares National Municipal Bond ETF
(MUB) - Get iShares National Muni Bond ETF Report
and
iShares Emerging Market Bond ETF
(EMB) - Get iShares JP Morgan USD Emerging Markets Bond ETF Report
jumped 2.79% and 3.15%, respectively, in the month of September. Performance like that is typically reserved for equity-like positions. Both of these ETFs carry an effective duration of over seven years, which contributed to the push higher when interest rates fell last month.
Right now I am continuing to avoid exposure to these sectors in favor of sticking with fixed-income holdings that offer
better relative performance and shorter durations
. I would be using this short-term strength to sell any lingering exposure and look to rotate into more defensive holdings.
4. Convertible Bonds Stealth Advance:
One sector of the bond market that hasn't received a great deal of attention lately is convertible bonds. These hybrid instruments carry characteristics of both equities and bonds by giving a bond holder the option to swap for common stock at a specified strike price.
The
SPDR Barclays Convertible Bond ETF
(CWB) - Get SPDR Bloomberg Barclays Convertible Securities ETF Report
has been on a stealth climb higher since the beginning of the year with very little relative volatility. According to
, this ETF has added over $600 million in new assets and gained over 14% in total return this year.
Right now I only have limited exposure to this sector through the actively managed
Osterweis Strategic Income Fund
(OSTIX) - Get Osterweis Strategic Income Report
, which carries a small slice of convertible bonds. However, I am wary about allocating additional money near the highs right here. I would rather wait for a pullback to enter an exchange-traded fund such as CWB that has specific exposure to this sector.
The caveat will be that the market can withstand the current political turmoil to finish the year strong. If we see a deterioration of economic fundamentals, then convertibles may get dragged down into the mud with stocks.
The Final Word:
No matter how your portfolio is currently position, remember to check in regularly on your fixed-income holdings to ensure that they are providing you with adequate income and protection versus their peers. Oftentimes it is very easy to switch to a comparable fund with a lower duration or another sector that is performing much better.
I don't subscribe to the theory that "all bonds are bad" in the face of rising interest rates. There are always going to be opportunities and trends that present themselves over the next several months and years. You need to have a
to detect these trends and then capitalize on them when the timing is right.
At the time of publication the author had no position in any of the stocks mentioned.
This article was written by an independent contributor, separate from TheStreet's regular news coverage.
David Fabian is a Managing Partner at FMD Capital Management, a fee-only registered investment advisory firm specializing in exchange-traded funds. He has years of experience constructing actively managed growth and income portfolios using ETFs. David regularly contributes his views on wealth management in his company blog, podcasts, and special reports. Visit
to learn more.