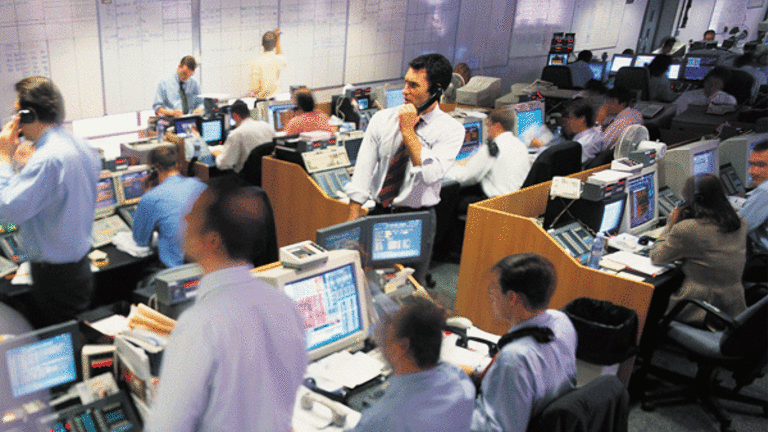 3 Reasons Stock ETF Investors Should Tread Lightly
Here are three reasons why you need to be patient before adding more to your stock ETF plate.
The following commentary comes from an independent investor or market observer as part of TheStreet's guest contributor program, which is separate from the company's news coverage.
NEW YORK (
ETF Expert ) -- In the dark days of late September/early October, China hinted that it was nearing the end of its monetary and fiscal tightening campaign. At the same time, leaders in the European Union demonstrated several "come together" moments that removed the probability of an imminent collapse. And virtually every fundamental measure of "value" favored stocks over alternative assets.
In fact, I extolled the virtues of a Q4 stock rally in numerous features:
3 Reasons For Increasing Your Allocation To Stock ETFs in Q4
7 ETFs For The "Technical Turnaround" In Market Sentiment
"Cash Dash" May Suggest That Pan-ETF Selling Is Near Completion
You need to be patient before adding more to your stock ETF plate.
That said, the extreme nature of the bounce higher screams for an examination. Is the coast really clear? Will Q4 continue to surge, trade sideways, or even turn bearish once more?
From my vantage point, scores of stock ETFs will finish 2011 much higher than they finished today. Nevertheless, you'll want to be judicious in adding more risk; that is, you'll want to wait for inevitable selling pressure to resurface.
The "easy gains" have been made. Here are three reasons why you now need to be patient before adding more to your Stock ETF plate:
1.
European Banks Don't Trust Each Other... Yet.
Since July, I have talked
ad nauseum
about rising three-month LIBOR rates. Well guess what? They're still going up.
For example, in my Aug. 15 commentary, I talked about the fact that LIBOR had jumped 17% from 0.25 to 0.293. By Sept. 15, LIBOR had reached 0.34 and by Oct. 15, three-month LIBOR reached 0.40. Today it is pushing 0.43.
The increased cost for European banks to borrow from one another has risen 72%. A plan to recapitalize financial institutions may not mean a hill of beans if those institutions don't trust one another.
2.
Earnings Haven't Yet Driven the Market Higher.
The researchers at Bespoke detailed the average return for individual stock performance on the session following the earnings report. The result? -0.21%. In other words, with 62% of corporations beating revenue projections and 71% exceeding earnings estimates... nada.
It follows that investors aren't really seeing "value" in stocks as much as they are reacting to "good news" out of Europe. Now that the Europe news is priced in -- more or less, stocks may need a separate catalyst.
China definitively announcing an end to tightening and/or offering up stimulus could bolster
SPDR Metals and Mining
(XME) - Get SPDR S&P Metals & Mining ETF Report
as well as
Australia
(EWA) - Get iShares MSCI Australia ETF Report
and
South Africa
(EZA) - Get iShares MSCI South Africa ETF Report
. A pleasant trajectory in the upcoming employment data may boost
Vanguard Consumer Discretionary
(VCR) - Get Vanguard Consumer Discretionary ETF Report
.
3.
Profit-Taking and Tax-Loss Harvesting.
Even as the S&P 500 rocketed 3.4% in the singular Thursday session, volume was only average for the
S&P 500 SPDR Trust
(SPY) - Get SPDR S&P 500 ETF Trust Report
. In fact, institutional investors sold $521,000,000 of SPY into the day's strength.
Considering the sheer size and scope of SPY, this isn't a monstrous hit to the net assets. Nor would I regard it as a bearish sign. However, it may indicate a high level of interest in taking profits. It should also give folks reason to expect a higher-than-normal amount of volatility for November and December, as there will be plenty of investors needing to
harvest their 2011 tax losses.
Disclosure Statement: ETF Expert is a website that makes the world of ETFs easier to understand. Gary Gordon, Pacific Park Financial and/or its clients may hold positions in ETFs, mutual funds and investment assets mentioned. The commentary does not constitute individualized investment advice. The opinions offered are not personalized recommendations to buy, sell or hold securities. At times, issuers of exchange-traded products compensate Pacific Park Financial or its subsidiaries for advertising at the ETF Expert website. ETF Expert content is created independently of any advertising relationships. You may review additional ETF Expert at the site.