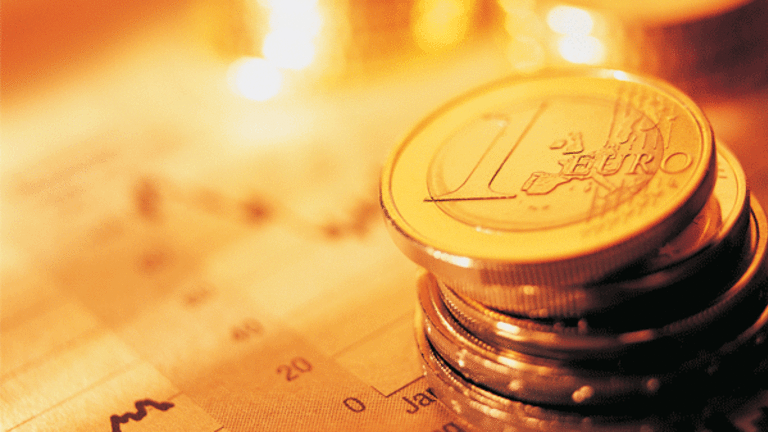 3 Precious Metal ETFs Take Basket Approach
ETF Securities and PowerShares have come out with basket funds that invest in several precious metals at the same time.
NEW YORK (TheStreet) -- Precious metals have become a major region of interest for ETF fund sponsors. Since its introduction in late 2004, the physically based SPDR Gold Shares (GLD) - Get SPDR Gold Shares Report has taken off in popularity, gathering over $60 billion in assets, making it the second largest ETF in the world.
Over the ensuing years, the success of this fund has been noticed by large and small providers. Many, attempting to profit from interest in this corner of the market, have launched their own funds designed to offer ways to gain access to these shiny resources.
While some firms, like Global X and Market Vectors, have opted to take the equity-based route with miner funds like the
Global X Silver Miners ETF
(SIL) - Get Global X Silver Miners ETF Report
and
Market Vectors Gold Miners ETF
(GDX) - Get VanEck Gold Miners ETF Report
respectively, others have chosen to use futures contracts or physical stockpiles to provide investors with direct access to their desired metals.
Many of the physically based single commodity precious metal ETFs like GLD,
iShares Silver Trust
(SLV) - Get iShares Silver Trust Report
and
ETFS Physical Palladium Shares
(PALL) - Get Aberdeen Standard Physical Palladium Shares ETF Report
have proven wildly popular amongst investors.
Sensing persistent rampant demand for these shiny metals, providers have continued to develop and evolve their product lines, offering new and unique ways to gain direct access to these commodities.
One particularly interesting development has been the introduction of precious metal basket funds. Today, using products offered by companies such as ETF Securities and PowerShares, investors can instantly tap into two or more precious metals at the same time.
These consolidated precious metals funds may prove popular for a variety of different scenarios. For instance, precious metal bulls who prefer a hands-off approach to investing may find the
ETFS Physical Precious Metals Basket Shares
(GLTR) - Get Aberdeen Standard Physical Precious Metals Basket Shares ETF Report
to be ideally suited.
This fund is a one-stop-shop precious metal ETF, combining exposure to four resources: gold, silver, platinum, and palladium. According to the fund's Website, each share exposes investors to approximately 0.3 ounces of gold; 1.1 ounces of silver; 0.004 ounces of platinum; and 0.006 ounces of palladium.
ETF Securities'
ETFS Physical White Metals Basket Shares
(WITE)
, meanwhile, may prove more attractive for those looking for an active approach to precious metal investing. Each share of WITE provides investors with exposure to a combination of silver, platinum and palladium. According to its sponsor, WITE's per-share metal entitlement is approximately 1.0 ounce of silver; 0.01 ounce of platinum; and 0.08 ounce of palladium.
Due to the volatile nature of industrious metals like silver, palladium and platinum, WITE is best utilized as a short-term tactical play on market strength. By moving in and out of WITE while maintaining a long-term physical gold holding like GLD, investors can position themselves to benefit during market swings.
Despite its unique and eye-catching take on precious metals, however, WITE is a fund investors should approach with caution. Because the fund's daily trading volume remains low, it could suffer from liquidity issues down the road.
The
PowerShares DB Precious Metals Fund
(DBP) - Get Invesco DB Precious Metals Fund Report
is a futures-backed fund that splits exposure across gold and silver.
Currently gold dominates the largest percentage of the fund's portfolio, accounting for three-quarters of its index. Although its reach across the precious metal spectrum is not as expansive as other options, by cutting out notably volatile players like platinum and palladium, the fund may appeal to conservative investors. Additionally, with an average daily trading volume of over 120,000, DPB is the most liquid of the precious metals basket funds.
The advent of precious metal ETFs has made gaining access to these attractive resources as simple as investing in traditional stocks and bonds. Although the recent commodities shakeup has caused many investors to turn away from gold, silver, platinum and palladium, when the clouds clear and these resources fall back into favor, GLTR, WITE, and DBP will be funds to keep on the radars.
Written by Don Dion in Williamstown, Mass.
RELATED ARTICLES:
>>Glencore IPO: A Watershed Event
>>Sirius Hedge Fund Sellers Outnumber Buyers
At the time of publication, Dion Money Management did not own any of the equities mentioned.