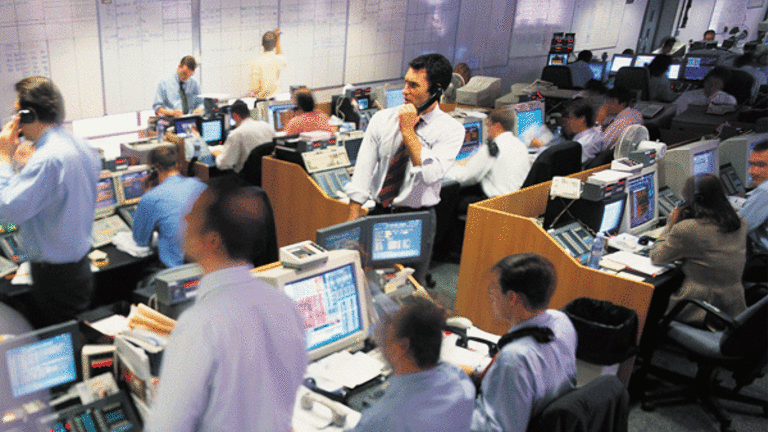 Publish date:
3 Keys to Vanguard's ETF Success
Vanguard has relied on brand recognition, low fees and aggressiveness for its success with its ETFs.
Vanguard has relied on brand recognition, low fees and aggressiveness for its success with its ETFs.
NEW YORK (TheStreet) - Vanguard's ascension through the ranks of ETF providers has been one of the more closely watched developments in this industry, leading some of wonder what are they've done to achieve such success.
Although the company is still considered relatively new to the ETF universe, Vanguard has seen its business grow and expand dramatically over the years. In December the firm, saw the largest inflows, beating out industry leader
BlackRock
(BLK) - Get Report
.
Prior to the company's foray into ETFs, Vanguard had generated an immense following as a leader in indexed mutual funds. One of Vanguard's biggest strengths comes from the familiarity that comes with its line-up of ETFs.
On top of sharing similar names, in a number of cases, the indexes underlying Vanguard's ETFs are identical to those used by the firm's long standing mutual funds. For instance, both the
Vanguard Mid-Cap ETF
(VO) - Get Report
and the
Vanguard Mid-Cap Index Fund
(VIMSX) - Get Report
mimic the performance of the MSCI US Mid Cap 450 Index.
Therefore, adapting to Vanguard's line of ETFs has not required a dramatic transition for those already familiar and comfortable with the investing strategy utilized by the company's family of mutual funds
In the second half of 2010, Vanguard announced that it would waive the commission fees for Vanguard brokerage clients using the company's products. This move follows similar plans announced by companies including
Schwab
(SCHW) - Get Report
and Fidelity.
On top of reducing the impact Vanguard ETFs will have on investors' wallets, the company's decision to wave these fees is also helping turn the firm into a one-stop-shop for ETF investors.
Vanguard's funds tap into a wide range of market facets making possible for long-term oriented investors to build a strong, well diversified portfolio without necessarily having to venture towards other fund providers. This type of strategy is now even more attractive with the removal of commission fees.
Perhaps one of Vanguard's strongest advantages has been its dedication to reducing investor expenses. While first-mover status has long been a major predictor as to whether a new ETF will be successful, Vanguard has managed to undermine this tradition.
On a number of occasions, Vanguard has unveiled funds which go head to head with ETFs which have long been available. However, by undercutting the expense ratios of veteran funds, the firm has been successful in stealing away market share.
One of the closest watched showdowns in the ETF industry has been the one between the
Vanguard Emerging Market ETF
(VWO) - Get Report
and the
iShares MSCI Emerging Market Index Fund
(EEM) - Get Report
. Although EEM boasts a longer track record, VWO has gained impressive ground over the months thanks to its reduced expenses. Consistently, the Vanguard product sees significantly larger monthly inflows.
The success of Vanguard's low-cost strategy has been noticed by other fund providers as well. BlackRock recently slashed the expense ratio of its
iShares Gold Trust
(IAU) - Get Report
in attempts to better compete with industry leader
SPDR Gold Shares
(GLD) - Get Report
. So far the move has worked: according to December's flow data compiled by the National Stock Exchange, IAU saw some of the industry's heaviest inflows while GLD saw noticeable outflows.
In the coming months and years, Vanguard will continue to be an exciting player in the ETF industry.
Written by Don Dion in Williamstown, Mass.
RELATED ARTICLES:
>>10 Stocks Favored by Hedge Funds
>>An Investment Strategy for 2011
At the time of publication, Dion Money Management did not own any funds mentioned.
This commentary comes from an independent investor or market observer as part of TheStreet guest contributor program. The views expressed are those of the author and do not necessarily represent the views of TheStreet or its management.