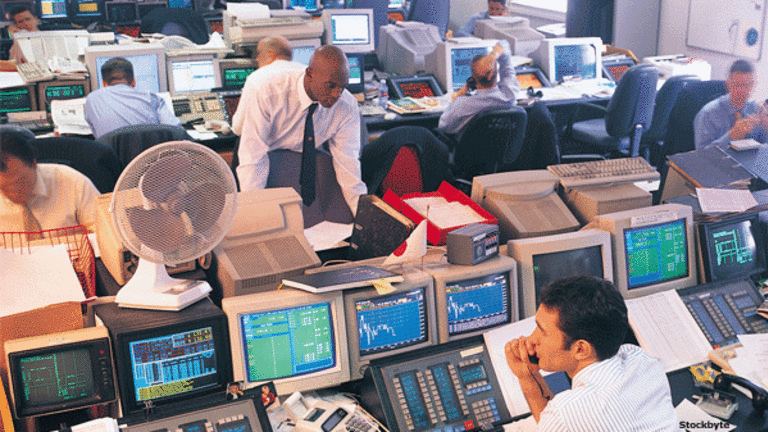 3 Facts ETF Investors Should Not Ignore
ETF investors must "bear" these economic realities in mind.
ETF investors must "bear" these economic realities in mind.
The following commentary comes from an independent investor or market observer as part of TheStreet's guest contributor program, which is separate from the company's news coverage.
NEW YORK (
) -- I genuinely avoid outright bearishness and bullishness. Instead, I use information to make an asset purchase. Then, I
control the investment outcome
with stop-limit loss orders and hedging techniques.
That said, I often serve up titillating details about which ETFs I like at a particular time. Similarly, I discuss why I may be leaning toward less risk or more risk in client portfolios.
It follows that people may interpret my description of certain holdings as well as my reasons for those holdings as "
bullish on China.
" They may regard my economic assessment of oil at the very start of January as
"bullish on energy services."
Conversely, some might construe my commentary on small-cap overvaluation
as "bearish on U.S. small caps."
Still others may see my presentation on consumer staples as a sign that I've become
"bearish on stock assets."
In truth, the smartest money managers recognize that maintaining an emotional attachment to market direction is as dangerous as falling in love with any company's stock. It only takes one big loss to decimate 31 hard-fought successes. In other words, my actions and my words may convey a particular conviction, but I do not marry-hold-n-cherish an idea indefinitely.
All tallied, I still present certain realities as well as my opinion about those realities. And right now, I can think of three huge facts that ETF investors must "bear" in mind:
1. The U.S. Dollar Is Dangerously Low.
It's one thing for U.S. elected and non-elected officials to desire the greenback's depreciation for the sake of helping U.S. exporters. It's another thing to let the value of the buck sink to an ocean's depths, just so it can pay less money (cheaper dollars) back to bondholders. At what point would foreign bondholders decide that a much higher yield on U.S. debt would be needed to offset continuous dollar devaluation?
Nobody really has an answer to that hypothetical question. On the other hand, Bill Gross is shorting the greenback in his
Pimco Total Return Fund
(PTTRX) - Get Report
. Meanwhile, the
PowerShares DB Dollar Bullish Fund
(UUP) - Get Report
, which tracks a rules-based index of long $USD futures contracts against prominent world currencies, has never been lower.
2.
The Nominal Price of Gold Is Psychologically High.
On April 19, 2011, gold hit $1,500 per ounce for the first time ever. Granted, gold would need to climb another 40% to get back to its inflation-adjusted heyday. Yet the nominal record is impossible to dismiss; the yellow metal is literally mocking the
Federal Reserve.
I'm neither a "bug" nor a bubble maniac. Still, I've witnessed remarkable capital appreciation with the
SPDR Gold Trust
(GLD) - Get Report
, acquiring GLD at every significant pullback. (Note: Check my
"keep buying GLD" commentary
here.) What's more, until and unless the Fed gets serious about commodity price inflation, buying GLD on cyclical sell-offs will continue to be profitable.
3.
The Macro-Economic Picture Is Improving... Albeit Slowly.
If job growth were phenomenal, wage inflation would cause the Fed to tighten. Would that be good for stocks? Probably not. If every company were firing on all cylinders and guiding higher with their earnings, would that be the next big boost higher? It would probably create an unrealistic set of expectations going forward, so... "No."
What keeps fund managers and advisers engaged is the fact that money is moving into the markets with some trepidation. Irrational fear and irrational exuberance are dangerous, yet rational worries are typically beneficial. What's more, in spite of persistent worries, we've seen private payrolls increase, manufacturing knock it out of the park and corporations acquiring smaller fish.
Bottom line? Big pharmaceuticals wouldn't be gobbling up little biotech firms and Wal-Mart wouldn't be purchasing social networking sites if everything were headed to heck in an Easter egg basket. Indeed,
the S&P 500 SPDR Trust
(SPY) - Get Report
is still well above its long-term, 200-day trendline.
Readers Also Like:
>>Bankruptcy Scores: 20 Risky Retailers
>>10 Industries That Are Growing the Fastest
Disclosure Statement: ETF Expert is a website that makes the world of ETFs easier to understand. Gary Gordon, Pacific Park Financial and/or its clients may hold positions in ETFs, mutual funds and investment assets mentioned. The commentary does not constitute individualized investment advice. The opinions offered are not personalized recommendations to buy, sell or hold securities. At times, issuers of exchange-traded products compensate Pacific Park Financial or its subsidiaries for advertising at the ETF Expert website. ETF Expert content is created independently of any advertising relationships. You may review additional ETF Expert at the site.