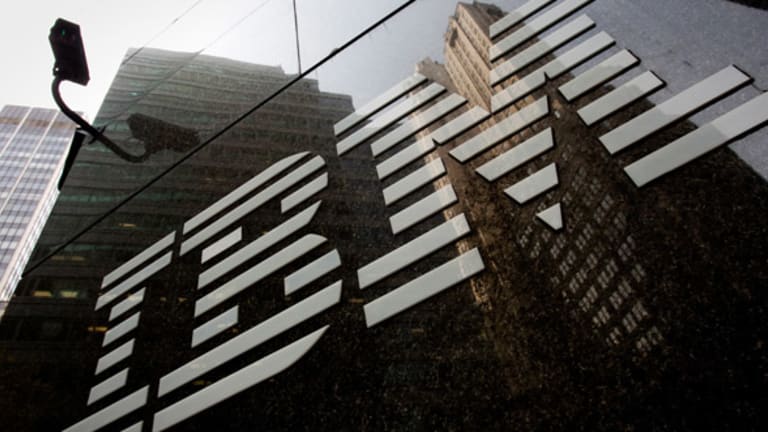 IBM (IBM) - Get International Business Machines (IBM) Report reports third-quarter earnings after the close and investors will be paying attention to the Armonk, N.Y.-based company to see how its transition is going and whether the company's struggles are getting closer to an end.
"It's at a major turning point," said Andrew Chanin, CEO of PureFunds, which has $900 million in assets under management. "I think they're aware they needed to revise their strategy to get into more emerging areas, so we'll see how it turns out."
Led by CEO Ginni Rometty, IBM has been focusing on areas like Watson, its cognitive computing platform, in addition to offering cloud solutions for its clients in an effort to remain relevant in technology.
Credit Suisse analyst Kulbiner Garcha isn't expecting much, as he predicts IBM will miss consensus estimates for the third-quarter, noting he sees "little evidence of an inflection in the business fundamentals." Garcha expects IBM to earn $3.34 a share on $18.8 billion and $13.32 a share on $79 billion for all of 2016. He rates shares "underperform" with a $110 price target.
Analysts surveyed by Yahoo! Finance expect IBM to earn $3.24 a share on $19 billion in sales for the third-quarter and $13.51 a share on $79.6 billion for the full year.
These three ETFs may benefit if investors react positively to IBM's third-quarter results.
First Trust NASDAQ Technology Dividend Index Fund ETF
The First Trust NASDAQ Technology Dividend Index FundETF (TDIV) - Get First Trust NASDAQ Technology Dividend Index Fund Report has IBM make up 7.81% of its $567.3 million portfolio, charging investors an expense ratio of 0.50%.
IBM has positioned its cloud offerings as a mixture of public and private clouds, known as a hybrid, or ones that can be co-mingled with other clients or run on private machines, based on the clients' needs. However, Chanin believes this is more of a necessity than a way to differentiate itself.
"I think they'll have a harder time, because Amazon has had a pretty strong rise in the cloud," Chanin said, whose firm owns IBM as part of its big data ETF, PureFunds ISE Big Data ETF (BIGD) . "I think it's very difficult to try and supplant Amazon, but the more they can offer their clients will allow them to keep existing relationships."
SPDR Dow Jones Industrial Average ETF
The SPDR Dow Jones Industrial Average ETF (DIA) - Get SPDR Dow Jones Industrial Average ETF Trust Report , which is one of the oldest ETFs in existence, has IBM account for 5.93% of its $11.63 billion in assets, charging investors 0.17% in expenses.
IBM continues to move away from legacy businesses, like its chipmaking unit, which it sold or getting out of the legacy PC business that it sold to Lenovo several years ago. Cantor Fitzgerald analyst Joseph Foresi said that each quarter, IBM is making progress, albeit slow progress. "With each passing quarter we have seen the company make progress toward its realignment goals and move closer to a return to growth. 2016 has the added hurdle of a reasonable margin ramp," Foresi wrote in a note to clients.
Guggenheim Dow Jones Industrial Average Dividend ETF
IBM makes up 4.4% of the $2.7 million Guggenheim Dow Jones Industrial Average Dividend ETF (DJD) - Get Invesco Dow Jones Industrial Average Dividend ETF Report portfolio, while charging investors 0.30% in fees.
Watson has been a big part of IBM's transition, with the cognitive computing platform catering towards a variety of sectors, including finance.
Now the company is trying to turn Watson, most known for its Jeopardy win and recent ad campaign, into a product it generate serious revenue from. "They're looking at trying to take these investments to turn into products and solutions," Chanin said. "They've spent a good amount of money on acquisitions for this area and we'll be looking to see how they're affecting revenues and building new strategic partnerships."