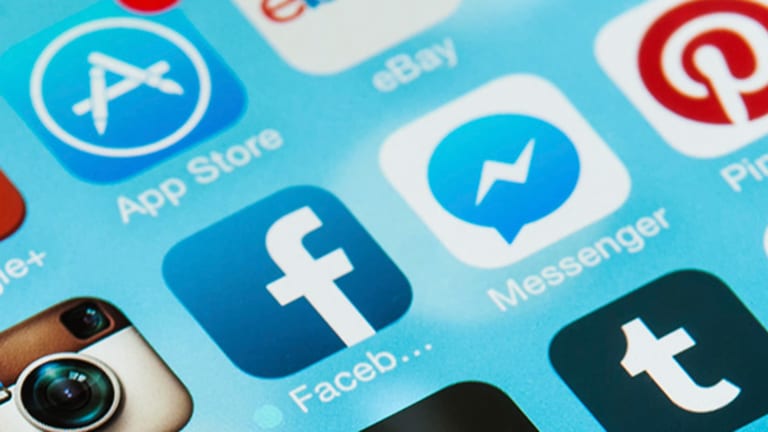 3 ETFs to Buy if You Think Facebook Will Beat Earnings
Investors will be looking to see whether the incredible momentum Facebook has shown can continue throughout the rest of 2016 and into 2017.
The digital advertising market is dominated by two companies: Facebook (FB) and Alphabet's Google (GOOG) (GOOGL) . On November 2, investors will look to see whether the dominance from Facebook has continued and what the outlook is for all the important holiday season, as well as 2017.
Menlo Park, Calif.-based Facebook has become an advertising juggernaut, with the important metrics pointing in the right direction -- time spent, monthly and daily active users, return on investment and new advertising products all showing increases year over year.
JMP analyst Ronald Josey, who has a market outperform rating and a $165 price target on Facebook, says the Mark Zuckerberg-led company is the firm's top pick in the internet space, citing "multiple catalysts in the near term including newer ad products such as Dynamic Ads, Canvas Ads, video ads and Instagram, and longer-term catalysts around Messenger, Oculus, and WhatsApp."
Since going public in 2012, Facebook has transformed itself, from a desktop-centric advertising company to one that gets more than three-quarters of its ad revenue from mobile. The company now has more than 4 million advertisers, a number that is rapidly growing. Facebook-owned Instagram is also ramping up its advertising platform, as the 500 million+ social network had more than 500,000 advertisers as of
, doubling from the prior six months.
In addition to Instagram, it also owns Oculus and WhatsApp, the popular messaging app that has over 1 billion users.
Despite the fact that shares returned more than 400% from its lows seen in September 2012, Facebook has not rested on its laurels, constantly rolling out new products such as Facebook Live and Marketplace.
Analysts surveyed by Yahoo! Finance expect the company to earn 97 cents a share on $6.92 billion in revenue.
These three ETFs may benefit if investors like what the world's largest social network has to say about the past 90 days.
First Trust Dow Jones Internet Index Fund
Facebook accounts for 9.69% of the First Trust Dow Jones Internet Index Fund ETF  (FDN) , which has $3.7 billion in assets under management and sports a 0.57% expense ratio.
JMP's Josey is looking to see whether engagement levels are steady and the reception advertisers have towards new products. "We expect Facebook to report 3Q16 results that are above our/consensus expectations given continued strong advertising demand based on our checks and user engagement across core Facebook and Instagram," Josey wrote in a note to clients.
Social Media Index ETF
The Social Media Index ETF (SOCL) has Facebook make up 9.36% of its $137.9 million portfolio and charges investors a 0.65% expense ratio.
Credit Suisse analyst Stephen Ju noted that Facebook is facing some relatively difficult results from last year's fourth-quarter, but noted that shares have fallen "relatively out of favor," making his firm a buyer. "[W]e remain buyers as we believe the Street is not only undermodeling Instagram near term, but also not yet assigning additional optionality to the eventual monetization of Messenger and WhatsApp," Ju wrote in a note to clients.
iShares U.S. Technology ETF
Facebook makes up 7.88% of the $2.95 billion iShares U.S. Technology ETF (IYW) and charges investors a 0.43% expense ratio.
Facebook's Audience Network, known as FAN, is its main advertising platform, but BMO Capital Markets analyst Daniel Salmon believes it's being used mostly by direct response advertisers. If Facebook can build a brand-oriented video business to go after TV ad budgets (the recent advertising of Facebook Live may suggest this is near), it will need premium content, which may bump up operating expenses.