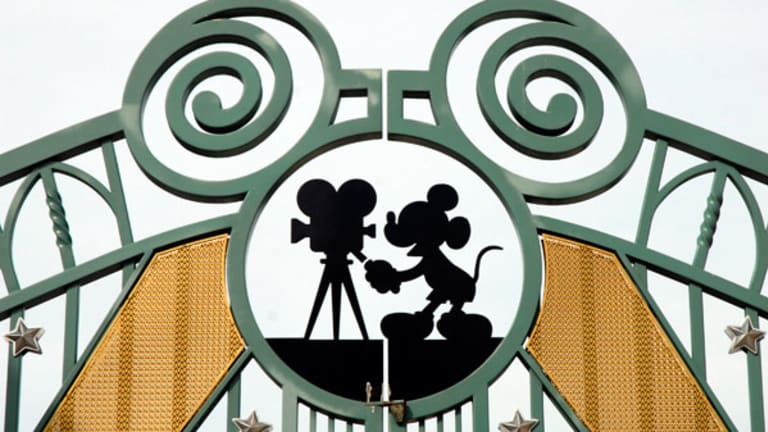 3 ETFs to Buy if You Think Disney Will Beat Earnings
Disney investors will be looking to hear what the Bob Iger-led company has to say about ESPN, the movie business, its plans to go direct to consumers, and ratings.
It's no secret that Walt Disney (DIS) - Get Walt Disney Company Report has been under pressure, as concerns about cord-cutting have weighed on ESPN, its cash cow. What the company has to say about fourth-quarter earnings, though, could alleviate some investor fears that the situation isn't getting drastically worse.
Last week, ratings company Nielsen said that ESPN, the worldwide leader in sports television, lost 621,000 subscribers in October (Nielsen later retracted the figure), but the media and investors picked up on the fact that subscriber losses may be accelerating, an area of major concern to investors.
"A defensive release from ESPN countering regular monthly data from Nielsen has unnecessarily caused concerns among investors in Nielsen and served to highlight the ongoing decline in ESPN's subscriber base, which we anticipate will continue to be evident in the numbers when revised figures are eventually published," Pivotal Research analyst Brian Wieser wrote in a note following the release. "Overall, we do not expect any meaningful difference in ESPN's recent subscriber trajectory to follow from that update, and expect that we will continue to view Nielsen's estimates as the best available third party figures."
As more consumers get rid of their expensive cable bills -- or in some cases, never have one in the first place -- ESPN is being hurt more than other cable networks, due to its high reliance on subscriber fees and other areas of entertainment, like Netflix (NFLX) - Get Netflix, Inc. (NFLX) Report .
Investors have wondered when and if ESPN, which derives nearly two-thirds of its annual revenue from subscribers, could go direct to consumer, similar to what HBO has done with its HBO Now streaming service, but so far, ESPN has made little headway into the arena, despite comments from Disney CEO Bob Iger that it's not enough to have great content if you don't have a relationship with consumers. 
Disney recently announced it was buying a stake in BAMTech for $1 billion. The move has fueled speculation Disney may eventually offer all of ESPN's content direct to consumers. 
BAMTech is the technology arm of Major League Baseball and helped build over-the-top streaming services for HBO, WWE and others.
Analysts surveyed by Yahoo! Finance expect the company to earn cents a share on $13.52 billion in revenues.
In addition to ESPN and its other cable networks, investors will be looking to hear what Iger and his team have to say about the movie business.
Disney, which owns the Marvel, LucasFilm and Pixar brands, has had a banner year at the box office, with such hits as Zootopia, Captain America: Civil War and Finding Dory, all of which generated over $1 billion in ticket sales, according to Box Office Mojo.
In December, Disney is slated to release the first of its Star Wars anthology films, Rogue One: A Star Wars Story. Investors will be looking for clues on how it's expected to perform after Iger tempered expectations earlier this year.
These three ETFs may benefit if investors like what Disney has to say about the past 90 days and its place in a digital world, as concerns about ESPN and its overall business continue.
Consumer Discretionary Select Sector SPDR Fund
Disney makes up 5.83% of the Consumer Discretionary Select Sector SPDR Fund (XLY) - Get Consumer Discretionary Select Sector SPDR Fund Report , which has $9.19 billion in assets under management and a 0.15% expense ratio.
Credit Suisse analyst Omar Sheikh, who has a outperform rating and a $125 price target on Disney, believes that the proposed AT&T-Time Warner merger will "confer an enhanced ability to bid for sports rights from 2021 onwards, and thereby put pressure on Disney to invest further in ESPN's direct to consumer distribution capabilities."
Vanguard Consumer Discretionary ETF
The Vanguard Consumer Discretionary ETF (VCR) - Get Vanguard Consumer Discretionary ETF Report  has Disney make up 4.87% of its $1.85 billion portfolio and charges investors a 0.12% expense ratio.
Pivotal Research's Wieser, who rates Disney shares buy with a $108 price target, is also looking to hear what Disney has to say about virtual multichannel video programming distributors (MVPD) like Hulu and Sling, of which both offer ESPN in their respective packages.
"If virtual MVPDs added back even +1% to year-over-year growth rates, declines wouldstill be roughly the same, or around -1% to -3% each month," Wieser wrote in a note to clients. "Overall, this incident probably raises concerns among investors that are probably unwarranted,as we think there is not likely any new news here." 
Fidelity MSCI Consumer Discretionary Index ETF
The Fidelity MSCI Consumer Discretionary Index ETF (FDIS) - Get Fidelity MSCI Consumer Discretionary Index ETF Report  has Disney make up 4.85% of its $209.7 million portfolio and charges investors a 0.12% expense ratio.
In addition to concerns about Disney's subscriber business, Credit Suisse's Sheikh is looking for clarity on the ratings decline from NFL games, of which ESPN broadcasts Monday Night Football, with the games seeing a sharp decline in ratings. "We are confident the election, poor matchups, player issues and the absence of sports betting have played a part, and would not extrapolate the first five weeks," Sheikh wrote in an October note to investors. "However, we think the declines make it prudent to be conservative at this point, and reduced our advertising growthforecasts at ESPN for 2017 to 2% (from 6%)."