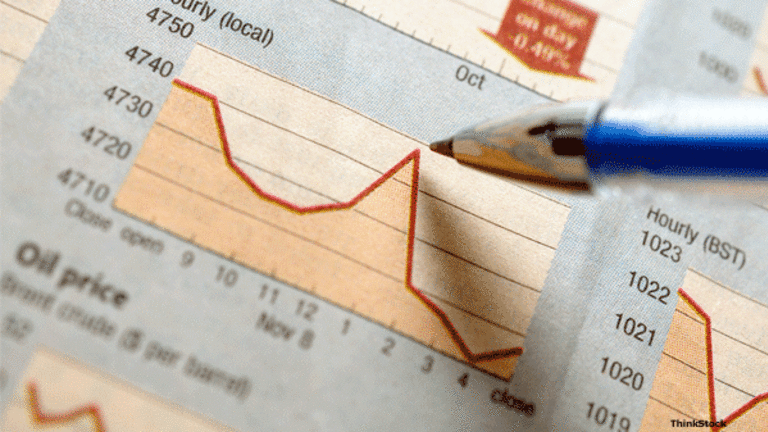 3 Consumer ETFs Buck Debt Crisis
Consumer spending has been noticeably strong despite the debt impasse in Washington.
NEW YORK (TheStreet) -- The gloomy debt situations facing the United States and the EU have led many to question the strength, stability, and longevity of the global economic recovery picture. While the current economic climate is certainly challenging, there are still a number of places investors can turn in order to find stability and strength.
Earlier this week, I highlighted
gold miners
as being a pocket of strength given the market's uncertainty and the continued appeal of gold. Funds like the
Market Vectors Gold Miners ETF
(GDX) - Get Report
have managed to power higher, outpacing not only the broader markets, but also physically-backed gold products like
iShares Gold Trust
(IAU) - Get Report
.
While gold and gold miners have surged and will continue to stay in favor as investors second guess the strength of the market's recovery, other corners of the investing realm have become attractive due to their surprising resilience in the face of market turmoil.
The consumer, for instance, has held strong throughout this bout of market rockiness. As Washington lawmakers have continued to butt heads over a debt ceiling agreement, and EU leaders struggle to sort out their own debt crisis, domestic consumers have remained willing to open their wallets and spend. On Tuesday, the markets received further evidence of the consumer's hardiness when July's consumer confidence number ticked higher, outpacing analyst expectations and June's reading.
The discretionary side of the consumer sector has been notably strong as individuals increasingly treat themselves to luxuries.
This eagerness to spend on "wants" as well as "needs" has helped power a number of consumer discretionary-focused ETFs to top spots within our momentum rankings. Looking to the near term, some of these funds may prove to be attractive bets for risk tolerant investors.
As I noted in this
morning's video
, it seems only fitting that the
PowerShares Dynamic Leisure & Entertainment Portfolio
(PEJ) - Get Report
has ascended towards the top of our momentum rankings. Summer vacation season has gotten into full swing. Expect companies in the media, dining, and travel industries to benefit.
The gaming industry has been a major beneficiary as consumers become more comfortable with their spending. The
Market Vectors Gaming ETF
(BJK) - Get Report
is the strongest option for those looking to specifically target this component of the consumer sector.
BJK has enjoyed some solid strength over the past week following an impressive earnings showing from the fund's second largest holding,
Wynn Resorts
(WYNN) - Get Report
.
According to the company's report, Wynn witnessed double-digit revenue growth at both its Las Vegas- and Macau-based establishments over the most recent three-month period. The bar has been set high and it will be interesting to see how BJK performs in the days following the earnings reports from fellow top components,
Las Vegas Sands
(LVS) - Get Report
and
International Gaming Technology
(IGT) - Get Report
.
BJK has managed to outpace other consumer-focused products over the past 30 days. However, it is important to note that, due to the pinhole focus of this fund, it is inherently volatile. Therefore, any exposure must be kept small, and closely monitored.
The
SPDR S&P Retail ETF
(XRT) - Get Report
has long been my go-to product when it comes to finding ways to benefit as the consumer flexes its muscles. Designed to track the industry as a whole, this fund boasts exposure to retailers in industries such as apparel, the Internet, automotive, and food.
Of the three funds highlighted above, XRT is likely the most appealing towards long term, buy-and-hold investors.
The resilience and strength of the consumer in the face of adversity bodes well for its prospects when the fog of uncertainty eventually clears and the market recovery gets itself back on track. It may be tempting to steer clear of the markets at this time, but I encourage investors to keep funds like PEJ, BJK, and XRT on the watch list.
Written by Don Dion in Williamstown, Mass.
RELATED ARTICLES:
>>Wal-Mart Kicks Netflix When It's Down
>>Hedge Funds Won't Follow Soros, Experts Say
At the time of publication, Dion Money Management owned the iShares Gold Trust and Market Vectors Gaming ETF.