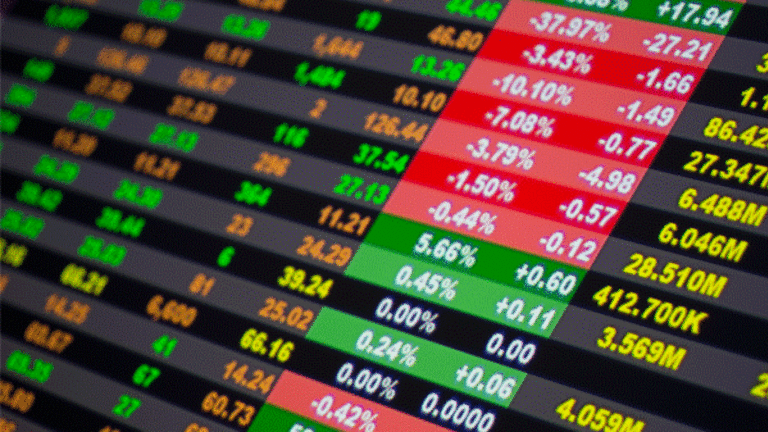 3 Big-Time ETFs Struggle in Trendless Stock Market
These ETFs are telling investors to appreciate their capital, not aggressively pursue capital appreciation.
The following commentary comes from an independent investor or market observer as part of TheStreet's guest contributor program, which is separate from the company's news coverage.
NEW YORK (
) --
LinkedIn
(LNKD)
doubled in value from an IPO price of $45 on its first full day of trading. In truth, participants in the secondary market got their first crack at LNKD at a price point of $80. That implies a 17.5% jump, not 109.4%, but who's calculating?
Anyone who remembers the 90s probably feels like they've seen this movie before. In fact, as a financial radio personality at the time, I amassed a following for having warned listeners about the dot-bomb bubble. I didn't instruct people to sell on irrational exuberance alone, mind you. I simply presented
an alternative to the so-called "wisdom" of buying-and-holding.
That doesn't mean I don't have a LinkedIn account. I do. I also use
Facebook
as well as
Twitter
to foster business relationships. Nevertheless, watching LNKD pinball from $80 to $90 to $82 to $110 and back down to $94.25 is more folly than investing. (At least at this point.)
As a money manager who primarily uses exchange-traded funds, I am more interested in asset triumphs and asset struggles. The triumphs can be summed up as follows: (1) Major stock benchmarks remain within spitting distance of multi-year highs; (2) Lending standards have been slowly easing (See LIBOR); (3) Forward P/Es for most sectors of the economy remain reasonable; and (4) Commodity price inflation has cooled for the time being.
Yet there's little denying a number of imposing realities. Specifically, broader equities have made very little headway in the last three months. In fact,
strong gains in non-cyclical segments (e.g., staples, healthcare, utilities, etc.) over the last 12 weeks have masked the disdainful losses in energy and financials.
In truth, we're stuck in the muck of a trendless stock market. We're unlikely to see a definitive breakout to the upside or downside until there's greater clarity on a post-QE2 world.
It follows that income production will be the best way to make consistent money for several more months. Indeed, at least in the near term, big-time ETFs are telling investors to appreciate their capital, not aggressively pursue capital appreciation.
1.
iShares MSCI Japan
(EWJ) - Get Free Report
. Granted, EWJ tracks an index where a great many component stocks are trading a P/S of below 1. Some are below book value. What's more, assuming May doesn't get too much worse for the world's third-largest economy, EWJ may demonstrate three consecutive bullish months of "higher lows."
Still, the 50-day moving average crossing under the 200-Day MA is undesirable at best, while the inability for EWJ to remain above a long-term 200-day MA is somewhat demoralizing. The best way to invest in a Japanese recovery from its tsunami-inspired recession is through Asian neighbors like
iShares MSCI Malaysia
(EWM) - Get Free Report
(EWM).
2
. SPDR KBW Bank
(KBE) - Get Free Report
. The big banks have "only" corrected 11% from the peak -- and that's the good news! The other good news was KBE's ability to bounce off of its 200-day trendline.
On the other hand, the bull market rally that began in March of 2009 often had financials leading the way. Now, they're not only failing to lead, they're failing to participate altogether. (Note: The "lower lows" aren't particularly endearing either.)
3.
Market Vectors Steel
(SLX) - Get Free Report
. This ETF tracks an index of companies that produce steel products or that mine/process iron ore. It is truly global in scope, with companies from Europe, Asia and South America. It stands to reason that a healthy global recovery would demand more services and products from these corporations, not less. And yet, SLX is in a full-fledged correction, struggling to stay above a long-term 200-day trendline.
Disclosure Statement: ETF Expert is a website that makes the world of ETFs easier to understand. Gary Gordon, Pacific Park Financial and/or its clients may hold positions in ETFs, mutual funds and investment assets mentioned. The commentary does not constitute individualized investment advice. The opinions offered are not personalized recommendations to buy, sell or hold securities. At times, issuers of exchange-traded products compensate Pacific Park Financial or its subsidiaries for advertising at the ETF Expert website. ETF Expert content is created independently of any advertising relationships. You may review additional ETF Expert at the site.