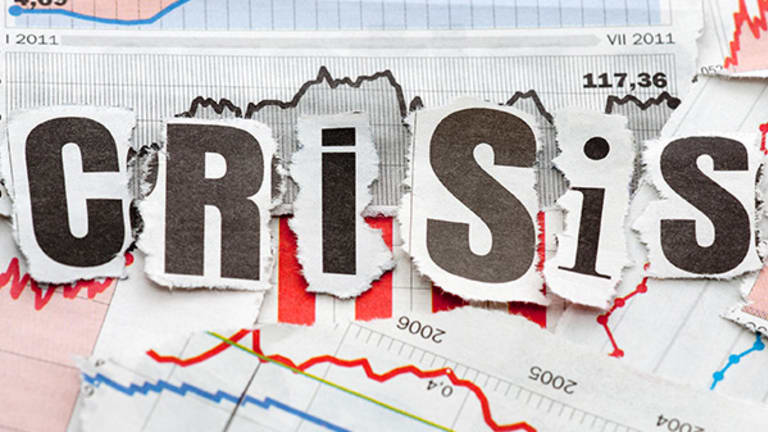 2 Ways You Can Profit From Europe's Banking Woes
Political weakness and economic mismanagement in Europe spell opportunity for fast-acting investors.
Italy is the third-largest national economy in the eurozone and the eighth largest in the world. The Mediterranean nation also is Europe's second largest manufacturer and the world's largest wine producer. The country is famous for style, fashion, great food and groundbreaking cinema.
And, oh yeah: The country's banks are in trouble.
Italy's banking sector is groaning under a mountain of bad debt, threatening to undermine the financial stability of the European Union. That makes the two exchange-traded funds (ETFs) pinpointed below shrewd, opportunistic trades. But first, let's examine Italy's, and by extension Europe's, litany of woes.
The latest chapter in Italy's sad tale occurred on Tuesday, when the country's largest bank, UniCredit, announced plans to raise 13 billion euros ($13.8 billion) in the country's biggest-ever rescue financing, to beef up the bank's deteriorating balance sheet.
The bank's plans unveiled on Tuesday also include 14,000 job cuts and more than 900 branch closures. UniCredit, considered vital to the viability of the global financial system, has lost about half its market value this year. Also on the brink of failure is major Italian bank Monte dei Paschi di Siena.
UniCredit and Monte dei Paschi di Siena could be the catalysts for a wider banking failure in Europe. Nine of the 10 biggest European banks sport weak price-to-book ratios of less than 1, which suggests that traders are pessimistic about the sector. Meanwhile, Deutsche Bank, the biggest lender in the European powerhouse of Germany, is grappling with its own bad loans and overexposure to derivatives trading.
Earlier this month, European and Italian leaders were unnerved when a referendum for constitutional reform in Italy was voted down, amid rising right-wing populist sentiment. The vote prompted Italy's Prime Minister Matteo Renzi to resign. Renzi was replaced by a new government that isn't much different than its predecessor, a recipe for more political turmoil. Now the fear among analysts is that Italy will follow Britain's lead and angle to exit the European Union.
Below you'll find two of the best ways to profit from Europe's deep-seated economic, political and financial woes.
1. Sell Short theiShares MSCI Europe Financials Index (EUFN) - Get Report .
With net assets of $340.16 million, this ETF is comprised of nearly all the big European banks and serves as a bellwether for the EU's financial system.
The ETF's five top holdings by percentage of the fund's assets are HSBC Holdings, Allianz, Banco Santander, Lloyds Banking Group and BNP Paribas. Expense ratio: 0.48%.
2. Buy theProShares Short MSCI EAFE (EFZ) - Get Report
This inverse ETF lets you bet against the MSCI EAFE index, one of the most common international equity indices. As political disarray, unsustainable sovereign debt and subpar growth continue to plague markets in the Middle East, Russia and the eurozone, EFZ allows you to profit by seeking a daily performance that's the inverse of the MSCI EAFE.
ProShares Short MSCI EAFE shares rose in Wednesday trading. 
With net assets of more than $81 million, the ProShares Short MSCI EAFE ETF is a bet that the mounting crises in Italy and other overseas countries won't get better anytime soon. The index has about 60% negative exposure to European stocks. Expense ratio: 0.95%.
---
It's not just Europe!Trump's shocking election as president has turned the global investment picture upside down. If you're looking for new (and safe) growth opportunities in these uncertain times, we've found a genius trader who turned $50,000 into $5 million by using his proprietary trading method. For a limited time, he's guaranteeing you $67,548 per year in profitable trades if you follow his simple step-by-step process. Click here now for details.
John Persinos is an investment analyst at Investing Daily. At the time of publication, he owned none of the stocks mentioned. Persinos appears as a regular commentator on the financial television show "Small Cap Nation." Follow him on Twitter.