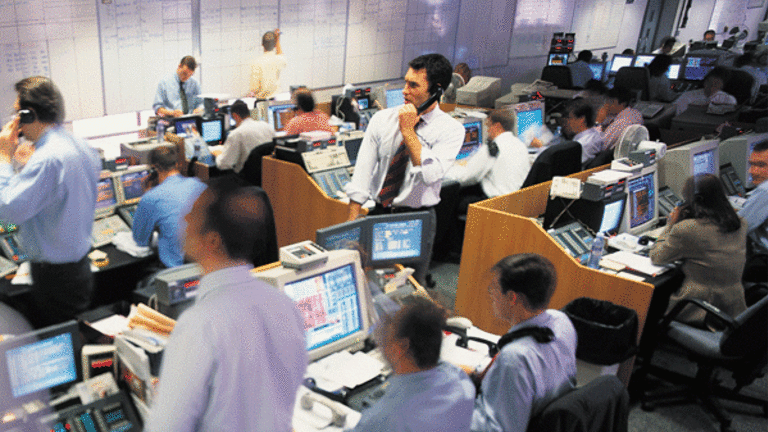 Publish date:
2 Health Care ETFs for Election Shakeup
These ETFs should benefit from the expected post-election shakeup in Congress.
These ETFs should benefit from the expected post-election shakeup in Congress.
NEW YORK (TheStreet) -- After months of intense campaigning, the November elections are upon us. While the final outcome is still yet to be seen, many of the talking heads in the media are already forecasting that increasing voter unrest regarding the state of the economic recovery will lead to a Congressional shakeup.
In the event that they are correct and Congress comes out of the election split along party lines, one of the more exciting areas of the market to watch for investors will be health care.
While I believe that conservative investors should wait until the full effects of the election are felt before making any changes to their portfolio, aggressive investors with a strong stomach for risk may find funds such as the
iShares Dow Jones U.S. Pharmaceuticals Index Fund
(IHE) - Get Report
and the
iShares Dow Jones U.S. Medical Devices Index Fund
(IHI) - Get Report
enticing options in the midst of these politically heated times.
President Obama's sweeping health-care reform bill has been met with rabid criticism from opponents through every step of the political process. Now many Washington hopefuls are running on the promise that they will take aim at the bill in the event that they are elected to office.
A Republican-led House of Representatives may be able to generate the political pull needed to chip away at some of this legislation. Reducing or removing some of the Washington hurdles standing in front of the health care industry will aid companies in the the pharmaceutical and medical devices field, thereby allowing them to head higher.
Interestingly, even in light of the health care reform's passage, the pharmaceutical industry has performed well.
IHE has managed to handedly outperform other health care-related ETFs by a comfortable margin. However, in the event that Obama's bill gets muddled, big name drug companies such as
Merck
(MRK) - Get Report
,
Abbott Labs
(ABT) - Get Report
, and
Pfizer
(PFE) - Get Report
will be forced to face less Washington red tape, thereby allowing them to more freely develop new drugs. These three companies represent some of the largest slices of IHE's portfolio, making up close to a quarter of the fund's total index.
While IHE has managed to outperform ETFs designed to track the broader healthcare industry, IHI, which is designed to track a basket of companies related to the medical devices industry has more closely followed the pack throughout 2010.
However like the pharmaceutical industry, a weakened Obamacare bill will likely provide companies like
Medtronic
(MDT) - Get Report
,
Stryker
(SYK) - Get Report
, and
Boston Scientific
(BSX) - Get Report
with a nice boost. Together, these three companies account for over 20% of IHI's index.
Again, although the media-forecasted outcome of the election should prove beneficial for regions of the health care industry, investors should exercise extreme caution when venturing into the market today.
A politically fueled environment tends to make for uncertain market action which may send investors for a loop. Therefore, any short term bet on IHE or IHI should be kept small and closely monitored.
Investing in IHI and IHE will prove to be a risky short-term play on the mid-term elections. However, investors may find these same funds attractive as a way to play the long-term aging of the U.S. population.
When the political heat dies down, buy-and-hold investors may want to consider setting aside a chunk of their portfolio to track our inevitable need for more health care.
Written by Don Dion in Williamstown, Mass.
Readers Also Like:
>>Five Things Wall Street Wants From Congress
At the time of publication, Dion Money Management owned iShares Dow Jones U.S. Pharmaceuticals Index Fund.
Don Dion is president and founder of
, a fee-based investment advisory firm to affluent individuals, families and nonprofit organizations, where he is responsible for setting investment policy, creating custom portfolios and overseeing the performance of client accounts. Founded in 1996 and based in Williamstown, Mass., Dion Money Management manages assets for clients in 49 states and 11 countries. Dion is a licensed attorney in Massachusetts and Maine and has more than 25 years' experience working in the financial markets, having founded and run two publicly traded companies before establishing Dion Money Management.
Dion also is publisher of the Fidelity Independent Adviser family of newsletters, which provides to a broad range of investors his commentary on the financial markets, with a specific emphasis on mutual funds and exchange-traded funds. With more than 100,000 subscribers in the U.S. and 29 other countries, Fidelity Independent Adviser publishes six monthly newsletters and three weekly newsletters. Its flagship publication, Fidelity Independent Adviser, has been published monthly for 11 years and reaches 40,000 subscribers.