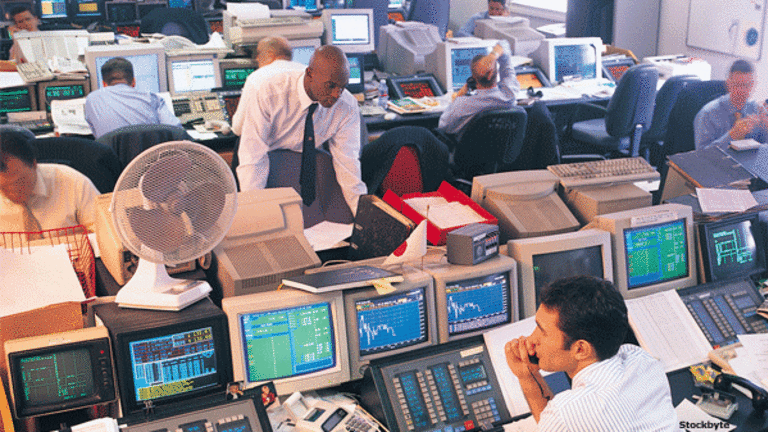 2 ETFs for Precious Metal Diversification
These ETFs offer investors exposure to the general strength of the industry.
NEW YORK (TheStreet) -Throughout 2010, it has been hard to ignore the fanfare which has surrounded precious metals.
As investors seek sanctuary from the economic turmoil facing regions of the developed world, physical bullion- and miner-based gold ETFs such as
iShares Gold Trust
(IAU)
and
Market Vectors Gold Miners ETF
(GDX)
have generated a massive following, resulting in the yellow metal becoming a brand new asset class of its own.
Precious metal alternatives including silver, platinum and palladium have grown in popularity as well, indicated by the breakneck rally from
iShares Silver Trust
(SLV)
and the massive expansions of the platinum and palladium funds sponsored by ETF Securities:
ETFS Physical Platinum Shares
(PPLT)
and
ETFS Physical Palladium Shares
(PALL)
. Although PPLT and PALL are less than a year old, both boast over $500 million in assets.
Given the popularity and success of concentrated precious metals funds, it is not surprising that some ETF sponsors have sought to attract investors by launching products aimed at combining two or more of these precious metal baskets under one roof.
Two products which aim to achieve this goal are the
PowerShares DB Precious Metals Fund
(DBP)
and
ETFS Physical Precious Metals Basket Shares
(GLTR)
.
DBP, the elder of the two precious metal basket funds, seeks to capture the combined strength of gold and silver. However, unlike IAU and iShares Silver Trust, the PowerShares option does not track a physical stockpile of the metals. Rather, the fund's index is comprised of precious metals futures contracts. Currently, the fund's breakdown is 80% gold and 20% silver.
While its investment strategy is appealing, when using DBP for their precious metal exposure investors face the same risks that are inherent in other futures-based products.
Limits set by the Commodities Futures Exchange Commission, for instance, threaten to interfere with DBP's performance by capping how many futures contracts the fund can hold at one time. This regulatory body's influence has been further strengthened this year with the passage of the Dodd-Frank financial reform bill.
Investors concerned about the regulatory headwinds associated with holding DBP would be better off opting for the industry newcomer, GLTR. Unlike the PowerShares option, GLTR is designed to track a physical stockpile of precious metals. Its index is also more diversified than DBP. On top of tracking gold and silver, this fund also sets aside room for platinum and palladium.
GLTR weights exposure to these four metals in a fixed fashion. Approximately 50% of its portfolio is dedicated to gold while the remaining 50% is spread across silver, platinum and palladium. This is done to ensure that investors maintain exposure to all four metals while at the same time protecting against the volatility inherent in components such as palladium.
Although it is still relatively new to the industry, GLTR has already managed to gain an impressive following and currently trades hands over 100,000 times each day.
DBP and GLTR are designed for investors who remain uncertain about the future of precious metals. By diversifying across a collection of these commodities, investors do not need to worry about whether or not gold outperforms silver or platinum outperforms palladium. Instead, both funds will benefit from general strength across the industry as a whole.
Written by Don Dion in Williamstown, Mass.
Readers Also Like:
>>10 Cheapest Energy Stocks as Oil Spikes
At the time of publication, Dion Money Management was long iShares Gold Trust.
Don Dion is president and founder of
, a fee-based investment advisory firm to affluent individuals, families and nonprofit organizations, where he is responsible for setting investment policy, creating custom portfolios and overseeing the performance of client accounts. Founded in 1996 and based in Williamstown, Mass., Dion Money Management manages assets for clients in 49 states and 11 countries. Dion is a licensed attorney in Massachusetts and Maine and has more than 25 years' experience working in the financial markets, having founded and run two publicly traded companies before establishing Dion Money Management.
Dion also is publisher of the Fidelity Independent Adviser family of newsletters, which provides to a broad range of investors his commentary on the financial markets, with a specific emphasis on mutual funds and exchange-traded funds. With more than 100,000 subscribers in the U.S. and 29 other countries, Fidelity Independent Adviser publishes six monthly newsletters and three weekly newsletters. Its flagship publication, Fidelity Independent Adviser, has been published monthly for 11 years and reaches 40,000 subscribers.