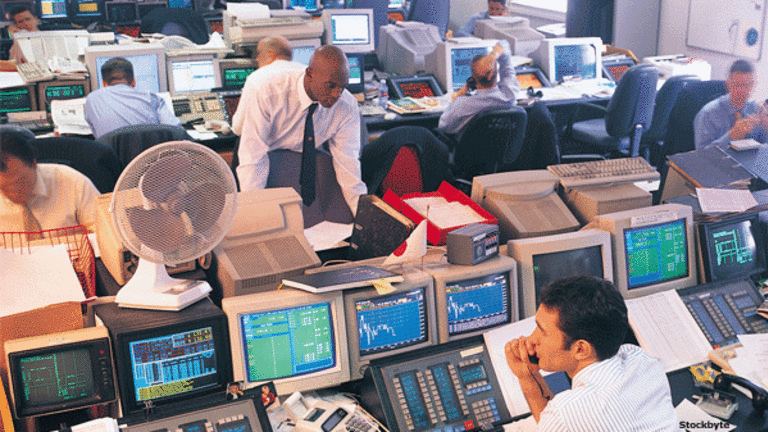 2 Defensive ETF Strategies
Here are two ETFs that offer exposure to large-caps and dividend-paying companies in turbulent economic times.
NEW YORK (TheStreet) -- The investing environment has been shaken by the bloody political protests in the Middle East and Northern Africa, Japan's natural disasters, the commodities shakeup and most recently, the resurgence of the European debt crisis.
Although this rocky situation from these headwinds may prove too much to many, I advise against fleeing this marketplace at this time.
Rather, by making adjustments, it is possible for battered investors to weather current economic storms and prepare for clearer skies ahead.
In the face of these global challenges, I remain confident in the market's recovery over the long run. However, as we work through this current bout of turbulence it may be in investors' best interests to arm themselves with exposure to large, defensive industry goliaths such as
General Electric
(GE) - Get Free Report
,
International Business Machines
(IBM) - Get Free Report
,
Chevron
(CVX) - Get Free Report
and
McDonalds
(MCD) - Get Free Report
.
These companies tend to lack the same pop as small-, and mid-cap firms, and are often viewed as boring. However, their size, global reach, and liquidity will likely make them better suited for maintaining stability during periods of questionable market action.
Funds such as the
SPDR Dow Jones Industrial Average ETF
(DIA) - Get Free Report
will provide investors with exposure to wide collection of these companies.
Though on a long-term time scale, they continue to lag against small- and mid-cap equity indices by a comfortable margin, large-cap indices such as the
Dow Jones Industrial Average
have made big strides in recent weeks. In fact, over the most recent 90-day period, the DIA has actually managed to outpace products including the
iShares Russell 2000 Index Fund
(IWM) - Get Free Report
and the
iShares S&P MidCap 400 Index Fund
(MDY) - Get Free Report
.
In the coming weeks, it will be interesting to see if this gap further contracts as investors continue to seek out the protection of business heavyweights.
Large-cap ETFs like DIA may present as an appealing opportunity for some. However, another option investors may want to consider is a dividend-focused investing strategy.
Throughout the opening half of the year, we have watched as a number of well-known firms raise their dividends to draw down their massive cash reserves. Most recently,
UnitedHealthGroup
(UNH) - Get Free Report
announced a 30% dividend hike.
Consistent yields such as those offered by UNH will provide a welcomed sense of comfort during any type of market environment. While it is possible for investors to scour the marketplace looking for top dividend-paying companies, the ETF industry has done most of the work for us. By utilizing a product like
iShares Dow Jones Select Dividend Index Fund
(DVY) - Get Free Report
, it is possible to take on exposure to a basket of companies that have offered consistently high dividends over time.
Top DVY holdings include
Lorillard
(LO)
,
Chevron
(CVX) - Get Free Report
and
Entergy
(ETR) - Get Free Report
. The fund's yield currently stands at over 3%.
Investors have been greeted with an exhausting list of headwinds during the opening half of 2011 and as we continue ahead, many of these same factors will continue to dominate headlines. At times, the looming turmoil will appear too daunting, but I urge investors to avoid exiting the market entirely.
Rather, by homing in on ETFs aimed at large caps and dividend-paying equities, it is possible to build a strong defense that will protect against shakeups down the road.
Written by Don Dion in Williamstown, Mass.
Readers Also Like:
>>Weiss: Wall Street Gets Off Scot-Free
>>Names You Should Know (But Don't)
At the time of publication, Dion Money Management owned the iShares Dow Jones Select Dividend Index Fund and .