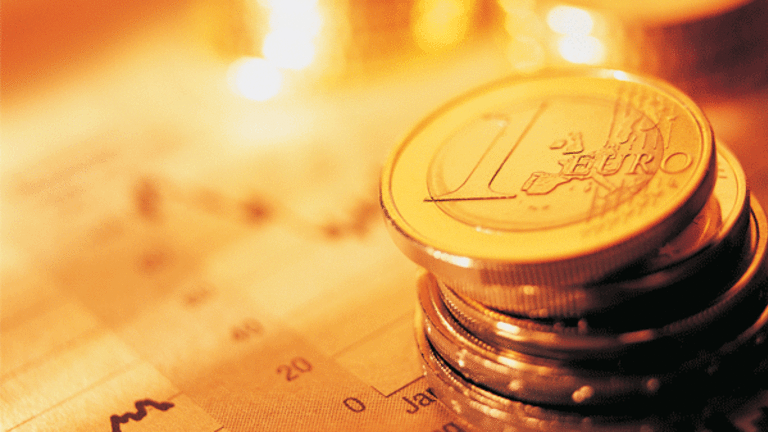 2 Cash-Flow Creating ETFs for 'QE2 Lite'
If you're not planning to sit on a heap of cash for future buying opportunities, you'll need to weather a highly probable storm. Here are 2 ETFs that should do the trick.
The following commentary comes from an independent investor or market observer as part of TheStreet's guest contributor program, which is separate from the company's news coverage.
NEW YORK (
) -- On May 26, 2011, U.S. stocks rose for a second consecutive day with the S&P 500 closing less than 3% away from multi-year highs. That's not just a resilient -- that's downright defiant!
Consider the macroeconomic realities. Japan is fighting its way out of a recession. Europe is contending with stagflation as well as debt downgrades. The U.S. is facing a double-dip in housing and the deceleration of GDP. And the emerging markets? They are deliberately curtailing growth to ward off inflation. Any way you slice it, the global train may be grinding to a halt.
Still, many in the mainstream financial media would have you believe that the macroeconomic picture is merely "noise." They explain that investors are shrewdly focused on the micro-economic picture, where cash-rich corporations continue to provide shares at reasonably attractive prices.
Unfortunately, there may be a few problems with the "handsome share price" theory. First, 60% of corporations beat their earnings estimates in the recent reporting period. That is lower than at any time in the current bull market run-up. Second, quarter-over-quarter, corporate profits contracted in the first three months of the year. That had not happened since the fourth quarter of 2008.
So, if the micro-economic picture for corporations is a little less rosy, and if the macroeconomic picture is downright gloomy, how are U.S. stocks fending off a bearish attack? The U.S. stock market smells additional quantitative easing from Bernanke's
Granted, it won't be as straightforward as a Treasury bond purchasing program with imaginary "greenies." More likely, the Fed will sell some of its existing assets (previously acquired with imaginary dollars) and then reinvest the proceeds. This may have the effect of putting a floor underneath equities during a "soft patch" period. Simultaneously, it may quiet those who abhor the electronic printing of money.
The rumors swirling about a Fed intervention dubbed QE2 Lite or QE2 1/2? Those are the rumors that investors are buying and they may just keep the S&P 500 out of the bear's claws.
That said, there's plenty of uncertainty about the Fed's intentions, the domestic economy and companies operating in the global economy. It is going to cause volatile moments, if not a significant corrective phase. Think 8% to 10%... or 1230 to 1250 on the heralded S&P 500 benchmark.
If you're not planning to sit on a heap of cash for future buying opportunities, you'll need to weather a
highly probable storm. Here are 2 ETFs that should do the trick:
1.
PowerShares Convertible Securities
(CVRT)
. Convertibles are hybrid securities that offer the yield qualities of intermediate bonds while often capturing 3/4 of equity upside. They're difficult to pick on an individual basis, but Convertible ETFs, CEFs and mutual funds diversify away the risk of picking poorly.
Ironically enough, CVRT just listed on May 26, 2011. It tracks the BofA Merrill Lynch All U.S. Convertibles Index -- an index comprised of U.S. dollar-denominated investment grade and non-investment grade convertible securities publicly traded in the United States.
CVRT should yield more than the current 10-year Treasury bond as well as the current dividend of the
SPDR S&P 500 Trust
(SPY) - Get Free Report
. And if one of my long-standing positions is any indication,
SPDR Barclays Capital Convertibles
(CWB) - Get Free Report
, you might expect a 4% annual income stream alongside the prospect of capital appreciation.
2.
iShares Global Telecom
(IXP) - Get Free Report
. Telecom has the reputation of being a slow-earnings-growth industry. Yet electronic communications have as much infrastructure potential as basic electricity and potable water. What's more, IXP has already experienced a mini-correction. It follows that the possibility for additional corrective activity in the summertime would be somewhat mitigated by investor desire for the 4% yield.
You can listen to the ETF Expert Radio Show
"LIVE", via podcast or on your iPod. You can review more ETF Expert features
here.
Disclosure Statement: ETF Expert is a website that makes the world of ETFs easier to understand. Gary Gordon, Pacific Park Financial and/or its clients may hold positions in ETFs, mutual funds and investment assets mentioned. The commentary does not constitute individualized investment advice. The opinions offered are not personalized recommendations to buy, sell or hold securities. At times, issuers of exchange-traded products compensate Pacific Park Financial or its subsidiaries for advertising at the ETF Expert website. ETF Expert content is created independently of any advertising relationships. You may review additional ETF Expert at the site.