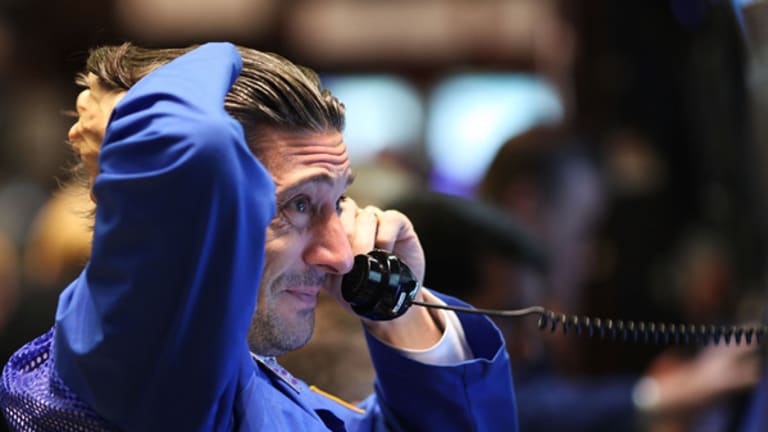 Publish date:
10 Most Dangerous ETFs (Part 2)
Nontraditional ETFs that use futures contracts, swaps and other complex financial instruments can be very risky.
Nontraditional ETFs that use futures contracts, swaps and other complex financial instruments can be very risky.
Editor's note: This is the second part of a three-part series on the 10 most dangerous ETFs. To read "ETFs: 10 Most Dangerous (Part I)," click here.
NEW YORK (
) -- Non-traditional ETF funds that invest in derivative contracts like futures have been the subject of regulatory scrutiny in recent months.
Rather than simply tracking a basket of equities like their predecessors, non-traditional ETFs use futures contracts, swaps and other complex financial instruments to meet their investment objectives. Often, the uses of these contracts make non-traditional funds riskier than their passive, equity-tracking peers.
In this second installment of our countdown of the 10 Most Dangerous ETFs, all three of the funds discussed use leverage to achieve their goals. Leveraged ETFs are inherently more volatile than unleveraged ETFs and are designed with sophisticated investors in mind.
Leveraged ETFs can be caustic in the hands of long-term, buy-and-hold investors who do not understand their strategies completely. The three ETFs listed below are some of the more dangerous of the bunch.
5.
MacroShares Major Metro Housing Up
(UMM)
and
MacroShares Major Metro Housing Down
(DMM)
.
After the failure of two sets of leveraged oil funds, MacroShares has set its sights on the housing market, as measured by the S&P/Case-Shiller Composite-10 Home Price Index. This pair of funds is designed to provide the investor with three times the exposure of this index for both bullish and bearish bets.
Rather than investing in stocks or bonds, like other ETFs, UMM and DMM use short-term Treasury securities and overnight repurchase agreements to track their underlying indexes.
Perhaps the most dangerous aspect of the funds is that they are designed as paired trusts and pledge assets to each other over time. Generally, fund issuers create additional shares of a fund if investor demand peaks and assets pour in.
Since UMM and DMM are tied financially, a creation in one of these funds will spark a creation in the other. Investors can get burned when fund managers take money from one pocket and put it in the other.
The failure of MacroShares' oil funds following the 2008 spike in oil prices does not bode well for UMM and DMM, the last surviving funds from this issuer. Investors should avoid these unconventional leveraged funds and their triple bets.
4.
PowerShares DB G10 Currency Harvest
(DBV) - Get Report
.
Trying to earn incremental returns while facing huge potential risk is like trying to pick up pennies in front of a steam roller. DBV has earned the number #4 spot on our "10 Most Dangerous ETFs" countdown because - for buy and hold investors - the rewards are not worth the risks.
DBV gives investors exposure to the "carry trade," which is one of the oldest trading strategies in finance. Using this strategy, an investor borrows money in a currency with low interest rates and invests it in another with higher interest rates.
DBV specifically borrows the three lowest yielding currencies and invests in the three highest yielding currencies.
4th Most Dangerous ETF
var config = new Array(); config<BRACKET>"videoId"</BRACKET> = 41662835001; config<BRACKET>"playerTag"</BRACKET> = "TSCM Embedded Video Player"; config<BRACKET>"autoStart"</BRACKET> = false; config<BRACKET>"preloadBackColor"</BRACKET> = "#FFFFFF"; config<BRACKET>"useOverlayMenu"</BRACKET> = "false"; config<BRACKET>"width"</BRACKET> = 265; config<BRACKET>"height"</BRACKET> = 255; config<BRACKET>"playerId"</BRACKET> = 1243645856; createExperience(config, 8);
The goal is to make small profits over time. Historically, the higher-yielding currencies tend to maintain their exchange rate against lower-yielding currencies or even appreciate slightly, and traders can lock in the difference in the two yields. While this may be just a small amount over time, funds like DBV use leverage to increase the profits.
The problem is that this strategy tends to fall apart during times of economic turmoil, or if the currency tide shifts. When the trend reverses, carry trade investors can lose their gains very quickly.
DBV has been doing well lately as currencies with low interest rates like Australia's dollar rise and the US dollar falls. But, if the dollar gains strength, for whatever reason, this fund could get flattened. When the trends that propel funds like DBV reverse, they can quickly erase gains that have taken months to accumulate.
Unless you're a sophisticated investor with an eye for currency and timing, stay away from buying and holding DBV.
3.
Direxion Daily Financial Bull 3X Shares
(FAS) - Get Report
and
Direxion Daily Financial Bear 3X Shares
(FAZ) - Get Report
.
While sophisticated traders may find these funds effective daily hedges for more complex strategies, they can be devastating to buy-and-hold investors who don't understand their objectives.
Volatile markets can erode leveraged strategies over time, a challenge that FAS and FAZ have recently faced. Here's the math problem with leveraged ETFs: These funds are designed to give you three times the return of their underlying indexes on a daily basis.
Each day, these funds "reset," compounding returns over time. Direxion recently executed
in both of these funds because their prices fell so dramatically.
To see the top two most dangerous ETFs, check back tomorrow.
-- Written by Don Dion in Williamstown, Mass.
Don Dion is president and founder of
, a fee-based investment advisory firm to affluent individuals, families and nonprofit organizations, where he is responsible for setting investment policy, creating custom portfolios and overseeing the performance of client accounts. Founded in 1996 and based in Williamstown, Mass., Dion Money Management manages assets for clients in 49 states and 11 countries. Dion is a licensed attorney in Massachusetts and Maine and has more than 25 years' experience working in the financial markets, having founded and run two publicly traded companies before establishing Dion Money Management.
Dion also is publisher of the Fidelity Independent Adviser family of newsletters, which provides to a broad range of investors his commentary on the financial markets, with a specific emphasis on mutual funds and exchange-traded funds. With more than 100,000 subscribers in the U.S. and 29 other countries, Fidelity Independent Adviser publishes six monthly newsletters and three weekly newsletters. Its flagship publication, Fidelity Independent Adviser, has been published monthly for 11 years and reaches 40,000 subscribers.