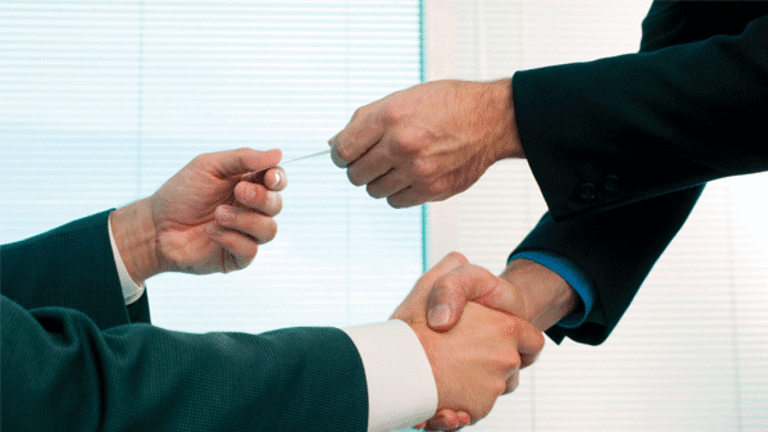 Publish date:
10 Best ETFs (Part 2)
New ETF products are flooding the market, but these top five funds have staying power.
New ETF products are flooding the market, but these top five funds have staying power.
Editor's note: This is Part 2 of the 10 Best ETFs series. To see Part 1, click here
.
Picking the best ETFs is just as important as avoiding the most dangerous, which we featured over three days (
,
and
) last week. The top five exchange-traded funds do things right: capture their theme, provide liquidity and exploit the advantages of the ETF model.
New ETF products are flooding the market, but these top five funds have staying power. From inflation concerns to emerging-market opportunities, these funds address some of the most important themes in the financial world today.
Here they are:
5. iShares Nasdaq Biotechnology
(IBB) - Get Report
Biotechnology is one sector that is tailor-made for ETF investing. Having the next big biotech drug is similar to hitting the lottery jackpot, and many start-up biotechs burn out before they hit it rich. These factors make it particularly difficult to pick the next stand-out biotech stock.
IBB is a large, liquid fund that gives investors exposure to a basket of biotechs, so that one biotech burnout won't sink your entire portfolio. Top IBB components such as
Amgen
(AMGN) - Get Report
and
Gilead
(GILD) - Get Report
weight the portfolio toward some of the biggest names in the business.
4. iShares Barclays TIPS Bond
(TIP) - Get Report
While other ETF issuers are rushing to bring new inflation-protection products to the market, iShares' TIP is still an industry standard. TIP offers investors a low-cost approach to Treasury Inflation-Protected Securities (TIPS), tracking securities that range in duration from one year to 20 years.
Individual TIPS bonds are taxed on inflation adjustment, making TIP a more efficient way to access these securities. TIP distributes any inflation-adjustment as income, rather than taxing individuals on a noncash event.
Over 1 million shares of this fund trade each day, so investors can be confident that they can enter and exit the fund with ease. TIPS are a great way to diversify your portfolio, and TIP is one of the best ways to do it.
3. WisdomTree India Earnings Fund
(EPI) - Get Report
Some of the best ETFs on the market today navigate foreign investment restrictions as part of their underlying methodology. EPI offers investors access to the Indian equity market while taking into account the limitations that foreigners have on investing.
Purchasing emerging markets equities can be a difficult process with volatile results. While many investors would like to single out a particular country, like India, it is difficult to trade individual stocks from home.
EPI has a higher average daily trading volume than
PowerShares' India Portfolio
(PIN) - Get Report
while avoiding the credit risks of the
iPath MSCI India Index ETN
(INP)
, making this our best pick for an India fund.
2. SPDR Gold Shares
(GLD) - Get Report
Gold has been in the news a lot these days, but adding GLD to your portfolio is a good move for the long term. Purchasing physical gold is a good way to diversify your portfolio and protect your purchasing power.
Physically backed ETFs like GLD avoid the risks associated with many commodity ETFs that have been under fire in recent months. Because GLD tracks the price of a gold stockpile, investors are directly tracking the value of gold rather than synthetically tracking gold prices through derivatives holdings.
Owning a stake of physical gold through this liquid ETF, rather than storing gold bars in your basement, is a more practical approach to this precious metal. GLD is the granddaddy of gold ETFs, helping to set the standard for physical ETF funds.
1. SPDR S&P 500
ETF
(SPY) - Get Report
Since Jan. 22, 1993, SPY has been providing low-cost exposure to the
S&P 500
for private and professional traders alike. SPY is an excellent proxy for the market as a whole and a good cornerstone for any long-term portfolio.
Quite simply, SPY is one of the best market-tracking securities available today. Owners have the comfort of knowing that they will stay on the highway and not deviate from the progress of the market at large.
Many new ETFs are too focused to draw investor interest or too complex to exploit the low-fee cost structure of traditional ETF funds. SPY is an old-school, low-cost, must-have fund for every well-rounded ETF portfolio.
At the time of publication, Dion was long IBB and TIP.
Don Dion is president and founder of
, a fee-based investment advisory firm to affluent individuals, families and nonprofit organizations, where he is responsible for setting investment policy, creating custom portfolios and overseeing the performance of client accounts. Founded in 1996 and based in Williamstown, Mass., Dion Money Management manages assets for clients in 49 states and 11 countries. Dion is a licensed attorney in Massachusetts and Maine and has more than 25 years' experience working in the financial markets, having founded and run two publicly traded companies before establishing Dion Money Management.
Dion also is publisher of the Fidelity Independent Adviser family of newsletters, which provides to a broad range of investors his commentary on the financial markets, with a specific emphasis on mutual funds and exchange-traded funds. With more than 100,000 subscribers in the U.S. and 29 other countries, Fidelity Independent Adviser publishes six monthly newsletters and three weekly newsletters. Its flagship publication, Fidelity Independent Adviser, has been published monthly for 11 years and reaches 40,000 subscribers.