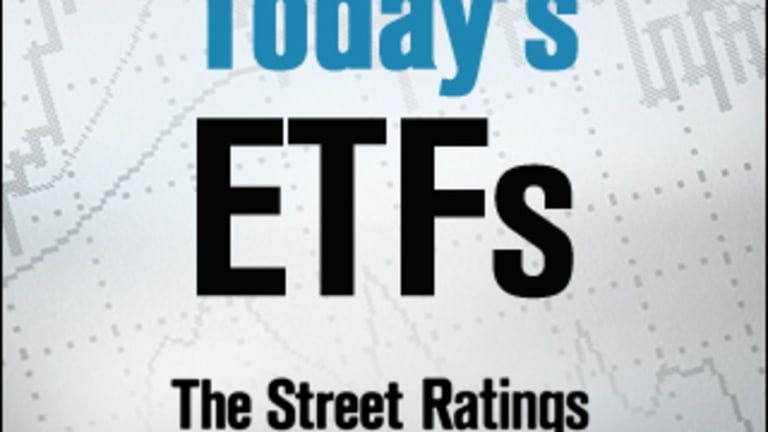 ETFs for an America Without Medicare
Lifecycle exchange-traded funds provide an easy way to diversify retirement money as U.S. entitlements come under assault.
Lifecycle exchange-traded funds provide an easy way to diversify retirement money as U.S. entitlements come under assault.
NEW YORK (
) -- The politicians in Washington D.C. voting against the raising of the U.S. debt ceiling are holding America's credit rating hostage.
After the House of Representatives approved a budget of more tax cuts for wealthy Americans, billions of dollars in subsidies for wildly profitable oil companies such as
ExxonMobil
(XOM) - Get Report
and
ConocoPhillips
(COP) - Get Report
, and the end of Medicare for anyone under the age of 55, the opposition party is currently holding out for an equal amount in cuts to government programs in exchange for each dollar increase in the debt limit.
The recent bond market rally in long-term U.S. Treasuries, on sub-par economic news, signals that the fixed-income market does not believe that the U.S. will be forced to default on its debt obligations. However, even a short-term default on the debt would cost the U.S. hundreds of billions of dollars every year in higher interest payments on future borrowings. This unthinkable scenario, on top of the contrived shortage of government revenue, would further squeeze out our government's ability to buy things we need such as job-creating investments to restore American's crumbling infrastructure.
With several open seats in play due to retirements and more Senatorial Democrats than Republicans up for election in 2012, U.S. Senate control may switch parties leaving President Obama in a weaker position to protect Medicare and other entitlement programs. The Republicans laid their cards on the table by adopting Rep. Paul Ryan's budget plan as their own. They declared their intention to end direct Medicare payments to doctors transferring thousands of dollars in private insurance medical costs to tomorrow's senior citizens.
What this means is that there has never been a more important time to save for retirement. No matter how much, or how little, you make, do whatever you can to live within your means. Now is the time to squirrel away as much money as possible into retirement accounts to pay for future medical costs and other living expenses.
There are a dozen 'Buy'-rated asset allocation exchange-traded funds offered by iShares. Each of these funds hold stakes in other funds to build a portfolio specifically diversified and allocated to meet the risk profile of prospective investors in various life stages. The funds break down into two groups, those that maintain the same targeted level of risk and those that slowly shift their percentage of assets from equity to fixed income holdings as the targeted date of retirement approaches.
In the first group - listed from most to least risk - are
iShares S&P Aggressive Allocation Fund
(AOA) - Get Report
rated at A,
iShares S&P Growth Allocation Fund
(AOR) - Get Report
AOR rated at A,
iShares S&P Moderate Allocation Fund
(AOM) - Get Report
AOM rated at A-, and
iShares S&P Conservative Allocation Fund
(AOK) - Get Report
rated at B+. Early in your work-life, when you have more time to recover from losses it can pay to be aggressive. As you progress through the various life stages, such as young worker, married couples, child rearing, empty nesters, and golden years, it will be up to you to transition through growth, moderate, and conservative phases of your retirement plan.
The second group of funds - listed from those for current retirees to those for who hope to retire three decades from now - are
iShares S&P Target Date Retirement Income Index Fund
(TGR)
rated at B+,
iShares S&P Target Date 2010 Index Fund
(TZD)
rated at A-,
iShares S&P Target Date 2015 Index Fund
(TZE)
rated at A+,
iShares S&P Target Date 2020 Index Fund
(TZG)
rated at A+,
iShares S&P Target Date 2025 Index Fund
rated at A+,
iShares S&P Target Date 2030 Index Fund
(TZL)
rated at A+,
iShares S&P Target Date 2035 Index Fund
(TZO)
rated at A, and
iShares S&P Target Date 2040 Index Fund
(TZV)
rated at A+. These funds have the added advantage that they gradually become more conservative over time. This option removes the need to pick a specific date on which to reduce equity exposure.
So, whether you scrape together $25,000, $5,000, or $500 in savings to invest in your 401k or IRA for a more secure retirement, these ETFs are worth considering for your portfolio.
-- Reported by Kevin Baker in Jupiter, Fla.
For additional
check out our Ratings Research Center.
Kevin Baker became the senior financial analyst for TheStreet Ratings upon the August 2006 acquisition of Weiss Ratings by TheStreet.com, covering equity and mutual fund ratings. He joined the Weiss Group in 1997 as a banking and brokerage analyst. In 1999, he created the Weiss Group's first ratings to gauge the level of risk in U.S. equities. Baker received a B.S. degree in management from Rensselaer Polytechnic Institute and an M.B.A. with a finance specialization from Nova Southeastern University.